Made with tender Aussie beef and fresh vegetables, this simple yet flavour-filled recipe is sure to steal the spotlight of kitchen tables this winter. Only taking 5 minutes to prep and another 25 minutes to cook, this delicious dish is the perfect mid-week dinner choice. And with the vast selection of fresh Aussie veg available this season, it certainly has the Australian Farmers team ready to customise their kebabs!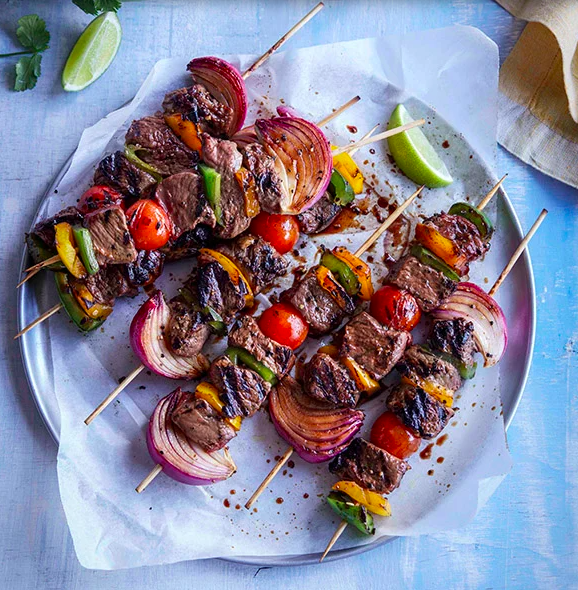 Ingredients
600g diced beef (3cm cubes)
1 large red onion, cut into wedges
250g cherry tomatoes
1 yellow capsicum, cut into 3cm pieces
1 green capsicum, cut into 3cm pieces
1 tbsp vegetable oil
2 tbsp kecap manis
1 tbsp cracked black pepper
200g dried rice noodles
2 cups (270g) frozen broad beans
Zest and juice 1 lime + wedges, to serve
2 tbsp mirin
2 tsp fish sauce
1 Lebanese cucumber, peeled into ribbons
½ cup mint leaves
½ cup coriander leaves
Method
Using 8 metal or bamboo skewers, thread beef, onion, tomatoes and capsicum alternatively onto skewers. Brush skewers with oil and kecap manis, sprinkle with pepper and season with sea salt.
Pre-heat a char-grill pan or barbecue over medium-high heat and cook skewers for 8 to 10 minutes, turning often, or until lightly charred and cooked through.
Meanwhile, prepare noodles according to packet instructions. Drain and rinse under cold water. Prepare broad beans according to packet instructions. Drain and when cool enough to handle remove from shells.
In a screw-top jar place lime zest and juice, mirin and fish sauce. Shake well to combine. Place noodles, broad beans, cucumber and herbs in a large bowl. Drizzle with dressing and toss to coat.
Serve skewers with noodle salad and lime wedges.
Tip
You will need 8 bamboo or metal skewers for this recipe – soak bamboo skewers for 10 minutes to prevent burning.
Substitute broad beans with edamame or sugar snap peas.
You can dice your own beef using rump, sirloin, scotch fillet or eye fillet.
For more recipes, cooking tips and information head to Australian Beef and Meat & Livestock Australia.