This chocolate covered, kid-friendly take on banana bread is a sure fire way to beat the lockdown boredom these school holidays. Made with fresh Aussie grown bananas, these miniature but mighty treats are the perfect baking activity for the whole family.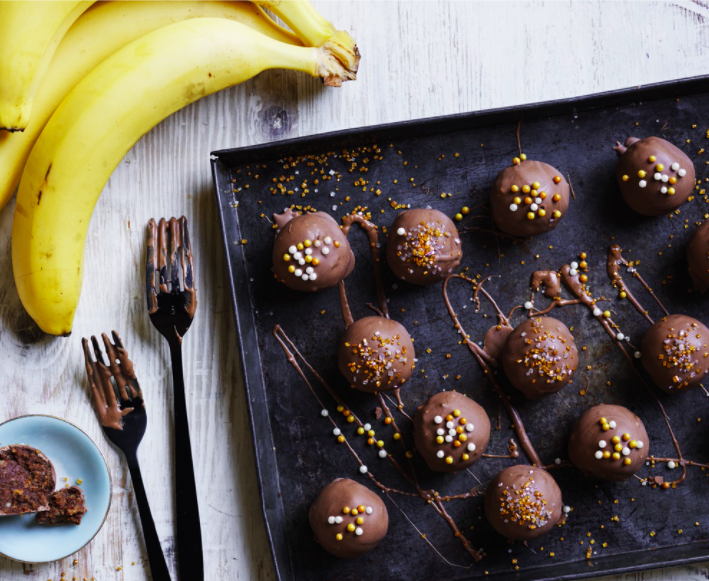 Ingredients
Truffles
3/4 cup toasted macadamia nuts 100ml thickened cream 200g dark chocolate, chopped 600g milk chocolate, melted Gold cachous and pearl sugar, to decorate
Banana cake
125g butter, softened 3/4 cup brown sugar 2 eggs 3 large Cavendish Bananas, mashed (11/2 cups) 1/2 cup sour cream 2 cups self-raising flour, sifted
Method
For the banana cake. Preheat oven to 180°C fan forced. Grease and line 6cm deep, 10cmx21cm (base) loaf pan.
Beat the butter and sugar with an electric mixer until pale. Add the eggs, 1 at a time, beating well after each addition. Stir in the banana then sour cream. Fold in the flour. Spoon into the prepared pan and smooth the surface. Bake for 50 minutes or until skewer inserted in the centre comes out clean. Set aside for 10 minutes before turning onto a wire rack to cool completely.
Break the banana cake into pieces and place in a food processor, in batches if necessary. Pulse to fine crumbs. Transfer to a bowl. Process macadamia nuts until finely chopped, stir into banana cake crumbs.
Combine the cream and dark chocolate in a microwave-safe bowl. Microwave in 1 minute bursts on High/100%, stirring with a metal spoon until melted and smooth. Add to banana cake mixture, mix until well combined. Using heaped tablespoon, roll into balls. Place onto a tray and refrigerate 1 hour or until firm.
Dip balls one at a time into milk chocolate to coat. Place onto a lined tray. Sprinkle with cachous or pear sugar. Refrigerate until set. Serve.
Tip
Get creative! These truffles can be coated in white, milk or dark chocolate and decorated with sprinkles, icing or whatever you fancy!
Truffles will keep up to 3 weeks in an air-tight container in the refrigerator
For a healthier alternative, chocolate can be drizzled over truffles rather than dipped.
Be sure to keep up to date with all the latest recipes, handy hacks and information at Australian Bananas.