This winter warmer recipe has the Australian Farmers team more than ready to take on the cool seasonal change. Packed with Aussie grown carrots and complimented by Dairy Australia milk and yoghurt, this easy dinner dish is a guaranteed winner!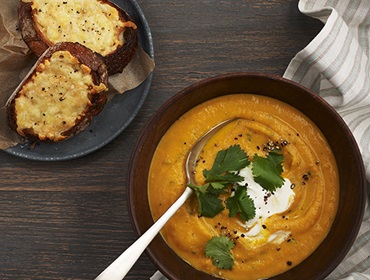 Ingredients
Soup
1 tbsp olive oil
1 tsp ground cumin
1 small onion, chopped
500g carrots, chopped
1 cup vegetable stock
1 cup milk
2 tbsp finely chopped coriander
1/2 cup natural yoghurt
Parmesan Toasts
2 slices sourdough bread
1 tbsp grated parmesan cheese
1 tbsp grated cheddar cheese
Method
Soup Heat oil in a medium saucepan. Add onion and cumin, saute for 3-5 minutes or until softened. Add carrot and stock, cover and bring to the boil. Simmer, uncovered, for 15 minutes, or until carrots are tender. Remove from heat and process with a stick blender until smooth. Return to heat and stir in milk and coriander. Reheat gently until warmed through. Serve with a nice dollop of yoghurt.
Parmesan Toasts Grill bread on one side until golden. Turn over top with combined cheeses and grill until cheese is bubbly and brown. Serve with warm soup.
TIP
Coriander is optional, but will add great flavour!
Be sure to keep up to date with all the latest recipes and cooking tips at Dairy Australia