This recipe has the Australian Farmers team willing on the colder weather. The star is Aussie beef ably supported by winter vegetables and pasta made from quality wheat. Add in an open fire and a glass of red and this meal is 100% perfect!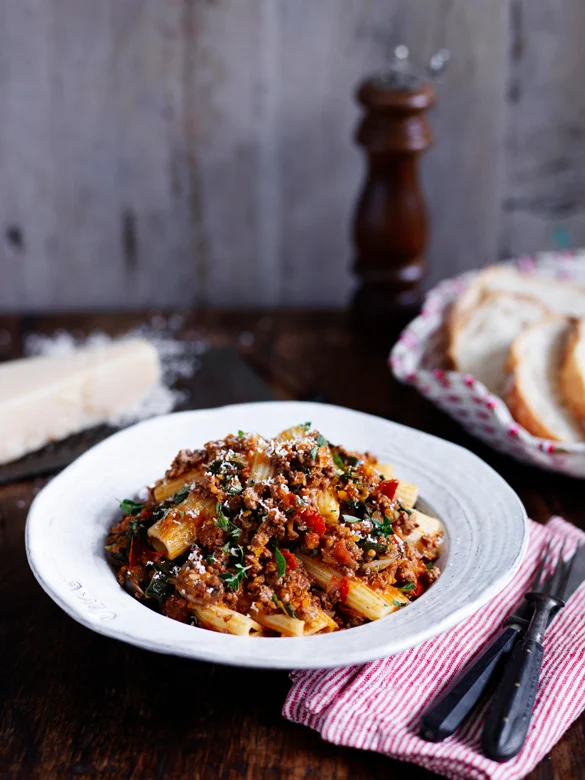 Ingredients
500g minced beef
1 tbsp olive oil
2 stems of silverbeet, leaves coarsely chopped and stalk coarsely chopped
1 carrot and 1 onion, coarsely chopped
1 stalk celery, coarsely chopped
2 cloves garlic
1 tbsp coarsely chopped thyme, plus extra to serve
1 tbsp coarsely chopped oregano, plus extra to serve
1 fresh bay leaf
1 cinnamon quill
1 tsp dried chilli flakes
Pinch of grated nutmeg
¾ cup red wine
2 X 400g cans cherry tomatoes or chopped tomatoes
1 cup beef stock
8 swiss brown mushrooms or button mushrooms, thickly sliced
1 tbsp red wine vinegar, or to taste
400g rigatoni
Finely grated parmesan and crusty bread, to serve
Method
Heat 1 tbsp olive oil in a large saucepan over medium-high heat, add beef and brown well, breaking up with a wooden spoon. While you're doing this, blitz the silverbeet stalks, carrot, onion, celery and garlic in a food processor, then stir into beef along with herbs and spices.
Add wine, bring to the boil and reduce by half (1-2 minutes), then add tomatoes and stock, bring to the simmer and cook for about 15 to 20 minutes until well-flavoured. Stir though silverbeet leaves and mushrooms in the last couple of minutes cooking along with vinegar.
Meanwhile, cook rigatoni in a large saucepan of generously salted boiling water until al dente, drain and toss through ragu. Serve hot scattered with parmesan and extra herbs and with crusty bread.
TIP
Mince with a higher fat content is best for this ragu, so avoid lean mince in this instance.
Be sure sure to beef recipes and cooking tips at Australian Beef