This central Queensland based regenerative grazing and farming family take a whole system approach to soil health and livestock production.
There's a fascinating world beneath Dale and Alicia Retschlag's feet that tells the story of Netley, their 485-hectare property near Goovigen in central Queensland and its transformation from a conventional farm to a regenerative one over the past four-years. One of their favourite jobs is to delve into the soil with a post hole shovel to examine plant roots and soil structure, as well as activity from the burgeoning biology including microbes and earthworms.
Above ground, it's equally rewarding.
Wagyu steers graze contentedly in a multi-species crop of grasses, legumes, brassicas and forbes and when it's time for the mob to move to fresh feed, Dale opens an electric tape gate while his working dogs ensure the cattle move in a gentle and controlled manner to the next paddock.
Holistic approach
Each day, Dale observes the entire landscape within this high intensity grazing operation, which consists of five pivots – three of which are dedicated to multi-species crops, whilst two are irrigated Leucaena – and he calculates the feed ahead and makes adjustments to ensure no less than 50 percent of available feed is left behind after each graze.
The Retschlags have developed a whole-system approach to improve soil and plant health, increase animal performance and overall profitability and resilience. They are achieving this with the introduction of multi-species planting to create diversity, livestock integration and biological inputs such as vermicast and fish product, and reduced synthetic applications. The contracted feeder steers contribute to accelerating the nutrient cycle with hoof impact and even distribution of manure.
The Retschlags purchased Netley in 2016, where they now raise their three sons Bill, 11, nine-year-old Benji and Thomas, four.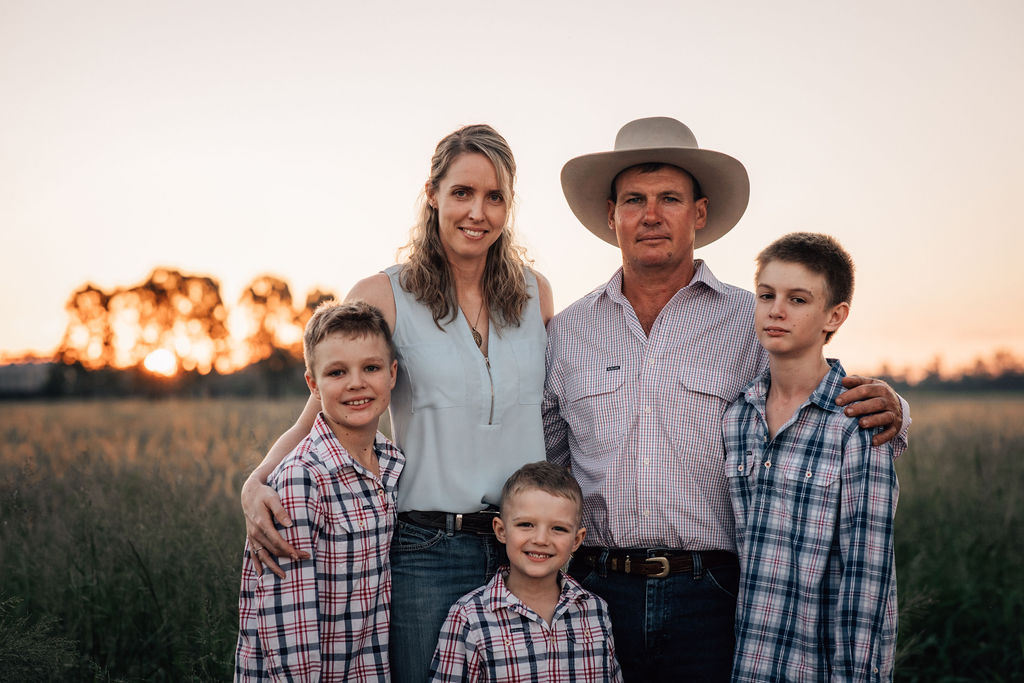 "Netley has alluvial creek flats and originally it would have had high organic matter with fertile soil. Over the years like a lot of farms, it has been mined of its minerals and organic matter and propped up with synthetic inputs, causing chemical imbalances that need to be rectified," Dale says.
"When we first came here, we did a soil test and it showed 1.4-1.5 percent total organic matter. We are trying to build organic matter to help rebuild the soil structure. Four-years-on and we have doubled organic matter to 3-3.3 percent. There are limitations on the amount of money we can spend on soil amendments but we are moving in the right direction. It's important to find a system that will work for you."
Dale and Alicia aim to create further resilience in their land and business in the future.
We're working on a complete package – a whole system that works in parallel to develop strong ecological outcomes as well as increase farm profitability.
"Building organic matter and soil carbon is important because it can do so much for your soil and bottom line in so far as water infiltration, nutrient release and resilience to combat weather extremes.
"The other thing we are looking at is increasing our Brix levels (the sugar content of a plant) to assist the plants build their own nutritional support system and accelerate the carbon draw-down."
"That's where multi species come in as plants develop a symbiotic relationship with each other and exchange minerals and nutrients. By lifting Brix it transfers nutritional benefits to whatever you're producing. If we can get our Brix levels up, our cattle will do better and won't need to consume as much."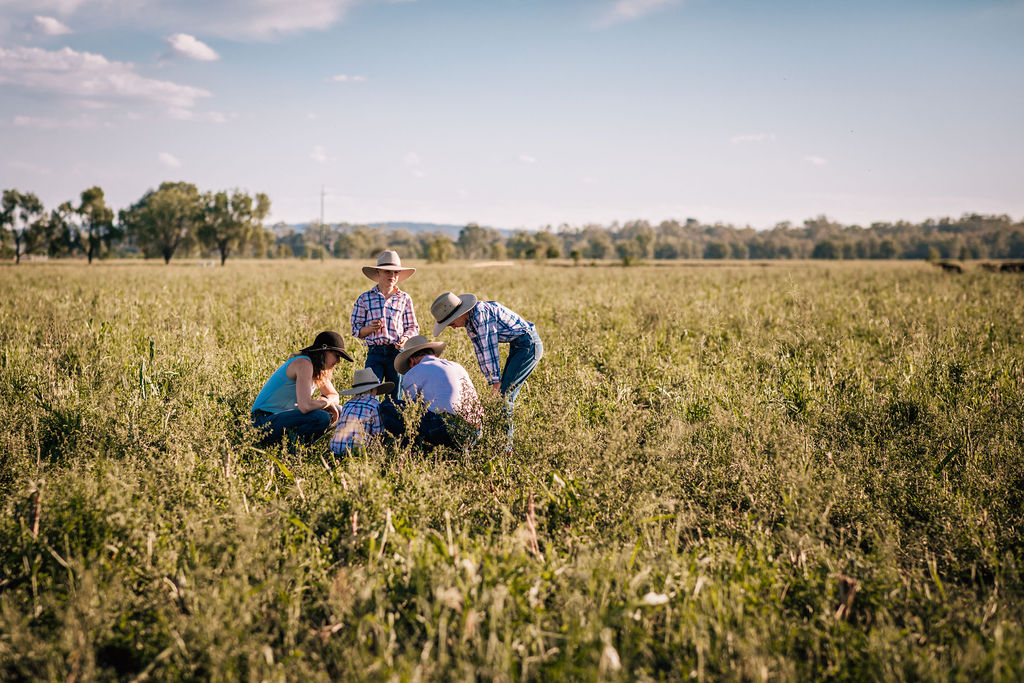 Doing the groundwork
Dale grew up on a family dairy and beef farm near Kilcoy in south-east Queensland and he was accustomed to growing pasture, strip grazing and continuously shifting milkers and electric fencing throughout his early years and many of these principles are applied today at Netley.
His father and grandfather were in tune with the seasons and adjusted their grazing to ensure adequate rest for pasture. As Dale grew older, he began to question an increasing reliance on synthetic fertilisers such as nitrogen and superphosphate to lift productivity.
"We used to do crop rotation and put in legumes during summer to build nitrogen up for winter. Where it changed was when we started using more and more urea and we cut back on rotations. All of a sudden, the soil became harder and tighter and when you worked the ground it became compacted. Our soils were getting out of balance and it was all attributed to higher synthetic use and reduced crop diversification," Dale recalls.
Change of tact
Post deregulation of the Australian dairy industry in 2000, it became more apparent the Retschlags had to increase production as they faced diminishing margins.
"We were told to double our herd to combat lower milk pricing in a deregulated market. The choices were to grow the feed or buy it in and the problems were compounded. This led to more imbalances in our soil; the ground became very tight and weeds were a big problem. It took me a lot of years but I started to realise how far the wrong way we'd gone," he adds.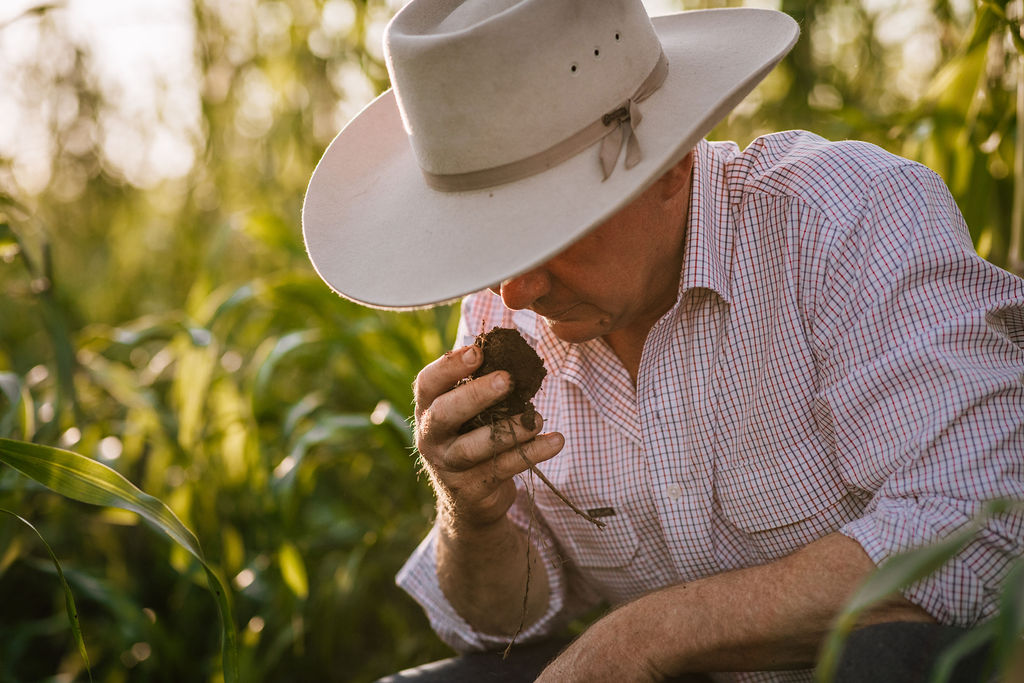 "That's where I got the idea of what I do now. I didn't put the soil health/human health connection together until years later when I realised we were creating toxicity in our food chain with chemical use."
Dale met and married Alicia and they purchased a lucerne block at Eidsvold in 2010 where they grew hay for six-years. Again, he encountered issues with soil degradation.
A crunch point came after the Burnett River flood of 2013 where their farming land was inundated.
"The ground became so hard, like cement and I deep ripped one patch and thought I was doing everything right and replanted it back to lucerne. Within 12 months it went hard again, back to the way it was after the flood."
The flood wasn't the cause – it was part of the problem – but it was management.
There was not enough organic matter which is one of our major deficiencies that we face in the farming community. I recognised then we have to do crop rotations and diversify with multi species crops."
They switched their system and the soil began to soften again.
When they purchased Netley, it was an opportunity to implement a new farming system.
"I started playing round with multispecies and livestock integration with the goal of eventually doing it to the whole place, which is what we are doing now."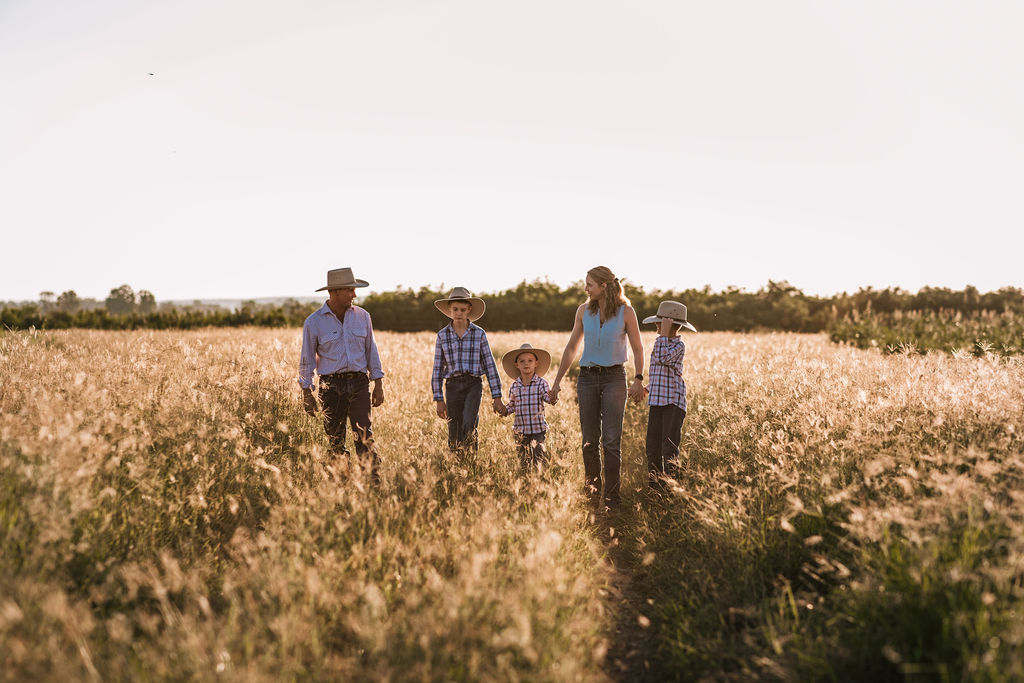 Global search for inspiration
Dale searched online for soil health information and began learning from regenerative agricultural pioneers such Dr Christine Jones, Nicole Masters, Ray Archuleta and later, Gabe Brown.
"They inspired me and I knew I'd found what I wanted to do. It gave me strength that other people around the world are doing it well."
"Once we came up with a regenerative system, we applied it to a small area and finding it worked and was profitable, we commenced to convert the whole property."
"We must have high quality cattle with positive daily weight gains throughout their time in the rotational system for our enterprise to remain profitable."
Less is more
Dale says one of the keys to success is having a good stocking rate.
"There's a difference between stocking rate and carrying capacity. You can actually run more cattle but still give country significant rest period which is the key to success. The best way to do that is have a controlled group that is shifted frequently."
I thought I was going ok with our stocking rates when we started, but one of things I discovered from online research is the high rates people can get to and the significant impact it has on the soil.
"The higher the stocking rate goes the more impact you have on the ground. If done correctly by leaving enough plant matter behind to encourage regrowth combined with significant rest periods, it results in a positive move for your soil. Usually on irrigation we work on 40,000 up to 100,000 kgs per hectare of live weight."
"On our dryland we run higher stocking rates – up to 250,000kgs. For your soil to respond you must have flexibility in your stocking rates to create more animal impact on the soil. You can raise and lower stocking rates as the season permits and that's what makes your soil respond."
The art of stockmanship
"I was always fascinated with workings dogs and was fortunate to be introduced to Neil McDonald and did one of his schools. I was only there a couple of hours and decided that's what I wanted to pursue."
"Neil taught me stockmanship is a key component – it's not just the dog – it's about working stock with a better method. I later discovered Bud Williams and did everything I could to learn from him as well."
"I became very passionate about good stockmanship skills and as I improved I knew it's the only way to handle stock by having everything in a controlled manner so that livestock and human stress is under control."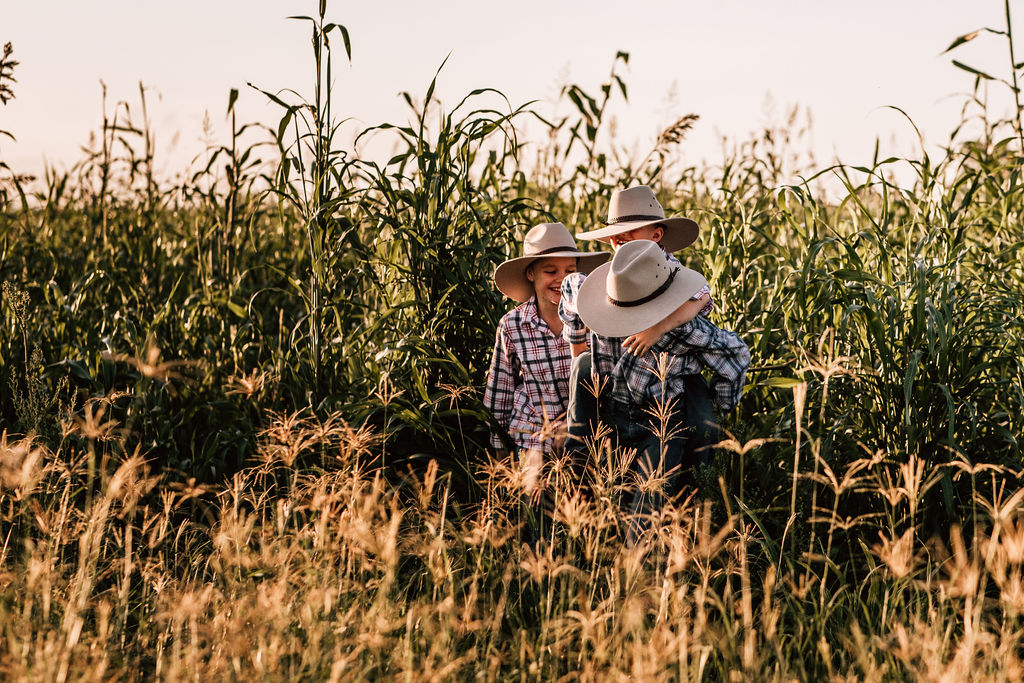 The wonders of soil carbon
"Part of the reason we put in multispecies is that it accelerates the amount of carbon you put down. By increasing organic carbon in our soil, our irrigation costs have gone down in the last two years by about 25 per cent in some areas and that is driving efficiencies with water infiltration.
"For dryland systems, carbon helps drought proof your property. With irrigation, the principles are the same, we are just doing it on a faster track. Higher organic matter means you have higher air and water infiltration and the microbes are better able to survive."
"It's about following good basic techniques to build soil carbon and livestock are a key part of driving that system, provided they are managed in the right way. It's a liquid carbon pathway and a faster way to put humus into soil. Building soil carbon leads to less inputs and once you get over three percent carbon, it becomes self-generating," Dale adds.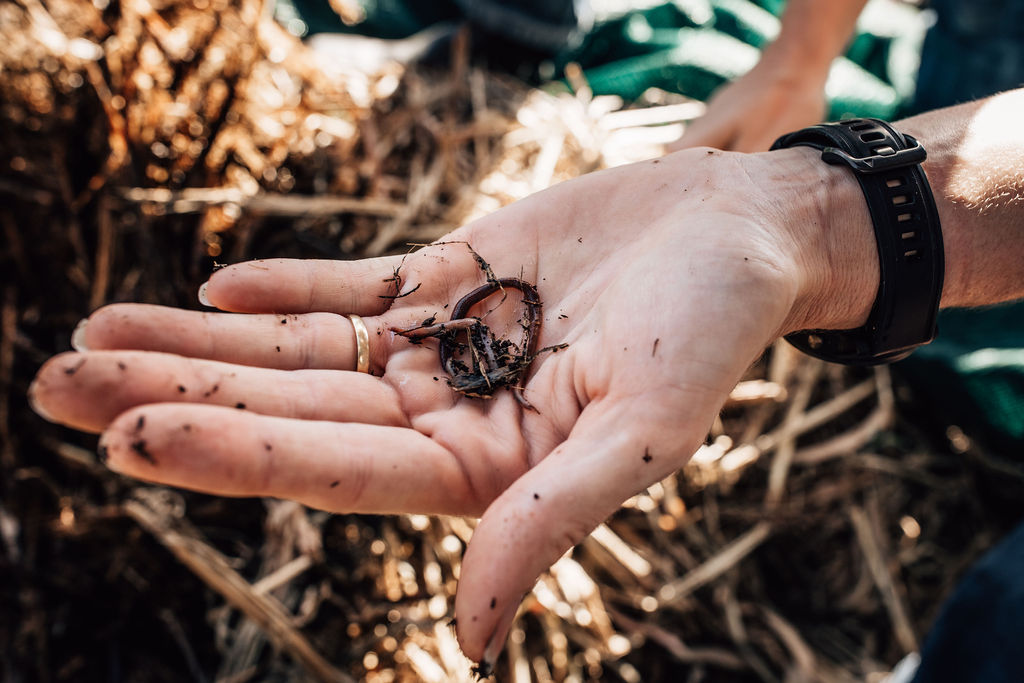 New friends below the surface
It was a great day the first time Dale found worms at Netley in their second year there.
"Build a home for them and they show up. They need highly aerated soil, organic matter and very little chemical. By building organic matter, we get roots down and that allows air and water in and the soil becomes a sponge. Our microbes need water, food, air and shelter and sadly most of our soils don't provide that.
If you overgraze, the soil becomes bare and that creates heat and that's no home for microbes. Our rainfall has become so varied, we need to capture as much as possible. The aim is to keep all the rainfall here, as well as aerate the soil and have a good blanket of organic matter on top.
Dale and Alicia have recently created a worm farm and apply vermicast as well as fish products to promote biology.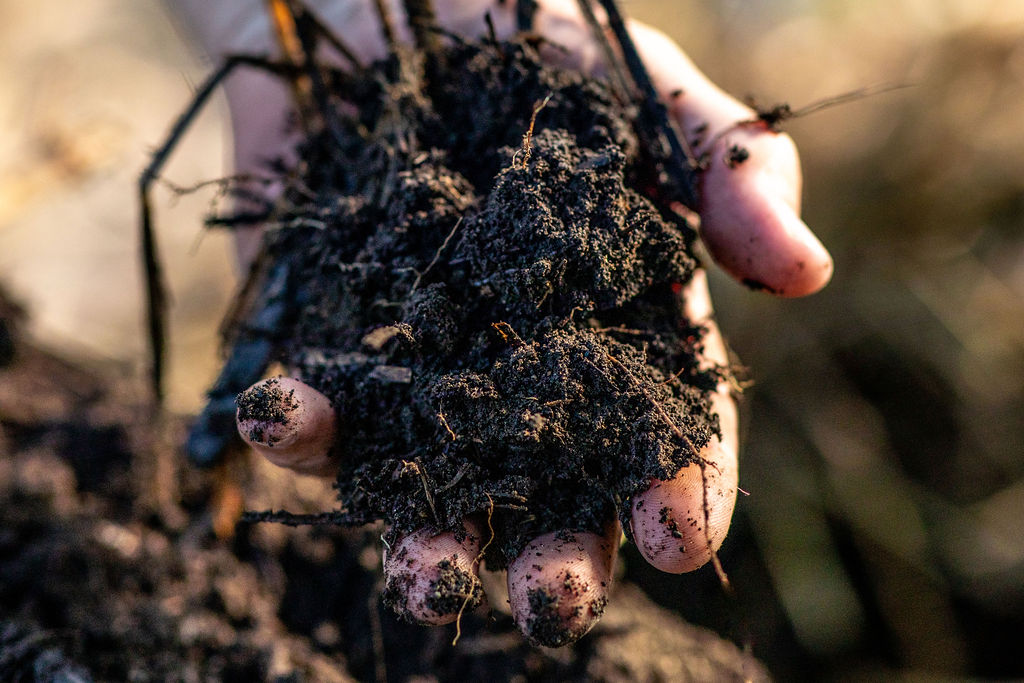 Making informed changes for a brighter future
Shifting to a more regernative approach to agriculture requires research, a plan and gradual changes.
"Over the years agricultural land has degraded and become reliant on synthetics. This has become a set of crutches. If you suddenly pull the crutches out you won't get very far. You have to come up with a system and plan to implement that and one step is to slowly decrease synthetic applications."
"You don't have to completely stop them, but buffer them with humates to try and make up the difference. Try to minimise tillage and spraying applications and create a series of different methods to work towards to improve," Dale advises.
"Everything I've learnt is online and available now. We have the knowledge we need to build healthy soils. We have to talk about how to implement it on farm. The stepover mark is where everyone struggles as we still need to be profitable. Get a system in place, learn a new skill set and things will move forward."
For more information visit @netley_farm. You can visit Netley Farm on 5 May as part of the Beef Australia Property Tours program.