In the shadows of the Upper Clarence Valley, rows of blueberry bushes form a neat patchwork against the backdrop of lush Australian bushland. The image is as sweet as the berries that are grown here.
The Mountain Blue Farms property in NSW's Northern Rivers region is a far cry from its origins, back in 1975 when Ridley Bell imported a shipment of blueberry seeds from North America. His initial harvests were a hit among shoppers at Footscray Market in Melbourne, encouraging him to relocate his family from Victoria to northern NSW, where the climate is ideal for blueberry farming.
At the time, blueberries were mainly used as an ingredient in household favourites such as muffins, cakes and jams, but Ridley was convinced that there was a place for blueberries to be front and centre. Watching Australia's evolving food trends, he predicted that blueberries' exceptional health benefits, flavour and versatility could establish the berries as a fresh fruit favourite.
"Our focus has always been on the flavour and quality of our blueberries," says Andrew Bell, Ridley's son and the Managing Director of Mountain Blue Farms.
"Back then, blueberry farmers focused on the amount they grew, but Dad remained true to his vision to develop a better-quality fruit.

Andrew Bell
Growth proves rewarding
It was a gamble that paid off. Over the last four decades, Mountain Blue has steadily expanded, with 147 hectares of blueberry plantings spread across four properties in NSW and Queensland, as well as a commercial nursery which has developed 27 new blueberry varieties. In 2020, the father-and-son team were named Horticulture Farmer of the Year at The Weekly Times Coles Farmer of the Year awards.
Underpinning their success is Ridley's desire to continually improve the flavour, texture and size of blueberries – a focus that has seen him drive Australia's blueberry breeding program, and cemented the group's reputation as an innovator and market leader within the industry.
"We use natural breeding techniques that replicate the role of bees in the wild to create new crosses each year. Dad selects the varieties to cross, and those seeds are then raised in our nurseries before the plantings are laid out to grow."
In 2008, a lifetime of plant breeding paid off when Ridley conceived his best variety yet. "Eureka" was a chance crossing of two blueberry varieties without the use of genetic modification. The resulting fruit is their best ever – sweet and fruity in flavour with a crisp texture and juicy profile – and is sold exclusively through Coles supermarkets.
Commitment to sustainability & continuous improvement
Not wanting to rest on their laurels, Ridley and his four children – all of whom are involved in the business – have their sights set on expanding the Mountain Blue range to include raspberries, blackberries and strawberries. Unsurprisingly, Ridley is at the helm of this side project, responsible for developing varieties with the same unwavering commitment to quality.
"We started looking at raspberries, strawberries and blackberries about three or four years ago with the aim of being able to reliably supply them on a year-round basis," explains Andrew.
"We're still developing varieties that will produce a flavour and quality that we're happy with before we have punnets on supermarket shelves, but we are getting closer to making that a reality."
Among the ongoing challenges for the business is its environmental footprint which – characteristic of Mountain Blue Farms – is approached with a commitment to continuous improvement. Streamlined farming practises have seen a reduction in the amount of fertiliser and herbicides used on their properties, while more recent efforts concentrate on the war on waste.
"Environmental sustainability is a priority for our business and the biggest issue we're currently facing is plastic packaging," he says. "We're looking at a whole range of different options to tackle this, and ways that we can recycle farm waste like netting, greenhouse plastic and nursery pots.

Ridley Bell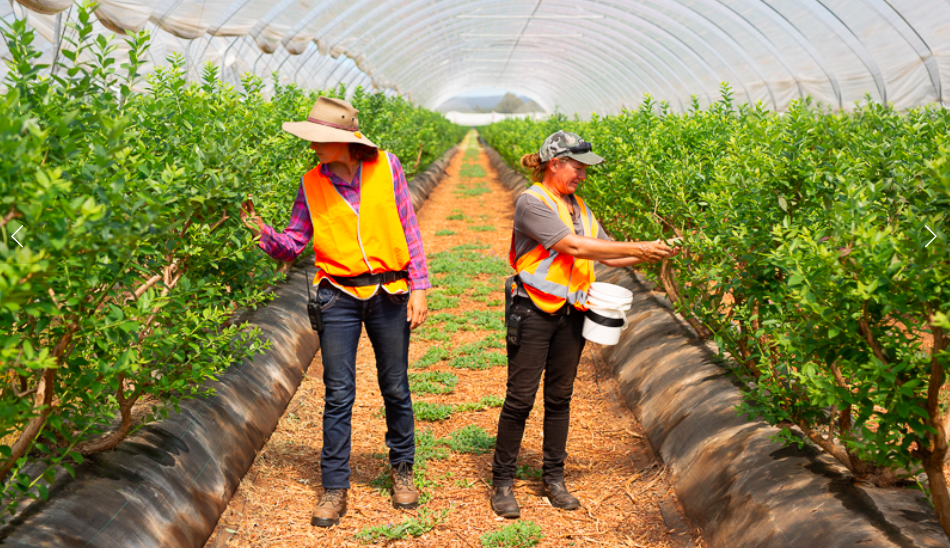 COVID-19 Complications
The impact of COVID and border closures has made sourcing labour even harder than usual for the business, which employs around 100 permanent staff and up to 1,200 seasonal workers. With the number of backpackers in Australia at an all-time low, farms reliant on seasonal labour have struggled to secure the workers they need to harvest crops, including Mountain Blue Farms.
"We have always seen our employees as being at the heart of our business, but the ongoing issue of finding harvest workers has meant that we have had to consider the role of robotics and automation on our farms."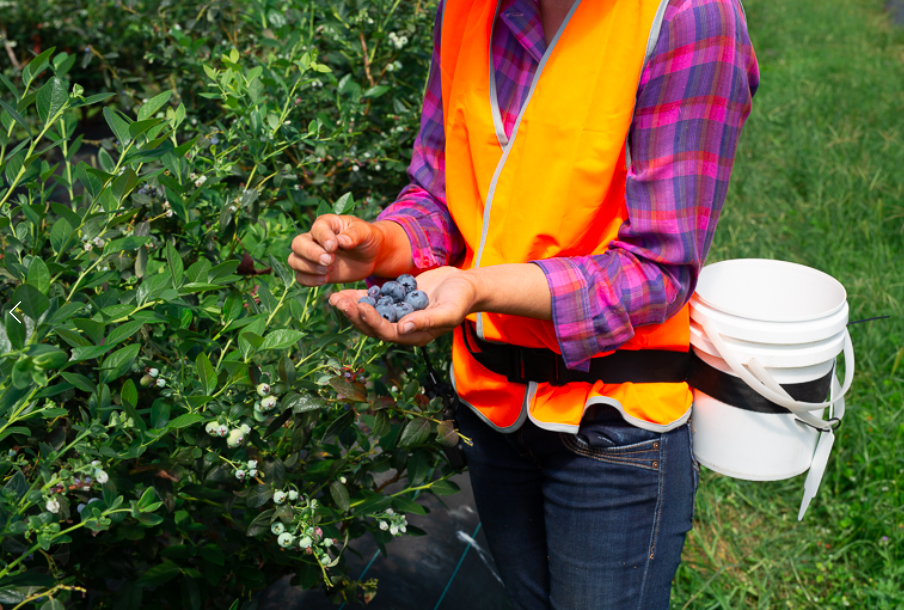 While Mountain Blue Farms already uses machines to sort and pack fruit, harvesting berries mechanically is in the pipeline.
"There's work to be done to develop a harvester that doesn't damage berries as they are picked, and we're also trying to breed varieties that are suited to being processed by a machine."
"There is so much time, care, love and passion that goes into growing, curating and packing our products.

Andrew Bell
"It's a very detailed process and a lot of thought goes into the whole process, from breeding to having our blueberries stocked on supermarket shelves."
For more information about how blueberries (like the ones produced by the Bell family) are grown, head to Berries Australia.