How does a photojournalist end up making a living farming flowers? It started with a redundancy, a passion for gardening and a business that simply shines on social media and on the plate.
We are talking about edible flowers. Not only are they gorgeous, but they have also hit the mainstream – snapped up by cake decorators and chefs who want that something special for their creations.
The owner of Pretty Produce Simone Jelley grows about 110 different varieties and truly believes in flower power!
Home for Simone is Canungra Creek in south-east Queensland, where she makes a living growing these edibles. It sounds like the dream job but Simone says, taking that leap of faith required her to be "borderline crazy".
Crazy and incredibly driven. Once she made up her mind to take the farming path, she was determined to succeed. After being made redundant from her job as an advertising photographer, her husband encouraged her to take time off and spend it in the garden.
Redundancy leads to discovery
"He said, get into the garden and grow me some tomatoes and corn and we can become self reliant from a kitchen garden perspective. That actually never happened. Poor Dave," she laughs.
What happened was I discovered rare, unusual, interesting flowers!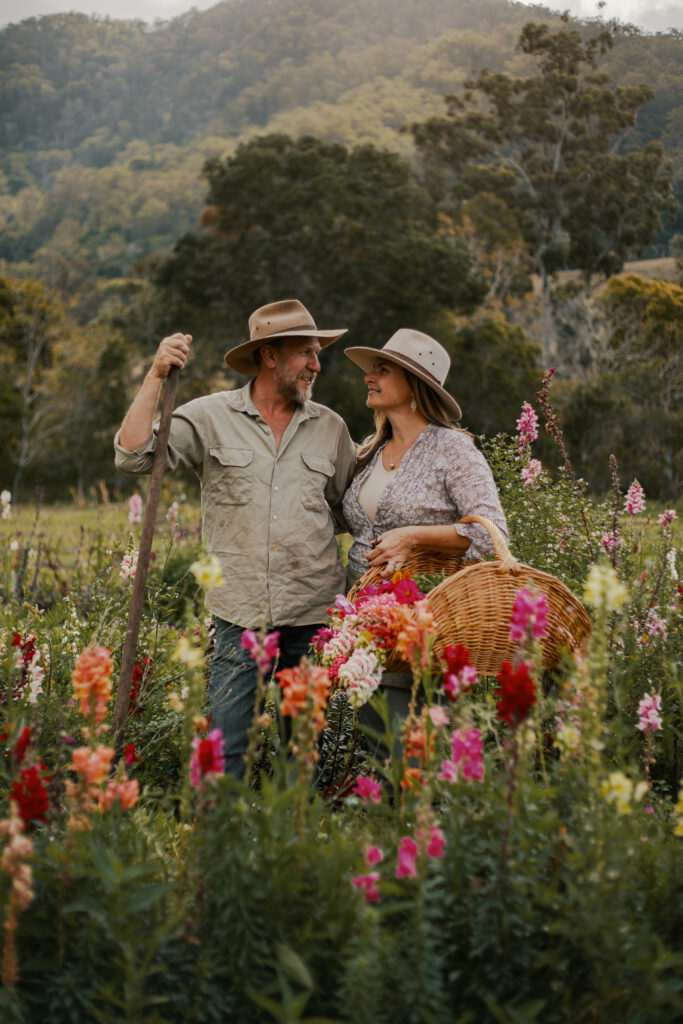 Combine her photography skills with her passion for gardening and the added bonus of being a foodie, Pretty Produce is a match made in heaven for Simone.
"I started to build pallets with plants and flowers that I could brand to sell to chefs. Things like a sour mix, an anise mix, a spicy mix. There were 50 or 60 components within each one. They were very intricate and very beautiful."
They stood out with Simone winning national awards in the first two years of starting the business. "That was just unheard of. It's because they were so well considered." It was then, she thought she might be onto something more than gardening leave!
Now, she's farming flowers on an impressive scale with rows stretching for 30 metres.
A wild and wonderful world
Simone's garden is full of classic annuals like violas, pansies and corn flowers. Bi-annuals also feature like onion and garlic flowers. Perennials like roses and elder flowers were essential during the triple La Nina that severely impacted her ability to harvest.
There are also many types of edible shrubs, vines and ground covers growing in her garden.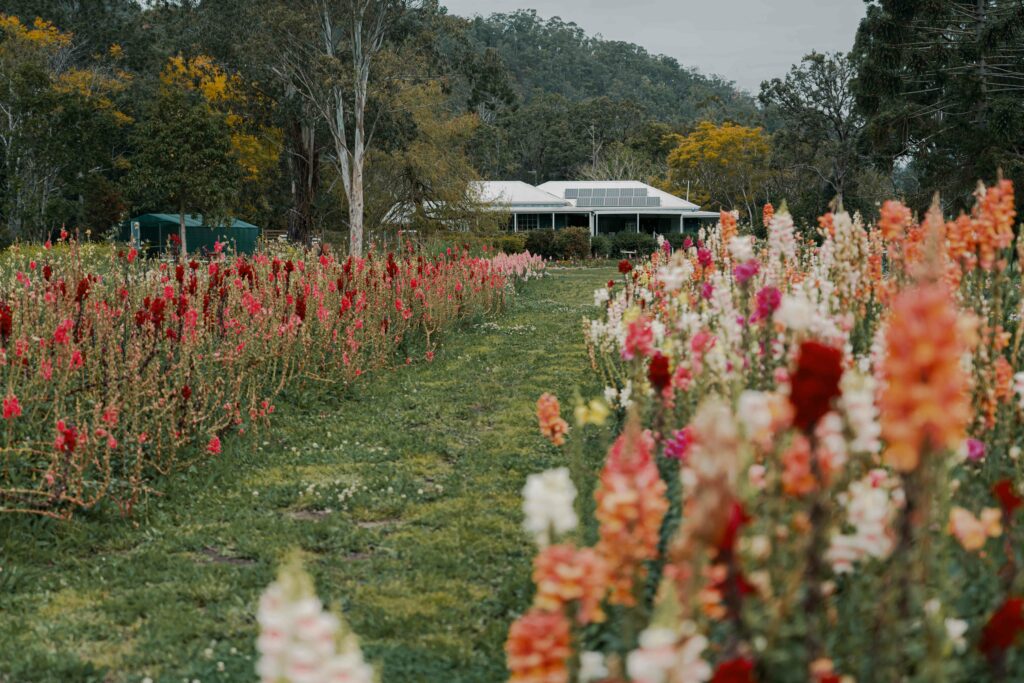 "The list just expands out. That's why I'm now sitting at 110 different species but I've located another 20. People say 'eat the rainbow', purple vegetables, orange ones, red ones.
"Flowers are off the charts in terms of the amount of active constituents that they've got."
So, it's really the tip of the iceberg in terms of antioxidant and anti-inflammatory properties.
Broad-acre flower farming was new ground when Simone started a decade ago, perhaps a path she was destined to forge with some of her earliest childhood memories being of flowers.
Close to perfection
"Flowers are the universe's way of showing us the closest thing to perfection in an imperfect universe. They will always shake you out of a grumpy mood or feelings of being overworked, or exhausted, or tired, or fearful. I tend to be quite positive because that gets wiped clean when I'm in amongst the field."
Customers are now able to bring that colourful field into their own homes with Simone's seasonal fresh flowers and curated packs of pressed dried flowers.
"The fresh form of edible flower is very transient. I want people who are living at Broken Hill to be able to keep these in their pantry and bring them out on a special occasion.
"It also translates into wedding cakes and girls' first birthday parties. Lots of grandmas' cakes. Growing something from a seed is a thrill. Then grabbing that thing out of the garden, making something and then giving it to someone – whether it's a cake or a kitchen cutting board that you've put resin and flowers – whatever you've done with it. That's a special gift."
Next, Simone plans to welcome people onto the farm to offer workshops teaching how to grow and press the flowers. "I had no horticultural background. I just had a passion and felt I had a good idea. If I can do it, anybody can do it. I just put the seed in and see what happens. I make sure I water it.
"So, if there's a bigger message, I just want people to get in and plant their own flowers and invite the insects in. It's another little part of the world that nature can inhabit."
A wildflower section of the farm is already open to the public and the impact of that has been profound for Simone.
"I had a lady who was the victim of a domestic violence incident. She was there with the children in the car. She wanted to come into the farm but it was Covid. Eventually, I just opened the gate and let her go. She wandered around and came out crying tears of joy. It was then that I realised the flowers have power. Flower power!"
And after 10 years, her husband Dave is still waiting for that corn and tomato patch.
Hear more stories just like Simone's by subscribing to the Telling Our Story podcast on iTunes (or wherever you listen to podcasts) and follow podcast host Angie Asimus on Instagram for more updates.