Have you ever been roped into the fast fashion frenzy of buying a new piece of clothing on a weekly or monthly basis, only for it to end up in landfill a short time later? There is a world first movement on the Queensland-New South Wales border to tackle that very issue. On a farm near Goondiwindi you'll find a cotton graveyard where customers are welcome to return unwanted clothes.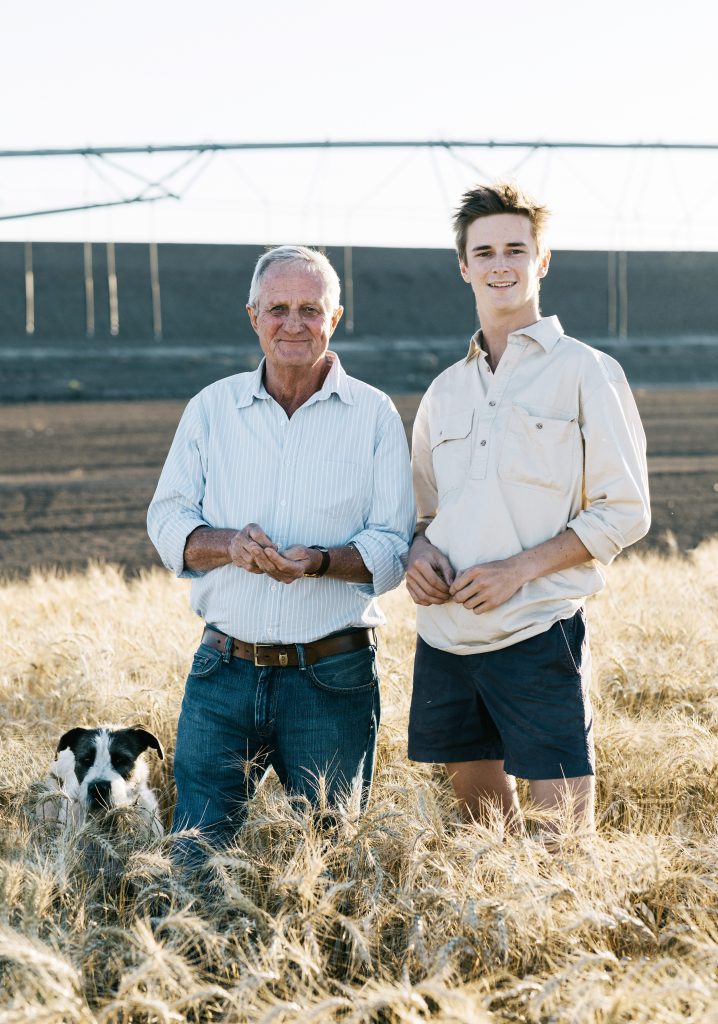 The man behind the initiative is Sam Coulton from Goondiwindi Cotton. He doesn't just grow fibre, he wants to find a real solution to textile waste. That's why he's scattered two tonnes of shredded cotton garments on one of his fields. From used emergency service uniforms, to sheets. It's all part of a partnership with retailer Sheridan and Circular Economy experts. It's hoped the cotton will break down in the soil, increase microbial activity, lock in carbon and improve soil moisture.
Sam says consumerism has changed since his early days on the farm.

"On the land, we never wasted anything. Everything was looked after and used somewhere else. Your clothes: they were handed down, sewn together with baggy material. We always did that. We always fixed things."
Sam explains how being in the rag-trade he noticed waste worldwide whilst on work trips. Then, he looked a little closer to home at the local rubbish tip in Goondiwindi.

"The waste was just phenomenal. Just landfill," he laments.
The 68-year-old set himself the challenge of doing something about it.
A game-changing meeting
Five years ago, Sam started offering to take his own garments back and return them to the earth. He had about 70 to 80 pieces returned.
"All we had to do was to check the dyes to make sure they're not going to do anything to it. We had that done by the University of Armidale. So we started a program along those lines and then I ran into Coreo."
Coreo is an organisation specialising in a circular economy, working to reduce the amount of raw materials wasted after a single use.
"I thought, wow, somebody's bloody speaking like I'm speaking!"

Sam Coulton, Goondiwindi Cotton
Sam believes that meeting was a game-changer.
"Somebody out there, from the city was going: 'we're coming to give you a hand'. I couldn't believe my ears."
The partnership resulted in a pilot program whereby old garments were shredded and spread at different rates across the field, then ploughed in.
"It's nearly all gone now and that was spread back in June. You can dig down into the soil and it's gone." Sam recalls it initially looked very strange with cloth strewn across his farm. It just seemed quite strange, something like Mars."
For now, Sam is only taking back his own garments due to the fact he's had the dyes checked and knows the pieces are 100% natural without added plastics. But the ultimate success of the project rests with the public.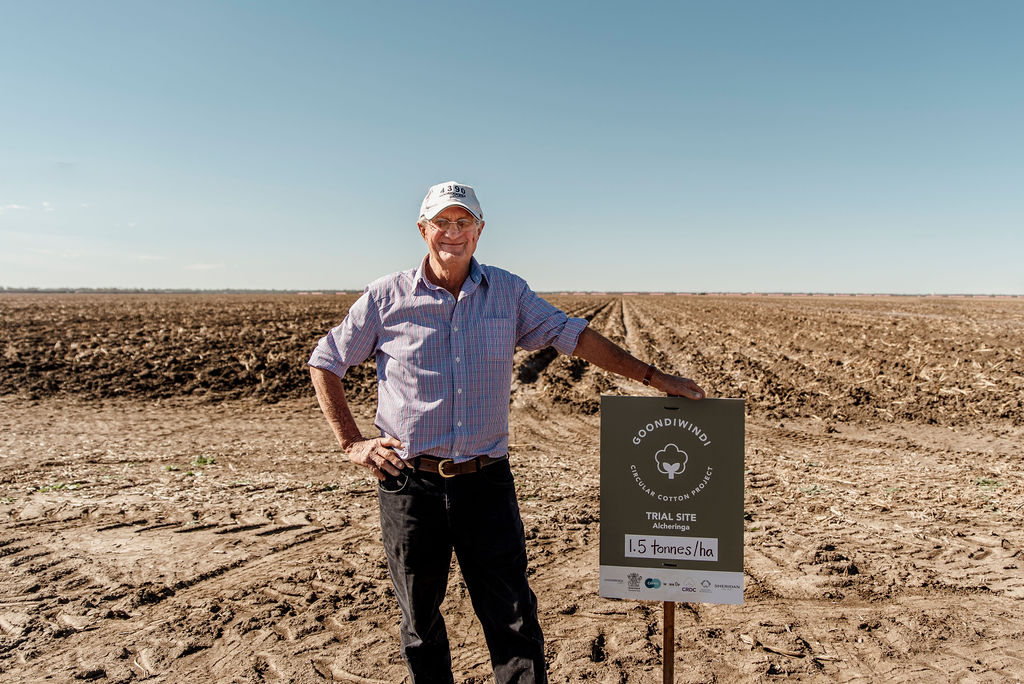 "It's got to come from the people. The general population has to get behind this and start sending their garments back. We all blame governments. The government's got to do this and the government's got to do that. But the people need to genuinely get in there and give it a go – you've got to give it a go."
"The general population has to get behind this and start sending their garments back."
Sam thinks sentiment has shifted in the right direction with consumers being more aware of their consumerism but questions how genuine the movement is.

"I don't know if it's from the heart. It's got to come from the heart. To send a cotton garment back, it's going to cost you 6 or 7 bucks and we'll give you 10% off the next garment anyway. We'll do a trade-in for you.
"We find a lot of people talk but they can't bloody well do it."
Breaking new ground
If this is successful, it paves the way for global change. "We're destroying our existence. That's what's happening. We're using all those natural resources and if we're just putting them back into landfill, crazy. It's crazy," Sam said.
Initial results show, the cloth breaking down has attracted microbes and Sam describes the soil quality as magnificent as it now holds more moisture. He sees the potential to do the same in cattle country.

"To be able to spread that back on the soil, which will get more goodies back into the soil. If we can retain carbon, the farmers can get an income from that."
One thing is for sure. This is new territory but if anyone can do it it's Sam Coulton. Cotton is the family business. Sam's father was a pioneer in the area, the first person to grow cotton in the MacIntyre Valley. It was quite a cultural shift in the 1970s going from growing grain and beef to growing cloth. It ended up being "white gold," according to Sam.
Let's hope Sam's good fortunes continue. His motivation is high with his grandchildren now on the ground as fifth generation farmers.
"I'm here to teach my grandkids how to survive when the lights go out," says Sam.
"It doesn't get much more meaningful than that.
Hear more stories just like Sam's by subscribing to the Telling Our Story podcast on iTunes and follow podcast host Angie Asimus on instagram for more updates.