Australia is home to some of the most picturesque landscapes in the world. From the red dust of the outback to the sands of our beautiful beaches, there is no shortage of stunning views in our country.
With a unique perspective of the land coupled with the ability to share it with thousands of people across Australia, AustralianFarmers caught up with five of our favourite bush-based photographers.
Each photographer shared a photo that speaks to them and represents their perspective of rural Australia.
In Lisa's words, "the camera lens enables me to share my part of the world with a wider audience. A place where livestock, windmills and dust are all commonplace part of the landscape, as well as wide open spaces, far horizons and the sounds of the bush….all part of my unique view."
Benita says, "when the rain finally came, an echo stretched out across the dry, cracked plains. It was almost as if you could hear the collective sigh of sheer relief leaving the bodies of desperate farmers. The clouds rolled in and the thunder came, finally delivering every farmers dying dream; that peaceful rain. Green grasses sprouted and young stock stood in tall fresh grasses, opening their eyes to a sight that hadn't existed their whole life."
"I photograph life, life on the land, still moments and agricultural life at it's hardest. My focus lies in female empowerment and a women's life on the land, a land that is dominated by our male counterparts. If a young women looks at my photographs, sees herself and says I can do that, or simply recognises that farming isn't just a man's job then I've done something right. There's something really special about the way women care for the land and I'm proud to capture that."
In Ellie's words, "rural Australia can be very harsh, with its big dust storms or destructive floods and fires, but it can also be extremely beautiful. The stillness in the early mornings just before the sun peeks over the horizon, the dramatic big clouds that summer storms produce, or just the way the sunlight filters through the dust as a farmer works the tractor at seeding time. It's all beautiful in its own way and part of what makes the rural life so amazing."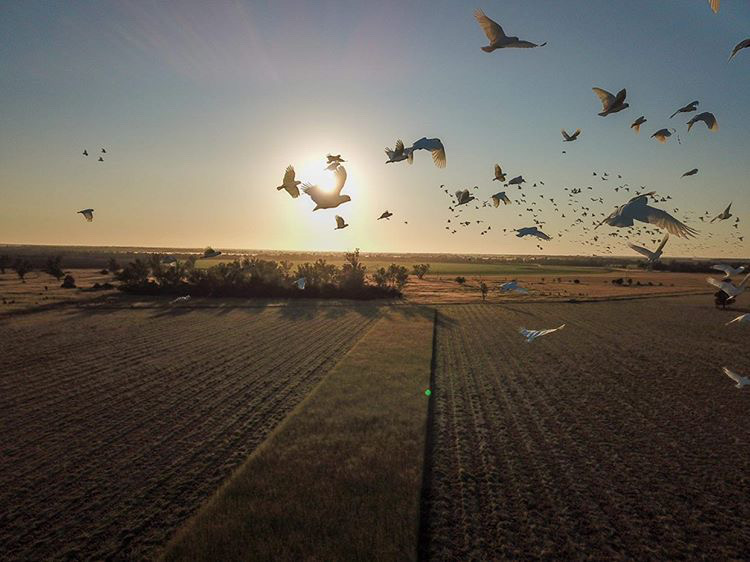 Hayley says, "a birdseye view of the start of another beautiful day on the darling downs. Sunrises and sunsets are my favourite! So many beautiful things in this photo, freshly cut grass, cockatoos flying high and the sunrise 😍"
In Alisha's words, "we truly love farming and the lifestyle that comes with it. There is beauty in it everywhere, even during the tough times. So I use my photography as a tool to showcase that, in the hope that others can see it too."