Slowly but surely, the cooler months are coming and that means winter warmers are a must have on the menu.
This Indian sausage, lentil and potato one-pan from Australian Beef is a great option for chilly evenings and has the added benefit of being cooked in one pan.
The recipe requires lean beef sausages, a popular choice for those short on time and looking for the added nutritional benefits of beef.
Australian beef plays an important role in any balanced diet and has a range of nutritional benefits such as protein, zinc and iron that is well absorbed by the body.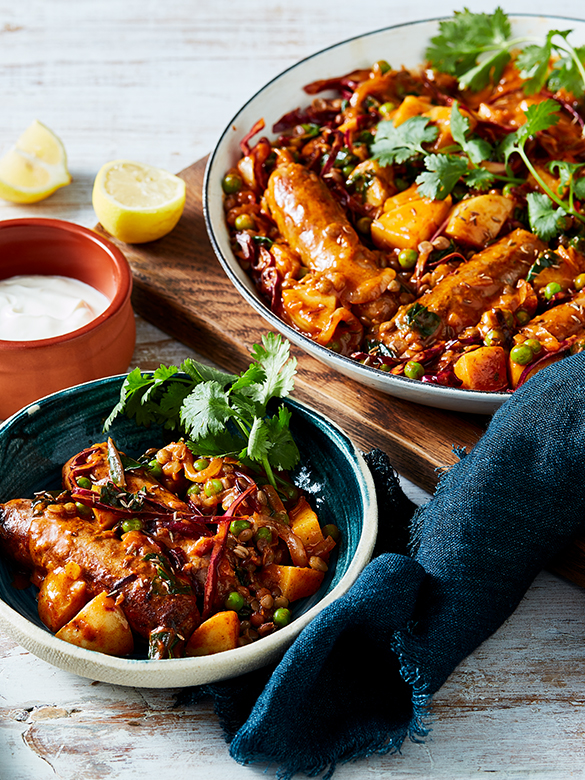 Ingredients
8 thick lean beef sausages
1 brown onion, thinly sliced
4 medium potatoes, scrubbed, cut into 3cm pieces
450g jar Tikka Masala curry simmer sauce
1 cup frozen peas
½ large bunch silver beet, trimmed, roughly shredded
¼ red cabbage, thinly sliced
400g can lentils, rinsed, drained
1 tbsp cumin seeds, toasted
Natural yoghurt, coriander sprigs, lemon wedges, to serve
Method
Heat a large, lightly oiled, non-stick frying pan over medium-high heat. Cook sausages for 5-6 minutes or until browned on all sides. Set sausages aside on a plate.
Respray pan with oil, if necessary, add onion and cook for 3-4 minutes or until slightly softened. Add potatoes and cook for 4-5 minutes or until lightly golden.
Add simmer sauce and 2/3 of a cup of water. Reduce heat to medium-low, cover and and cook for 10-12 minutes or until potatoes are nearly tender. Remove lid, return sausages to the pan with peas, silver beet and cabbage.
Cook for a further 3-4 minutes or until vegetables are tender. Remove from heat, stir through lentils, replace lid and set aside for 2 minutes.
Sprinkle with cumin seeds and serve with yoghurt, coriander and lemon wedges.
Tips
Swap thick sausages for thin sausages.
Use your choice of curry simmer sauce – Rogan Josh, Korma, Balti or Vindaloo would also work well – available in the Indian section of the supermarket.. Alternatively, use a combination of curry paste of your choice and stock instead of curry simmer sauce.
Beef meatballs would also work will in this dish.
For more information about Australian beef and to explore a range of great recipes visit the MLA and Australian Beef website.