Those living on the land are no strangers to working in the most spectacular of locations.
However, few can say their office offers a birds-eye view of landscapes like the breathtaking Pilbara or the desolate plains of the Nullarbor.
Jack Poplawski is a helicopter mustering pilot who has turned those remarkable vistas into a successful photography business called Whirlybird Photography. He is one of only a handful of people to ever see these remote parts of the country.
Jack knows all too well his job is pretty special. "The flora, the fauna and the colours, especially at this time of year."
In the Pilbara, it's all iron ore rock, so it's very dark red but also very green at the moment after the wet season we've had.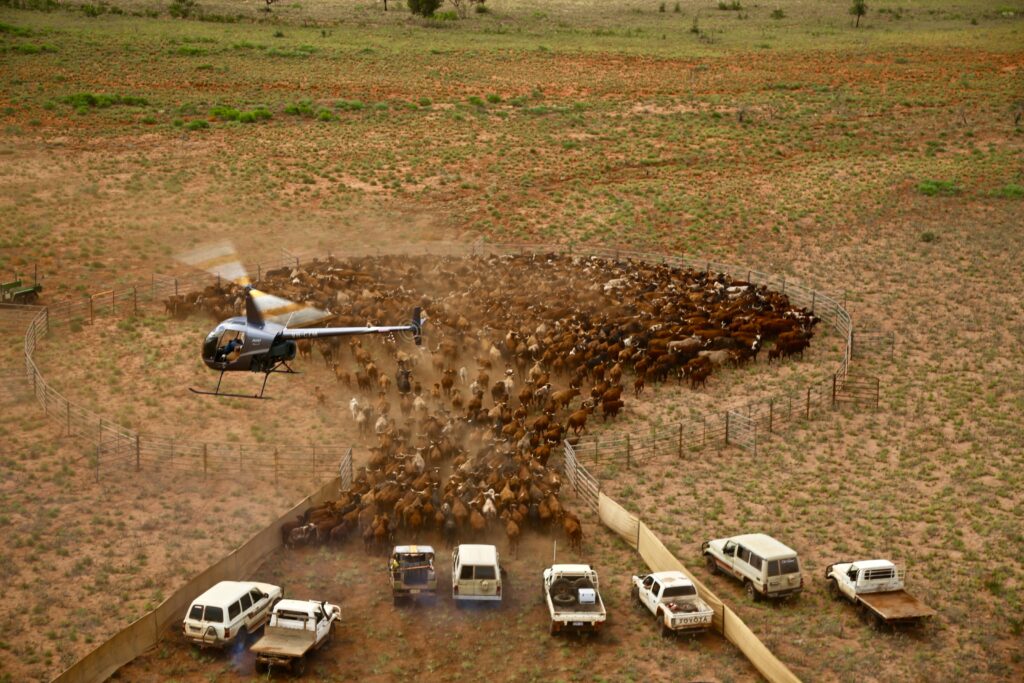 Jack has been a helicopter mustering pilot for more than a decade and it was his childhood in St George, in south-west Queensland that gave him a love for the country.
"I grew up around stations and livestock and everything that comes with it. Funny story, I was finishing boarding school, Grade 12 in Brisbane and mum was asking what I wanted to do after school. She mentioned a pilot's licence. I think she meant the plane pilot avenue but I've always liked helicopters and aviation, so it was an easy choice," he explains.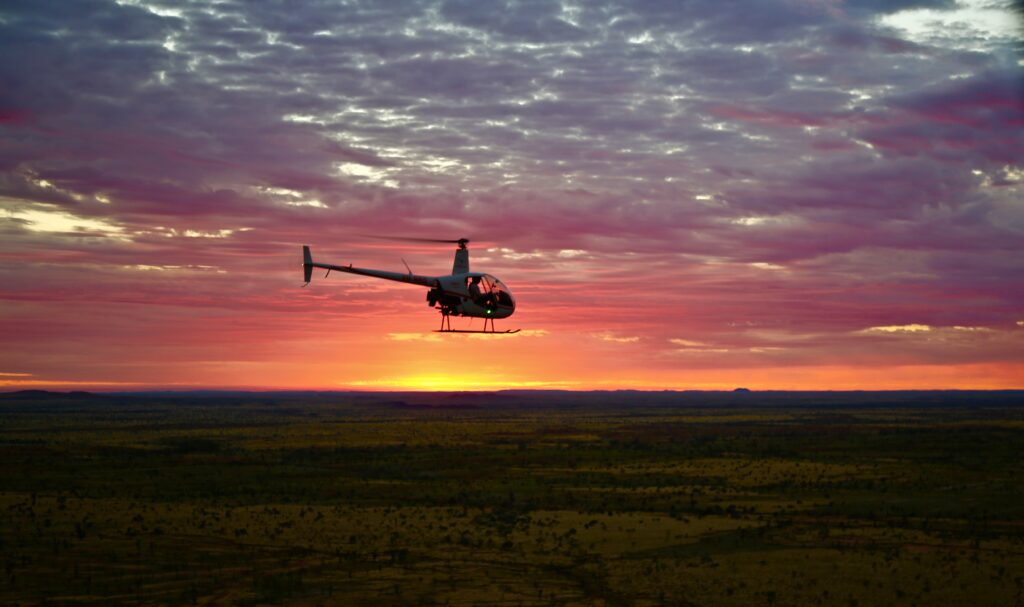 A normal day for Jack starts at about 4am, he then makes a plan with the station manager and other pilots, and it's up in the air by first light. The sheer scale of properties in the West Australian outback means mustering from the air is essential. Stations can range from 500,000 acres to 2.5 million.
"Our advantage is, we're in the sky, so we can cover country quite quickly.
Remote country too where man or horse-woman cannot get to, neither can a motorbike.
"In the Pilbara and Kimberley, a lot of places don't actually have paddocks so we have to go off the landscape, which way the creeks run, the rivers, how rocky it is. We just find the easiest way to get the stock to a point where ground crew can take over."
The pilots use grid lines to locate the animals but as well as being able to fly an aircraft, stock handling skills are required.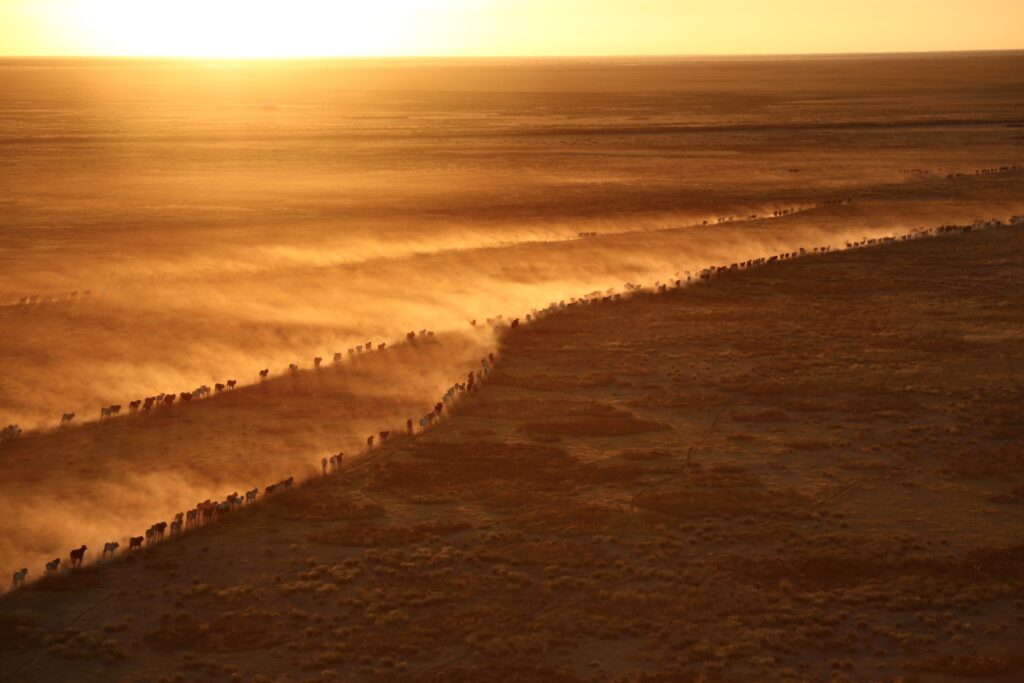 "The main one is understanding how livestock work and how you can apply pressure and then take pressure off. You can move cattle sensibly without causing too much stress on them.
Once you get a hot mob, or hot stock, that's when things start going pear-shaped.
Depending on the size of the property, these musters can range from 1 hour to 11 hours, so it's critical to keep the animals as calm and cool as possible.
Jack's birds-eye office has become quite a sensation ever since he bought himself a nice camera to document his work for his own memories.
"I started taking photos to send back home but then people were contacting me and asking if they could buy them. It's just kind of blown up since then to be honest."
Whirlybird Photography documents spectacular landscapes, sheep and cattle formations and magical dust and light.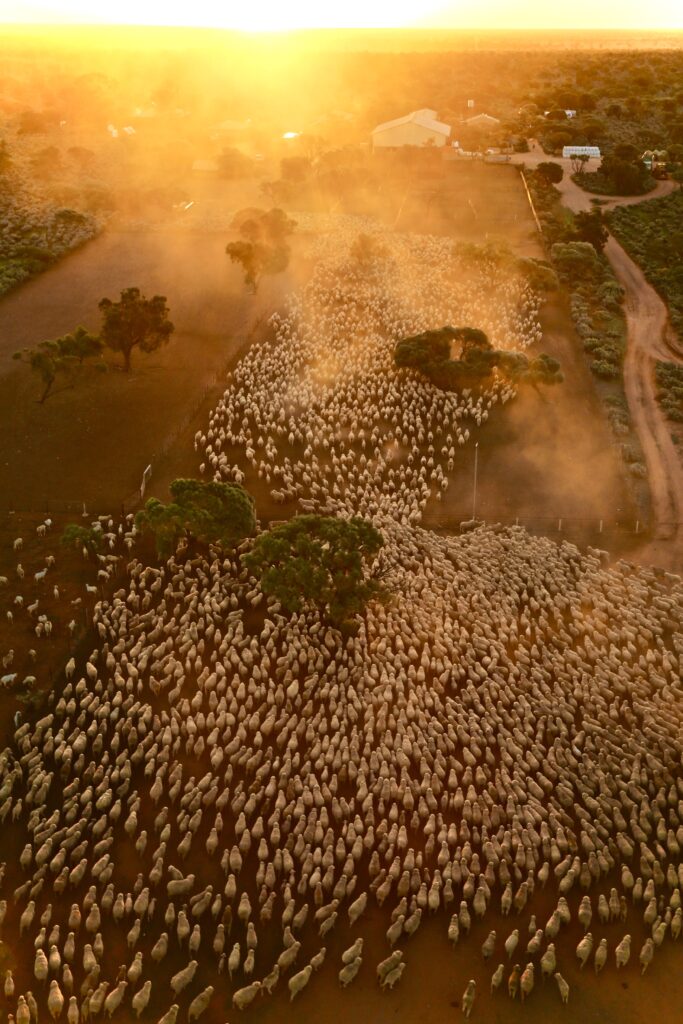 Some of the images that he doesn't capture though, are harder to take – like the aftermath of Tropical Cyclone Ellie. Jack recalls seeing some distressing scenes of animals suffering with water higher than fence lines.
"Any kind of snakes, spiders or insects just clinging to any bit of high ground. Even cattle standing in flood water for a couple of days, they had snakes and spiders on their backs. It wasn't the best sight," he recalls.
Despite that, there's not one day he's woken up and dreaded going to work, even when it means long stints away from home.
"One thing that does make it easier, is the people I've met and the mates I've made along the way. I could nearly fly from every station between the Kimberley and the southern Pilbara and know them, or know the manager or people who work there."
A tight-knit community among endless plains.
Hear more stories just like Simone's by subscribing to the Telling Our Story podcast on iTunes (or wherever you listen to podcasts) and follow podcast host Angie Asimus on Instagram for more updates.