Inaugural AgriFutures Rural Women's Acceleration Grant recipient, Fiona Taylor is a woman on a mission, she wants young people to feel they have a future on the land.
Her favourite pastime as a child was visiting her grandparent's dairy property in Kenya, so when she later married a farmer in Zimbabwe, she felt right at home.
This lifestyle was short-lived, when their cotton seed was burnt and with no way to claim it back, Fiona and her husband decided to try their hand at tobacco farming.
"We bought a rundown tobacco farm through a lease-to-buy scheme in Zimbabwe, with the aim of building it up," Fiona explains.
But when interest rates soared to 25%, they were left with no choice but to sell the property.
This is what made me passionate about rural finances, because I know firsthand how hard it is when you're on a property and the finances just aren't there."
From Africa to Australia
So, Fiona and her husband cashed the cheque for the sale of the farm, packed up their two teenage children and immigrated to Australia. It definitely wasn't as simple as that, but thanks to Fiona's pragmatic approach, it's but one small part of her rich life story.
When they settled in Australia, Fiona's husband worked on a cotton farm, and Fiona says it was a steep learning curve.
"It was a rude awakening for me, after spending very little time working physically on the farm in Zimbabwe, I soon had to learn about fencing and driving tractors and all the real farm work," Fiona recalls.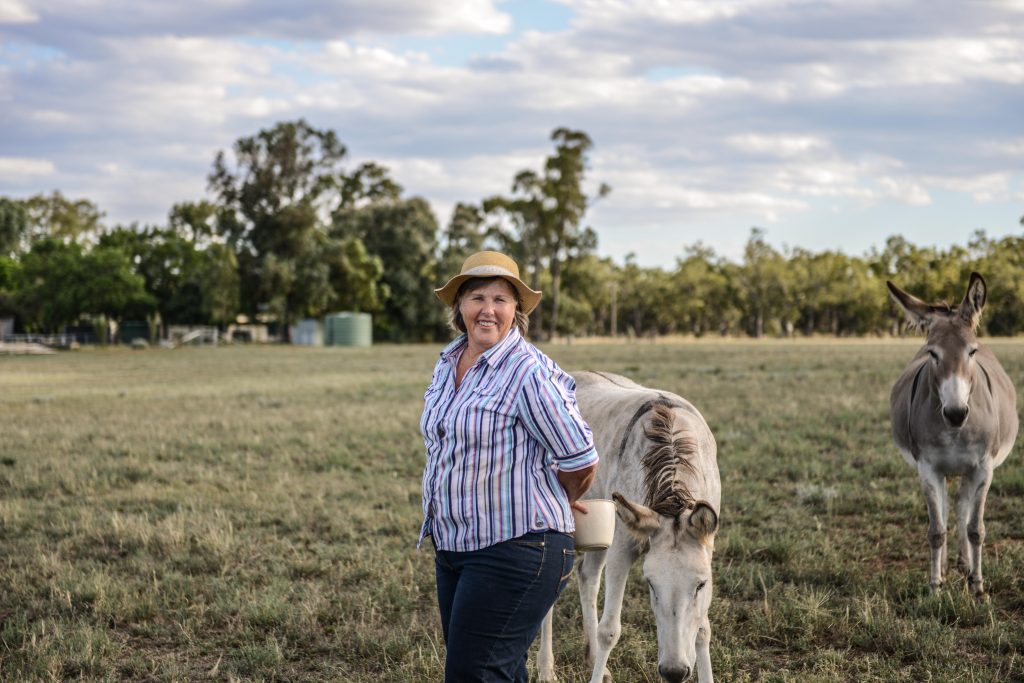 Lease-to-buy concept
Since coming to Australia, Fiona's had a diverse career across many agriculture industries, always with a link to supporting people to keep their farm finances in check, most recently with the Rural Financial Counselling Service.
It has been her farm ownership and professional financial experience which led her to her idea for the inaugural AgriFutures Rural Women's Acceleration Grant – the 'Rural New Generation Scheme'.
In the field that I am, I've seen a lot of people battling to buy properties, and also the challenges with passing on properties to younger generations."
"The idea is to lease the property so that while you're paying rent on it, you're developing a relationship with the bank you're dealing with and with the owner of the property, who may even become your mentor."
The scheme, similar to what is run in the UK and Zimbabwe, is based on a tenant-type farming situation. This allows the young farmers with qualifications and interest in agriculture, to gain invaluable experience working on the land, at the same time showing the people who can make decisions about their future that they can run a viable farming enterprise.
A scheme participant noted they reaped the rewards of the program, even after leaving Zimbabwe.
"This scheme has benefited us greatly, even beyond farming in Zimbabwe. It stood us in good stead to get up and running in new countries, with new business enterprises. It should definitely be embraced in Australia, I'm confident it will succeed."
Fiona explains, "It's not a handout either. The new entrant has mentoring from experienced producers, professional development and financial advice, so after three years they've developed the ability and equity to purchase their own property, without a guarantor. It's essentially a lease-to-buy scheme for farms."
Opportunity for those not off the land
Fiona says there's no limit to how her idea can impact individuals, communities and the industry.
I recently found a breakdown of the average age of a farmer in Australia, and it's currently 61 years of age and it's only getting older."
"My scheme provides another avenue for older farmers to sell their farms and the ability for young people to purchase farms in an increasingly competitive market, as well as the opportunity to bolster rural economies and bring innovative young people into the agricultural industry," says Fiona.
According to Fiona, her scheme will help encourage young people from non-farming backgrounds to pursue a career on the land.
"I'm particularly interested in the people who don't have a family farm to inherit from Mum and Dad, because it is harder for them to break into the market."
This article was originally published by Agrifutures and the full article can be viewed here.