Australian Farmers caught up with Koala Farms' Anthony Staatz to go behind the scenes of an Aussie favourite, the humble iceberg lettuce!
AF: Thanks for taking the time to talk with Australian Farmers Anthony. Can you start by introducing us to Koala Farms?
Anthony: Our family are fifth generation vegetable growers from the Lockyer Valley in southeast Queensland. Today, we have three properties spread across the Lockyer Valley; the Darling Downs and in Bathurst, NSW. We have 150 employees.  
 
Koala Farms grows iceberg lettuce, cos lettuce, baby leaf varieties for salad packs, broccoli and cauliflower. You may recognise the twin cos lettuce packs that we produce for Coles!  
On average we turn off 250,000 iceberg lettuces each week! During summer, most of our lettuce is grown at the Darling Downs property and winter, in the Lockyer Valley. The Bathurst property provides a valuable climatic variation – its cooler there and, also closer to the Sydney market.
AF: As shoppers, we grab iceberg lettuce for our burgers, our salad, or a favourite of mine: san choy bow, with little thought at all. But, this all changed recently when lettuce prices went sky high! It dawned on us at Australian Farmers that the average Aussie would have little to no idea about the lifecycle of a lettuce – can you enlighten our readers? 
Anthony: For sure. The actual growing time for any iceberg lettuce is a maximum of 16 weeks but it can be as short as six during summer. The process starts about eight weeks prior to planting with the preparation of the paddocks.
Our lettuce seeds begin their life in a totally undercover, highly-controlled transplant nursery. The nursery allows us to keep the conditions optimum for seedling growth. The best conditions are between 3-27 degrees with lots of UV and light wind. The nursery has a retractable roof and sides that we can open or close depending on the conditions.
After four weeks seedlings are transplanted to the paddock, into 6-foot-wide growing beds. This process is 'mechanically assisted' but there is also lots of hands-on labour to ensure the seedlings are transplanted in a way that gives them the best chance of success.
We use a combination of underground and aboveground irrigation. Subsoil moisture is critically important to plant growth!
AF: I feel like it must be tough for lettuce seedlings, going from the security of the nursery out into the big wide world of the paddock?
Anthony: Yes, it is, the lettuce is fragile! It's soft exterior, makes lettuce extremely susceptible to weather, like frost, strong winds and extreme heat.
During the growing period, plants are physically inspected twice a week for pests, like predatory wasps and the beginnings of diseases like powdery mildew and other bacterial conditions that cause leaf deterioration. When signs of diseases and pests are identified, plants are treated ASAP.
Australia has some of the strictest regulations in the world when it comes to the application of chemicals to food crops. Consumers can be assured the vegetables they eat are completely safe!
AF: Talking of weather, the Lockyer Valley was hit hard by two recent flood events, how did your lettuce fare?
Anthony: Thankfully, we were less impacted than some – but by no means escaped unscathed. Of the 350 acres we devote to lettuce growing, 200 acres of prepared paddocks went underwater. So while we didn't actually lose plants, the floods were definitely disruptive and have reduced our planting capacity for this season by about one third. Others weren't as lucky, some growers had entire crops wiped out and this has definitely had an impact on supply and as a result, price.
AF: Yes, before we get to the issue of price, tell us more about how the lettuce gets from paddock to shelf?
Anthony: Our lettuce are harvested and packed into cartons or crates by hand. They typically leave the farm on the day of harvest. But before they leave, are put through a large vacuum cooler that significantly lowers the temperature of the vegetable to improve shelf life.
Our best lettuce are the whole vegetables you see on the supermarket shelves and the lettuce of less quality go to processors to be shredded, for example for the lettuce you get on your Maccas burger.

AF: Ok, so let's tackle the issue of $10 plus lettuce. What's behind this – you have said supply, but what other factors are at play?
Anthony: Firstly, I think, the more common price has been much lower than that. Coles for example capped the price of their iceberg lettuce at $5.50 – because they deemed that to be a price point their customers would tolerate. The cost of farm inputs – mainly fertiliser and fuel have definitely also had a large role to play.
AF: There has been much said about the labour shortages in horticulture, has this impacted Koala Farms?
Anthony: Absolutely. Of our 150 employees, before COVID, 100 of those were backpackers. And before the onset of the pandemic, we were getting between 50-60 applications every week from backpackers. By the second year of the pandemic, our access to backpackers had all but dried up.
Koala Farms has recently gained the accreditation necessary to access workers via the Pacific Australia Labour Mobility Scheme and this has allowed us to welcome 60 Pacific workers who are here on 3-4 year working visas. We couldn't be happier with our new workforce.
However, the PALM accreditation process is not easy and certainly not an option for smaller operators. We were required to purchase units for worker accommodation, and we have invested in three buses (Koalas Farms is now also a bus company!). All up the accreditation process cost about $3 million.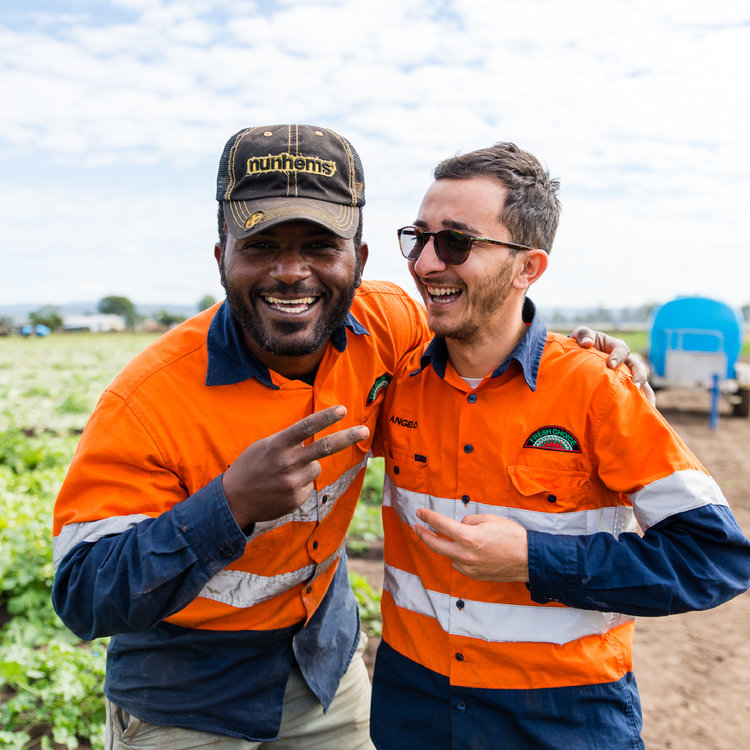 AF: I know a lot of AustralianFarmers readers are interested where the money paid at the checkout actually goes?
Anthony: Until recently, the highest wholesale price, I'd seen for a box of 12 lettuce was $50. After 'middleman' charges, the farmer typically receives about 85% of this price. Last week, a box was selling in the Sydney wholesale market for up to $120. For perspective, it costs Koala Farms $1 to produce one lettuce.
AF: Anthony, thank you for your behind the scenes look at the humble iceberg lettuce. One last question: if you had a crystal ball, what would you say is ahead for the price of lettuce in the supermarket?
Anthony: Lettuce price is like the price of anything else, it is largely driven by demand. I can't see consumers paying anywhere near $10-$12 for too long – if at all. Supply and input cost issues will definitely continue to apply pressure, but I think we'll soon see a return to somewhat normal pricing.
Did you know?
Australians are relatively unique in their iceberg lettuce preference when compared to their counterparts across the world. Aussie lettuce eaters like their iceberg lettuce big and bulky. Here, iceberg lettuce is typically sold with its 'frame'– the harder leaves on the outside, intact. In most other parts of the world, smaller lettuce is preferred, and the vegetable is sold in plastic wrap with the frame removed.
Did you know?
Lettuce seed breeding is a multi-billion business. A small number of multinational seed breeding companies are continually developing new lettuce varieties in the pursuit of higher yields and better eating lettuce. At Koala Farms, Anthony and the team plant no less than six different varieties of iceberg lettuce over the course of a year, each different in attributes such as heat and frost tolerance, resistance to pests and disease and shape, form and colour.