Australia's wool industry is sending a powerful message to the world.
Every 25 minutes, an Olympic-sized pool of oil is used to make synthetic clothing. It's time to change. Merino wool is 100% natural, 100% biodegradable, 100% renewable. Wear wool, not fossil fuel.
The stop-the-scroll video has been seen by millions on social media and featured in two of the world's most high profile locations, New York's Times Square and Piccadilly Square in London.
Australian Wool Innovation CEO John Roberts spoke to Australian Farmers about the campaign and why it was needed. One reason is a product labelling scheme being developed in Europe to measure environmental performance of companies.
While it will cover industries beyond textiles, from food through to cars, concerns have been raised about a "one size fits all" approach being applied to all textiles regardless of whether they are natural or synthetic fibres. The Norwegian Parliament has talked about it, and it is on the minds of Australian farmers and companies.
John likens the proposed product labelling to the star energy rating that's been around for years to guide consumers buying whitegoods.
"You will go into a shop and see an eco label on a garment, basically saying green is good and red is bad, regardless if it is synthetic or natural.
"It's measured things like methane from sheep, but what hasn't been included is the energy usage and the effluent that comes from the synthetic fibre process. It seemed to me it was capturing all the wrong things."
John also wants consideration given to the entire life cycle of a product, explaining the process discounts the environmental benefits from wool post sale, such as reduced water usage from washing wool garments less and using a cold cycle.
"The greatest travesty is it doesn't talk about what happens after the garment is expended, where wool biodegrades whereas synthetic materials do not.
"If consumers and brands are serious about sustainability, they need to make informed decisions. This campaign is a way for people to do that."
The research and the reaction
The campaign was backed by scientific research into wool's eco credentials, research that has been reviewed by external agencies.
Wool is the only textile with a lifecycle analysis that has been peer reviewed, so it's not just us marking our own homework.
"We know we aren't perfect, but we know we are a natural fibre, and we are biodegradable and we are renewable."
John said the response to the campaign had been "phenomenal". With a budget to roll it out in the UK, France, US and Australia, it had broken beyond those borders organically reaching some 1.5 million people a week after launch.
"We've been pleased by the support from Australian wool growers, who have seen it and got behind it."
John admits the campaign's message wasn't the usual marketing line AWI took.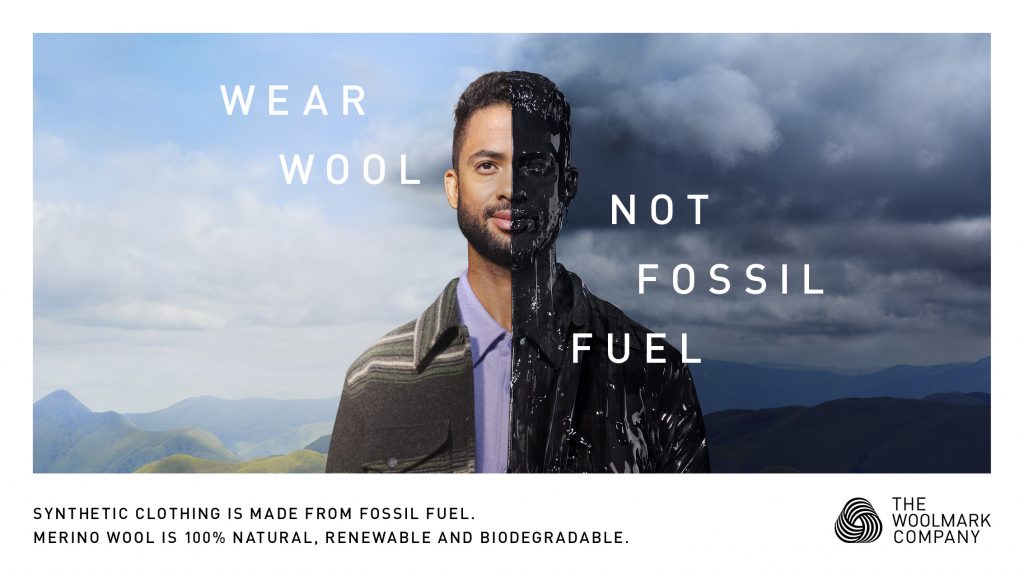 "You've got to look at what's happening in the world, the mystery word 'sustainability', it takes on a different meaning for every brand and every consumer, but everyone's talking about it.
We were noticing more and more questionable statements and questionable methodology about eco credentials about fibres around the world.
"We've had to ask ourselves, 'is this who we want to be, do we want to be combative?' Normally no, we want to work with the supply chains, but when you see inaccuracies out there, it's the right time.
"We need to get it right, as whatever they roll out in the EU will happen in other jurisdictions, like Japan and China."
Fast fashion, traceability and greenwashing
John has noticed shifting consumer priorities since about 2015, with people moving away from fast fashion.
"Synthetics are incredible with what they've been able to do since the 80s. They dominated that space for such a long time.
If you think by 2030 Gen Z will be our biggest consumer. They don't want to just be a mindless consumer and a slave to a brand, they want to be a discerning consumer, they want to know what goes into a brand, they want to know about provenance and sustainability. 
"Now we are finding brands are coming to us and asking, 'where did it come from? How did they treat their animals?' What was concerning to us is most consumers knew what wool was, but they didn't know where synthetic comes from."
It's shining the light on this side of synthetic what the campaign has been based on.
People want to know the story, but they want it validated.
"You go into stores and they make claims of traceability and provenance, but when you ask the shop assistant to run through that, they can't and consumers are less and less ready to accept that."
In fact, unsubstantiated claims to clothing sustainability are being called out and taken to court. In the US, fashion giant H&M is facing a lawsuit accusing the brand of "greenwashing", or false marketing on its sustainability claims. It's not the only company under fire, ASOS and Boohoo in the UK are some of the companies also being investigated for greenwashing.
AWI and the wider wool industry are working with a block chain provider to increase traceability, so people will be have a clear lens to learn about the movement of wool from the paddock to the store.
Find out more about Australian Wool, including wool fashion, how to care for wool garments, animal welfare and regenerative agriculture here.