By Emma Germano
Just last week I was talking to a friend who bought half a lamb from our online farm shop. She knew what to do with the cutlets and leg, but had was a bit stuck with the shoulder roast. For starters, I said, cut away the neck and get a pasta sauce on the go, it'll blow any bolognaise sauce you've ever had out of the water!
She'd never heard of making a sauce with the lamb neck cut. I guess lots of people haven't!
So I talked her through Mum's simple but delicious recipe where you cook down a chopped onion in olive oil, add the lamb neck, loads of passata, maybe a little brown sugar to bring out the sweetness of the tomato, a bay leaf and cook for hours and hours. The sauce is incredible and so full of flavour. 
We grew up with this kind of food. Rustic dishes that are a true picture of the land they come from, dishes that are healthy, easy to make, and super affordable. This is the kind of food that we are proud to sustainably grow and share from our farm.
I get so excited about conversations like this. Can you tell?!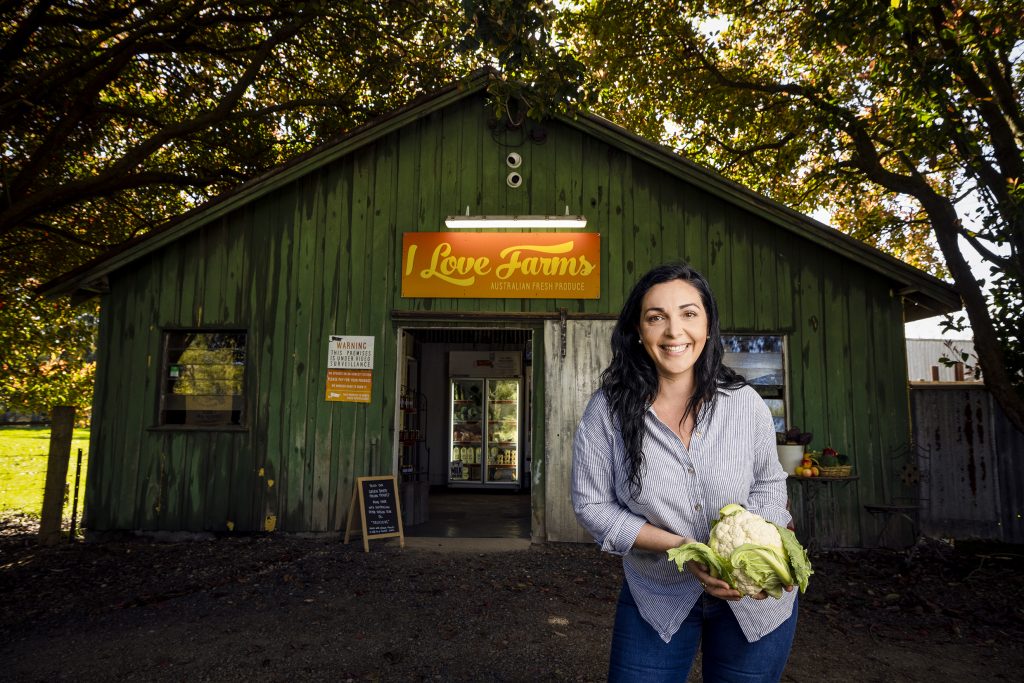 I'm a third-generation farmer from Mirboo North in Victoria's beautiful Gippsland region. All of my grandparents migrated here from southern Italy spanning from the late 30s to the early 1950s. My Dad's father bought and started farming our now 250-acre property and my uncle's and aunty's adjoining farms.
And it's funny actually, because even though we've had all these technology advances in agriculture since the fifties, the way we farm today is closer than ever to how he started out. By which I mean; we are shifting back from an intensive agricultural system of when the whole farm was carpeted by cauliflowers and broccoli back to a mix of livestock and horticulture.
We began this shift 'back' because it was becoming very clear that growing such a huge amount of horticulture crops only was putting pressure on our land, infrastructure and us.
Disease resistance was becoming a problem, irrigation was becoming expensive, workers were becoming near impossible to find and we just couldn't keep up with the intensity of the system.
Our yields just started creeping backwards and this was causing financial pressure. So 4 years ago we began a real restructure of the whole farm system. The mixed model means that having livestock is increasing our soil fertility for our potato and brassica crops and also gives us more security so we don't rely on just one crop and one customer. We also opened the gate, so to speak and invited the community to purchase our wares directly from an on farm shop.
All of this said, agriculture was never my original career plan. Yes I grew up as a farm kid but because I was always pretty good at school, there was an assumption that I'd be off to university straight after school just like my older cousins.
So I moved to Melbourne to study, then a stint as a restauranteur and eventually found myself running business management training courses, going in and out of different organisations and helping them with their human resources, branding, budgets and goal setting.
One day, Dad and I were on the phone and he was saying how strong the cauliflower market was, but even though he should be getting $40 a carton, his broker was only offering $22 and so he had to take the cut. I was getting really stuck into him, asking 'what type of business model is this!? How can this be!?'. 
His response was brief, 'well you are helping all these other businesses kick goals, why don't you come back and give us a hand!'
I came back to help out and truly thought it would only be for a few months, just until we put some better systems in place. But slowly I became more and more involved and now couldn't imagine doing anything else!
The first thing that happened was that I took over the sales and marketing side of things; working with the wholesale markets on our contracts and pricing. At this stage I was still calling Dad all the time asking things like; 'how many cartons go on a pallet?' and, 'how many pallets go on a truck,' and 'what's the difference between a B double and a single trailer'!
Yes I had grown up on a farm, and we'd always helped out planting potatoes or fixing irrigation pipes, pulling a calf and so on, but I never really had any aspiration that I would come to own and manage the farm.
Soon after moving home, I also became very involved in the compliance and work-force aspect of our operations. In many ways, that is a full time job in itself. It was through this work, that I started becoming involved in industry organisations and getting noticed as a young woman who was keen to get stuck in and learn.
From this point, all kinds of opportunities seemed to pop up; I was accepted into a women's horticulture tour to Israel and Italy, then joined the Victorian Vegetable Growers Association (me around a table with nine men in their 50s-70s!) and then a Nuffield scholarship studying export opportunities for Aussie produce and eventually my current role of Vice President of the Victorian Farmers Federation. 
From coming home for just a couple of months to help out with sales, I'd realised there is a real career pathway for me in agriculture. And it brings all my previous study and skills together so neatly! 
There's the politics I studied being so relevant now through the policy work I do with various industry bodies. There's the science; the actual growing of things and balancing production schedules with weather and seasons. And there's the business aspect; running a farm is one of the most intensive businesses of all, with lots of variables and many parts that need to work together from human resources to production and marketing. 
But mostly I love that with farming, the value of what we do is just so tangible. You look out into the paddock seeing things growing, you know how much effort goes into each row, and you know it is going to feed people. I don't think there's another profession with more integrity because we are actually growing food people need, even before they need a doctor, people need their farmers!
COVID has been a terrible thing for so many reasons, but one upside for us is that it has led to so many more conversations and customers like my friend with her box of vegetable and unusual lamb cuts!  
Customers who make the effort to drive to our farm shop or order from us online. Customers who are thinking more about not just where but who they are purchasing food from. 
It's so encouraging for us growers to see that customers don't actually care that a cauliflower is slightly smaller or bigger than the specs that the big supermarkets demand from us. What they care about is flavour, nutrition, that our veggies are grown sustainably and that they are supporting their local farmers in their community.