By Kay Tommerup
My husband Dave and I run Tommerup's Dairy Farm in Queensland's Kerry Valley in the Scenic Rim.
Our 200-acre property is a working dairy farm and in addition to the milk, butter and cream from our beloved Jersey cows, we also produce milk-fed heritage pork, paddock grown milk-fed veal, pasture-raised lamb, and pastured eggs.
And because we really love sharing our farm with others, we also have a growing agritourism business, offering farm stays, tours and special events. The agritourism was initially a response to the deregulation of the dairy sector in 2000, and our need to diversify our income streams. But it has become a much bigger part of life here than we initially anticipated.
Dave's family have a long and proud history of farming in the area and we appreciate being able to share this with so many interested visitors.
Having grown up with a taste of farming life, on the semi-rural outskirts of Brisbane, it's all I've ever wanted! As a girl my parents would take us out to country dances every weekend, and I kept going to these as a young adult. One night I met Dave, we really hit it off and 25 years and two kids later (hi Harry and Georgia), here I am!
Dave's the fifth generation of his family to farm here, his great great grandfather first selected and established the farm in 1874 and the original homestead, built in 1888 is now one of our farm stay houses. Dave and I live in his grandparent's house built in 1939 – he spent his first couple of years living in this house with his grandparents so it's very special for him to live here with his family.
With all this history and connection to the land, it was never really a choice of where we were going to live!
And of course, I was really happy to move here and make it my home too. If ever you have visited the Scenic Rim yourself you'll know what I mean, it's just the most beautiful part of the world.
Maybe this is why so many of our visitors go on to adopt our farm and family as their 'country cousins'! It's pretty incredible to see a bunch of school kids arrive, terrified of animals, and leave completely in love with them, telling me that they've had the best day ever! We love seeing how quickly the kids grow these relationships with the animals.
Since Queensland's COVID-19 restrictions eased up around June, we feel like we've never been busier! People are itching to get out of the city and experience life's simple pleasures.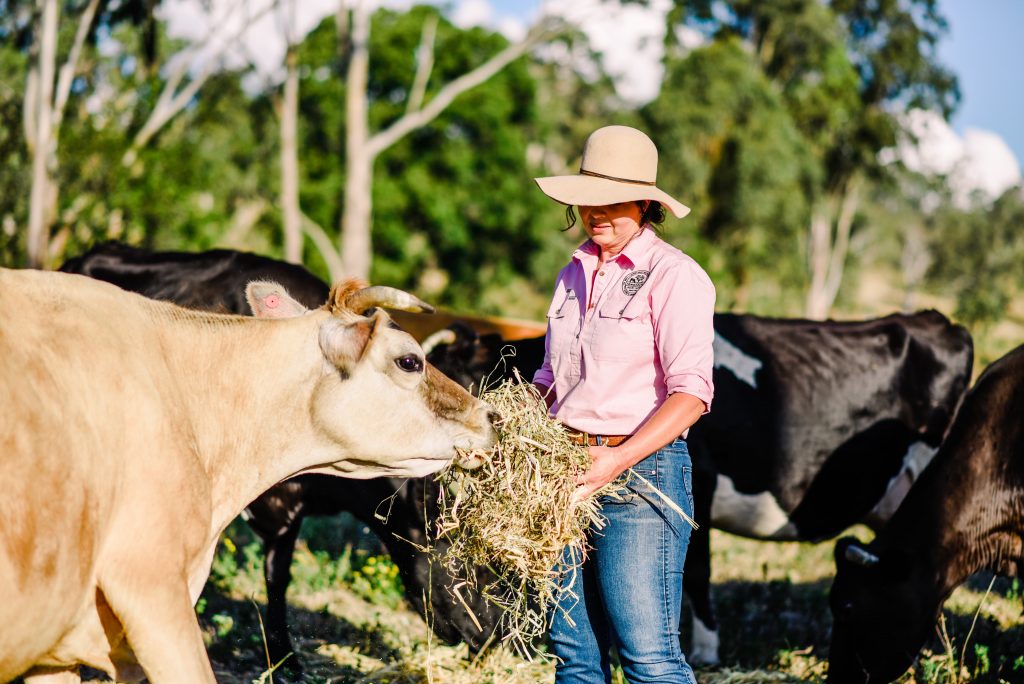 Everyone has been so stressed this year, (of course!), and coming out to our farm, whether it's for a picnic, a getaway, an educational experience or even a quick visit, seems to help. Our guests can sit on a rug and look out over the farm, share our beautiful produce and watch their kids run around. They also get to see and feed the animals, learn more about our local produce and build a connection to our farm and what we do. It's a great scene!
I really think that we live in the best country in the world in terms of food supply and security.
Like most farmers we know, the pandemic didn't affect our production so much, but it did change how we could get that food to our customers. So we adjusted and overcame that pretty quickly.
Our customer couldn't come to the farm, so we took our farm to the city.
I set up an online store on our website, used social media to communicate our pivot plan and off we went, delivering our meat, dairy and eggs directly to our customers in Brisbane.
It was so popular we considered purchasing a larger vehicle so we could keep up with demand!
The connections we had already built with our customers meant it was quite easy to continue to get our farm product onto their family dinner table. 
We hear the phrase "we're all in this together" so much at the moment, and I think it's important that we realise that this is certainly the case when it comes to food in Australia.
As farmers, we take a huge amount of pride in producing the highest quality products for our fellow Australians.
We need the consumer to take pride in being part of the food chain as well.
When consumers make a choice about what to buy, not just during COVID, but as part of their everyday life choices, farmers need them to see value beyond the checkout price. We need people to recognise the value in supporting sustainability, innovation, and quality – farmers can't continue to strive for these things without knowing the consumer has our back too.
Food security is everyone's responsibility and by connecting farmers and consumers, we can all feel part of shaping our food future.
The great part is, it's never been easier to get to know the farmers and producers in your area or state or country. And the more you connect with the people growing your food, the more you realise and appreciate how hard they are working to contribute to the economy and put good clean food on tables.
There are so many farmers now online, showing up on social media and virtually taking people around their farms and sharing their passion for what they do. I think this is a really positive move in terms of connecting farmers and consumers.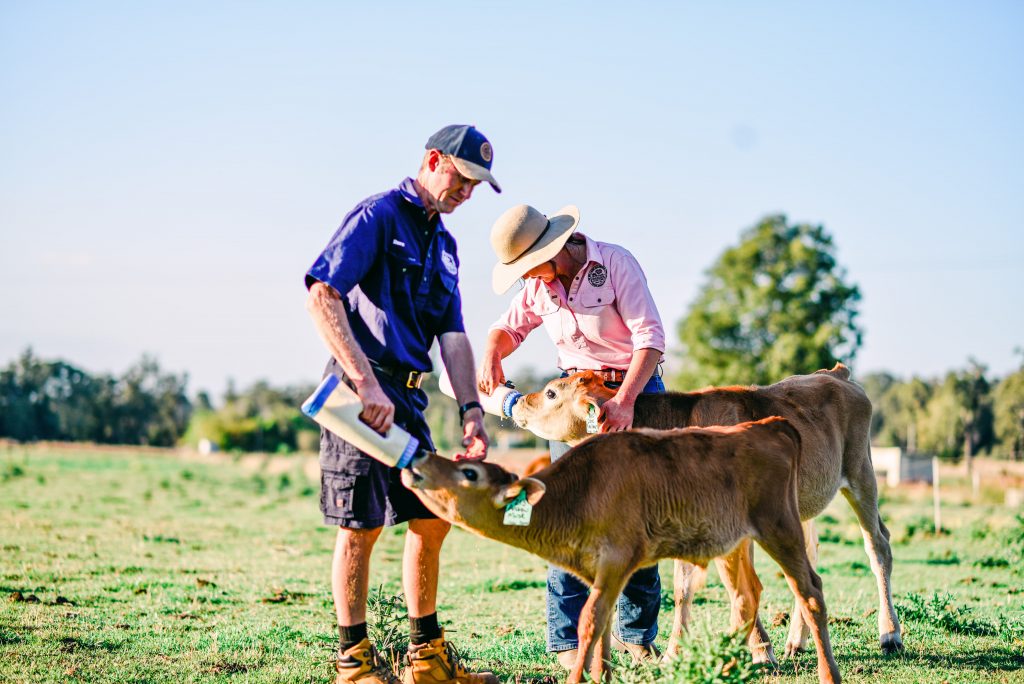 And of course it's not the same as actually going to someone's farm but even these online platforms can help grow a connection between the farmer in the paddock and the person sitting at the plate! And importantly, it provides an opportunity for consumers to ask questions and get direct answers.
For example, we really welcome people asking us (in person or on Instagram) why it matters so much when the price of milk goes up or down a cent or two per litre. It's good to be able to explain that clearly, and convey to people how big an impact those price changes can make.
From then on, people aren't just buying a bottle of milk, they're making a considered choice because of what they know. Because of the relationship they have developed.
When people do make those connections with their farmers, they value the produce so much more. And that's good for everyone I think!