Ever wondered how those delicious red raspberries and succulent juicy strawberries in your shopping basket came to be?
Well, it might be surprising to know, berry production has moved a long way from the romantic image we might conjure up in our imaginations of pickers down on hands and knees, gathering the bounty into gingham-lined baskets.
These days, it is a sophisticated operation, and Tasmanian farmer and lawyer Stephanie Terry and her husband Andrew are leading the way, constantly evolving to stay ahead of the game.
AI in farming
"There's a lot of AI (artificial intelligence) and technology involved in how we're growing things, how plant health is monitored, how irrigation systems deliver fertiliser and water to plants," Stephanie said.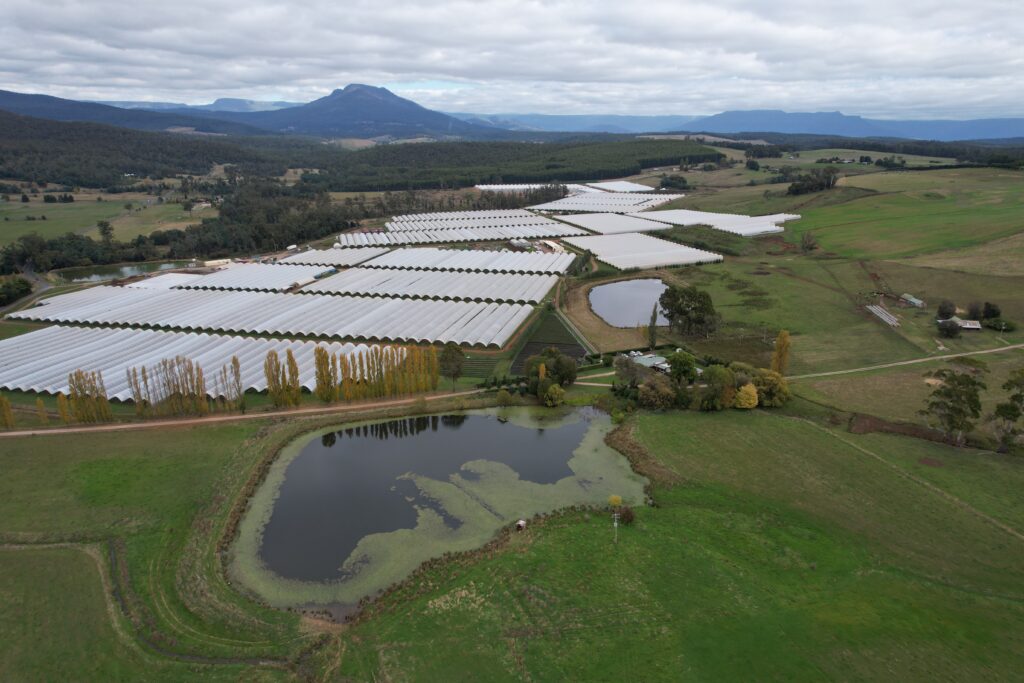 "We've got a huge amount of skill sets working with our business now, we have a CFO (chief financial officer), myself as an in-house lawyer and a HR (human resources) manager, which are all quite specific and not traditional farming roles, and many other larger scale farms and especially those with intensive production are the same.
I guess a big misconception is that farming is just old men in flannelette shirts in a tractor out in the paddock, chewing a piece of straw.
"It's actually much more sophisticated and skilled, and it's all about being sustainable, innovative and ahead of the game using technology."
Starting from scratch
While Andrew grew up farming, together he and Stephanie started their farm from scratch, learning along the way and working with what was available.
They have built the business to become a leading berry, cropping and cattle enterprise near Exton in central northern Tasmania, with a site at Christmas Hills, and a third site at Bundaberg in Queensland.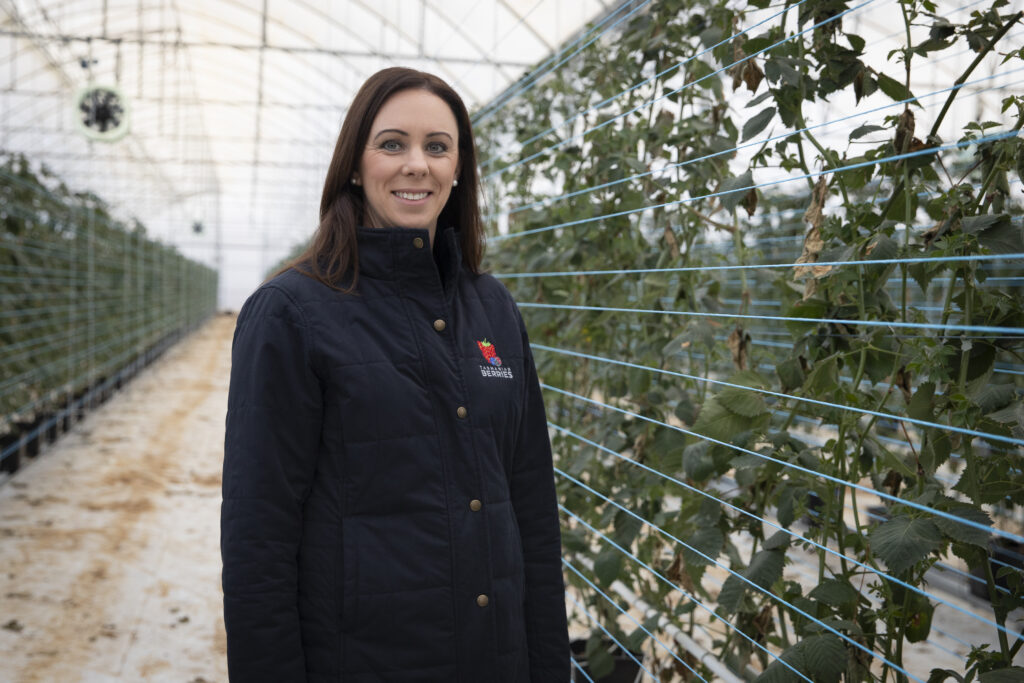 The business, Tasmanian Berries, is an independent grower for Driscolls Australia, producing berries from 50 hectares of infrastructure and plants in Tasmania and 2ha at the new Queensland site known as Sunshine Berries, with plans to develop another 8ha by mid-2024.
And the technology they are using is advancing rapidly.
Data collection apps built in-house, along with purchased apps, are helping provide the business with climate data, irrigation monitoring and automation, chemical application and timing, HR, payroll, production and operational tasks, harvest and production data collection and farm safety and reporting.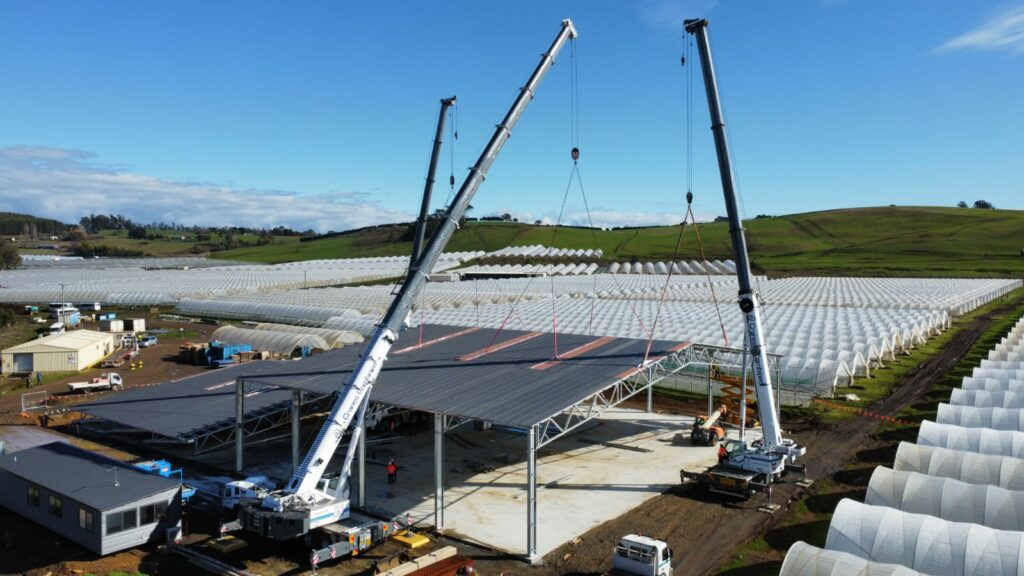 They are also exploring the possibility of introducing other technology, including automated tractors for fruit collection from the field and delivery to the packing shed, and are building a 4000sq/m shed to enable more efficient packing, with potential to use alterative packaging including heat sealing.
Australian first
Very early on, the business changed its strawberry production to a tabletop system to save on the backbreaking, on-ground work of the past, and they are the first in Australia to construct new gothic-style, fully automated greenhouses.
The new technology enables greater climate control and production stability for five hectares of blackberries.
"There's two 2.5ha gothic-style greenhouses – they're a hybrid between a glasshouse and a poly tunnel structure, and are fully-fixed to the ground," Stephanie said.
"The tops are a gothic-style, they're much higher than other systems at about six metres to the top of the peaks, unlike a traditional poly tunned which is more of a rainbow shape and ranging from 1.6m-4m at the highest point."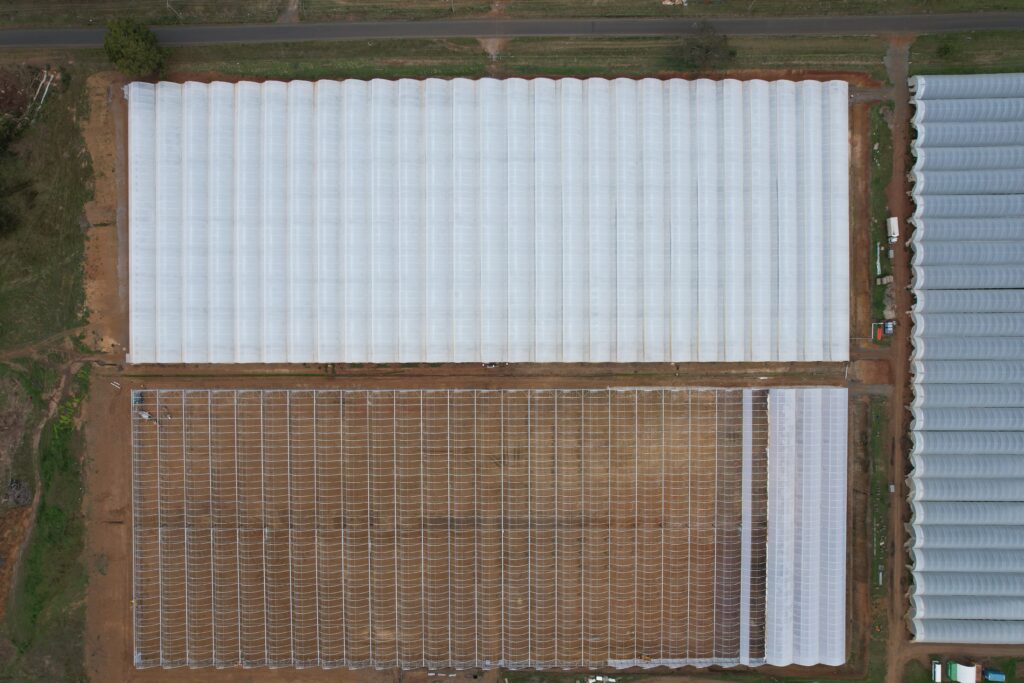 The top vents are automated, self-controlled, enabling better temperature and humidity control, and they are double-lined for thermal insulation.
Fully-enclosed unlike the open-end poly tunnel system, they rely less on favourable weather conditions for plant growth, and the result is an extension in production opportunity.
Creating new tricks of the trade
Andrew has been working on new techniques of growing – called long cane and green cane – which involves refrigeration of the plant canes to "trick" them into thinking it is winter and releasing them into the controlled climate of the hothouse, enabling production at 'non-traditional' times.
For consumers, the good news is, it means more availability of berries throughout the year.
For the business, it means a flattening out of the peaks and troughs in production, also creating more stable work for their staff.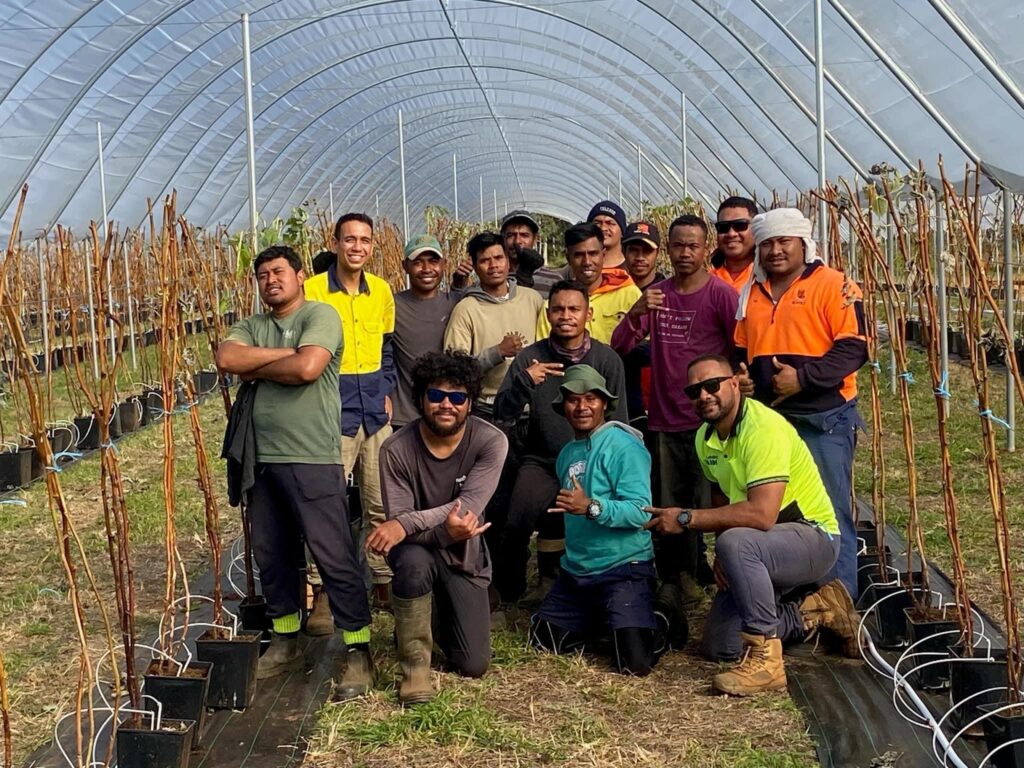 Along with locals and backpackers, many of their employees are sourced through the Pacific Australia Labour Mobility (PALM) scheme, formerly the Seasonal Worker Program.
"We have approximately 500 PALM workers from Timor Leste and Samoa," Stephanie said.
"We directly employ many of the workers providing work either for six to nine months in a 12-month period, or for some, the opportunity to stay on longer-term visas of one to three years," Stephanie said.
"It gives them an opportunity to work across our different sites and stay in the country a bit longer if they are willing and it's more economical for them because they're not having to travel home and come back under a new recruitment."
Bees to berries
The Terrys have certainly created a diverse 'mixed farming' operation, with berries, cattle, potatoes, poppies and pasture, and now even delving into in-house beekeeping – as opposed to outsourcing the service – as a vital cog in pollinating their crops.
It is a long way from her legal career in the city where she established herself as a barrister and solicitor, but Stephanie, also a mum of three, has not looked back since moving her skills into the family business and says it is an exciting time for Australian agriculture.
"Women are making a real difference in the agriculture industry, it felt like the right time in my career to step into the business," she said.
I knew I wasn't missing out by leaving the 'legal profession' to go and work on our farm, I'm still an in-house lawyer, working in a large operation and it's exciting because there's a lot of growth.
"We have a workforce that is motivated and interested, and I don't see how it's any different going off to work in an office in town, except we've got fresh air and paddocks."