Bananas, bread, cheese, they are lunchbox staples for plenty of Aussie kids, so it is surprising that many do not associate them as having originated from a farm.
That is where two loveable farmer characters, George the Farmer and his agronomist wife Ruby are helping change the future and put Australian-produced food and fibre in the spotlight.
George the Farmer is the brainchild of South Australian creative agency specialist, and now author, Simone Kain, who initiated the idea for developing a story book about Australian farming for her own toddler son, George, now aged 13.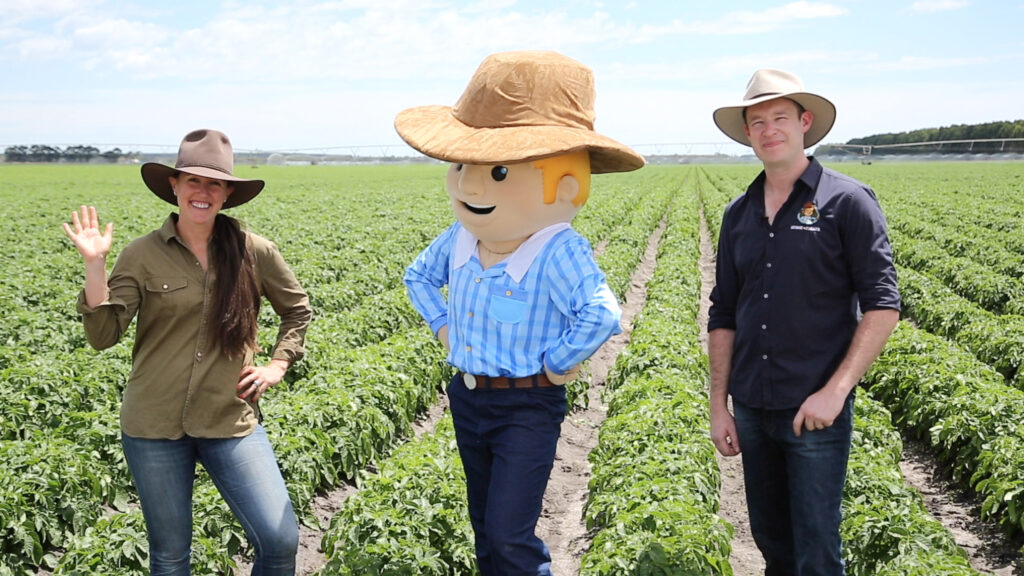 "When my son George was about 18-months-old, he was absolutely obsessed with the farm," Simone said.
"I was pregnant with his twin brothers Frank and Louis and I was trying to find some fun farming apps or books for George to keep him entertained when his brothers arrived.
In my search, all I could find were Old MacDonald-style books.
"In my search, all I could find were Old MacDonald-style books that had different terminology because they were from the UK or US and featured old farmers in overalls who collected the eggs and milked the cow by hand.
"That wasn't what happened on our farm.
"I thought there was a great opportunity to create a character that was telling sequential stories about the real story of commercial agriculture and what really happens on farms in Australia."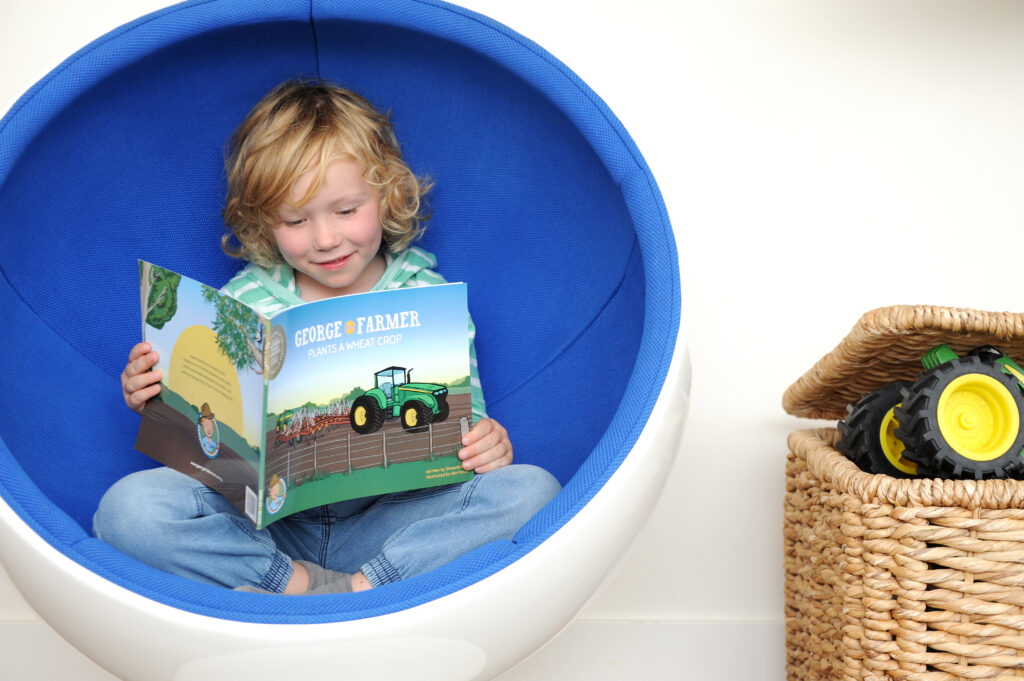 Two years later, in 2014, the first George the Farmer interactive app was born followed, due to demand, by a series of books.
With the 13th George the Farmer picture book recently released, along with a swag of fun educational videos, educational support materials, original songs, clothing and merchandise, George the Farmer is a resounding success story.
But most importantly, little by little, that loveable farming duo George and Ruby are making a big impact.
Brown cows make chocolate milk?! No!
"Although the original idea for George was to be inspirational, when I was researching the first story, George the Farmer Plants a Wheat Crop, I came across some staggering statistics," Simone said.
"There was a survey released in 2012 that reported 45 per cent of Australian year six kids didn't identify everyday lunchbox items like a banana, piece of cheese or bread as originating from a farm.
"One teacher told me that one of her year eight students thought that cows had to die to give them milk.
In the US, a 2019 survey showed that 16 million adults believe that chocolate milk comes from brown cows.
"These statistics blew me away, and it was then that I realised that George not only had to be inspirational, he really needed to be educational.
"Consumers have become increasingly detached from the source of their food. While there is a growing desire and more discussion around the production of ethical and sustainable food production, many people still lack knowledge of how food is produced and the effort, skill and luck from the weather gods that is required to supply clean, green produce."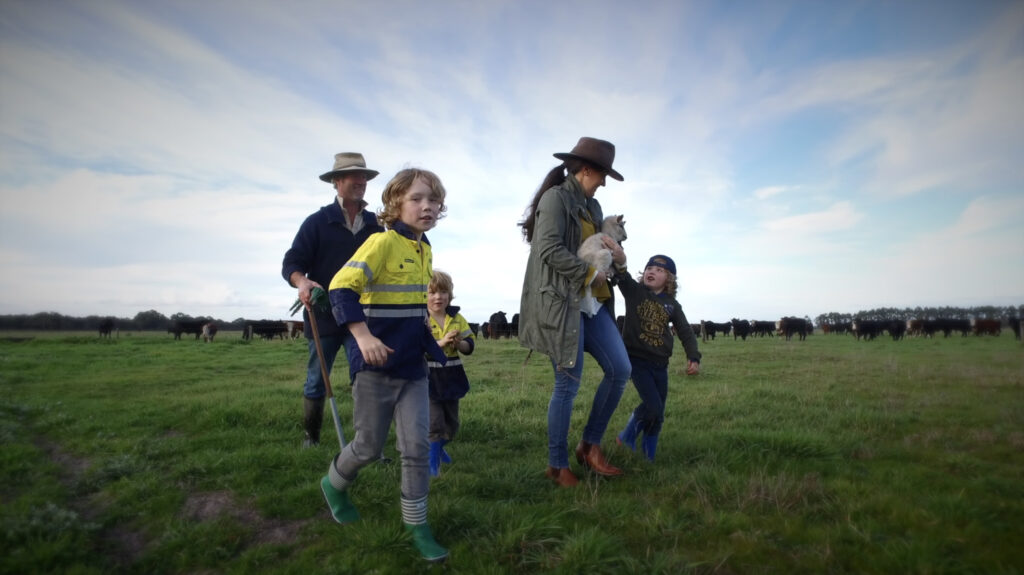 In an effort to help educate, free George the Farmer educational support material is readily available for teachers, fitting perfectly with the paddock-to-plate video series highlighting everything from beef farming to aquaculture, and honey production to apples and food waste.
"The feedback I get from teachers is that there's so many educational resources out there trying to help teach kids about food and fibre, but there isn't anything like what we're doing," Simone said.
"Our resources are quite engaging and fun and our stories seem to be resonating with kids.
"Eventually I do think it will make a massive difference in terms of kids' knowledge because they grow up to become adults and consumers in their own right.
"We need to start influencing and educating them younger so that they can dispel those false myths about agriculture and help support farmers."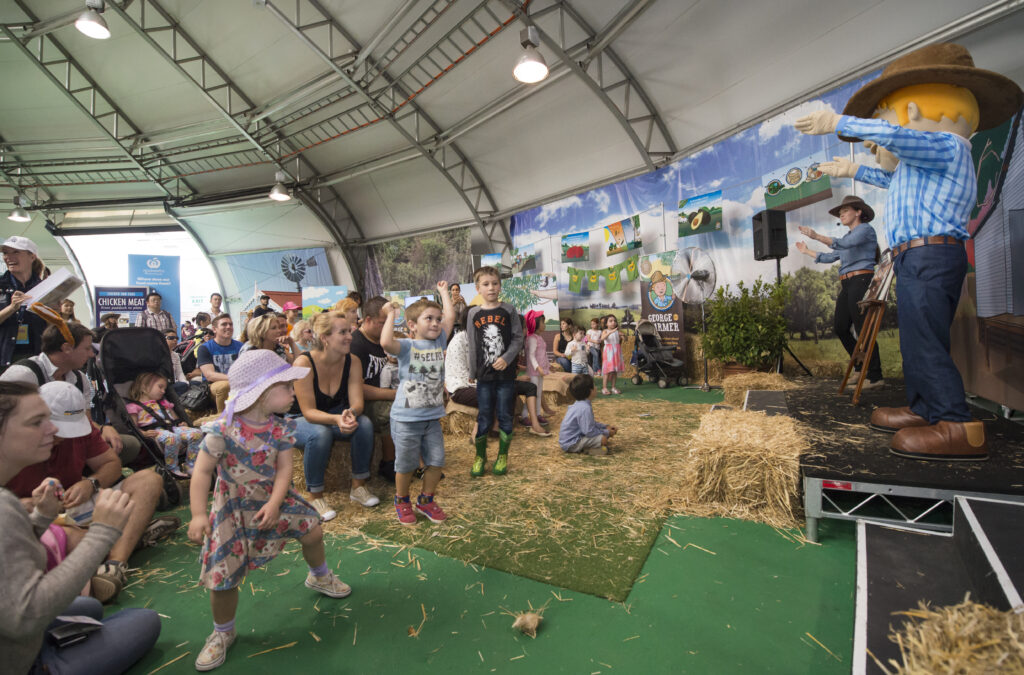 Big dreams for George and the farm story
Simone lives near Penola in the South East of South Australia with her beef and sheep farmer husband Justin and three sons, George, 13, and Frank and Louis, 10.
Having grown up on a farm herself, agriculture is in her blood and Simone is as passionate as ever about sharing the amazing and innovative work happening on Australian farms.
"We're working on producing and releasing a podcast pretty soon on careers in agriculture for kids and another free teaching resource around that, which will come out mid-year hopefully," she said.
"I'd like to produce another app, and I'm really hoping some day soon we will be able to produce an animated television series and get that off the ground and help make George the next big kids hit.
"I know that one day, kids right around the world will love learning from two iconic farmers called George and Ruby from Australia."
To find out more and for resources for families and teachers click here.