He's the loveable farmer taking kids on a virtual journey into agriculture, all to inspire and educate young audiences on where their food and fibre comes from. Now, he's got more stories to share with the release of new resources!
Hailing from South Australia, George the Farmer (along with friends Simone and Ben) are on a mission: to teach every young Australian about the importance of agriculture.
It's a bold aim. But with statistics revealing staggeringly large percentages of children are uncertain about where certain foods and fibres originate, It's never been more important to educate young Aussies, from paddock to shop.
For instance, a 2012 educational research identified:
27% students thought that yoghurt came from a plant
75% believed cotton came from an animal
45% couldn't identify that every day lunch box items such as a banana, bread or piece of cheese originated from a farm
Through each learning resource and online video, young audiences can take a first hand look at how Australian food and fibre is produced, from wool from sheep to forestry.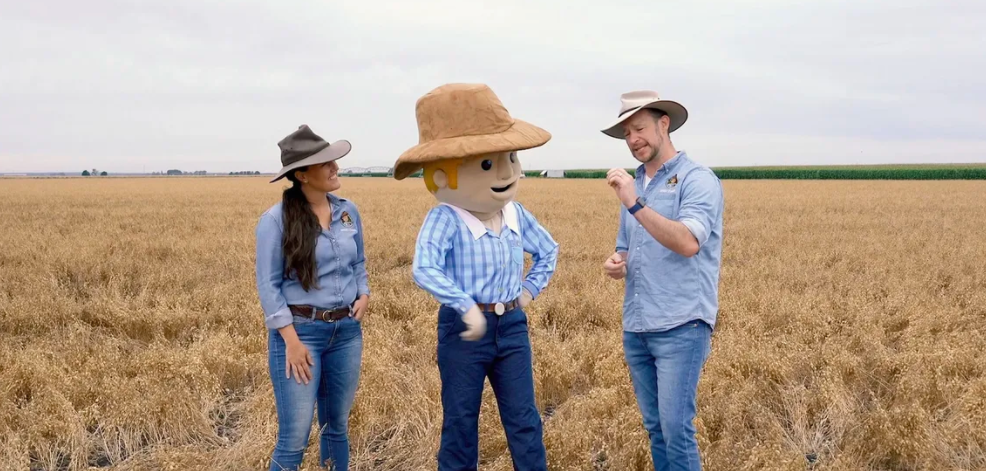 The success of the idea has now grown over the years to encompass multiple educator resources, online videos – and even regular appearances on ABC ME! Showing a nation-wide thirst for knowledge about where Aussie produce comes from. Leading creator Simone Kain to release a new series of educational content.
Condensed into a series of short and engaging online videos, the trio introduce young audiences to farming practices, to educate and inspire them to learn about where their food comes from.
Take a look: