Enjoy Aussie lamb rack the best way possible… with a decadent plum sauce, served alongside fresh spring vegetables. Utilising a hint of chilli, this sweet and savoury dish is best paired with rice and a scattering of sesame seeds. The best bit? This dish only takes 15 minutes to prepare and 35 to cook, making it the perfect quick (yet delicious) dinner choice!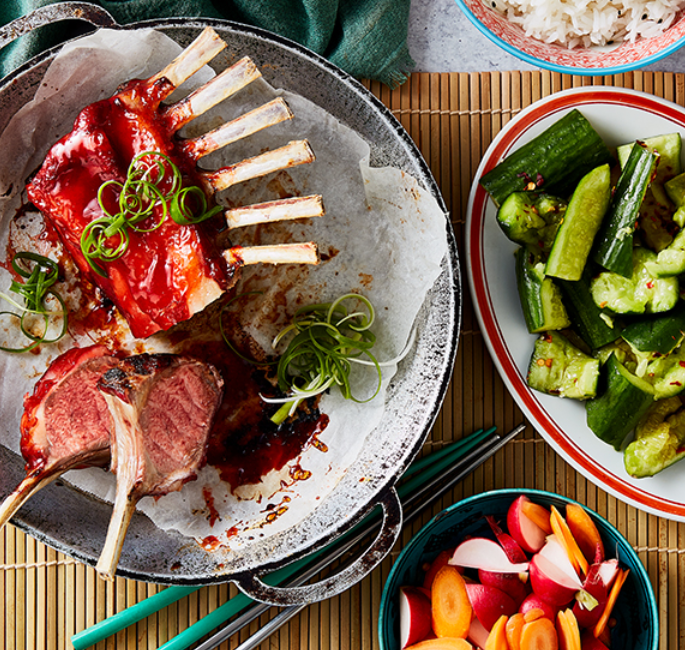 Ingredients
8-cutlet lamb rack, excess fat trimmed
1/3 cup plum sauce
2 Lebanese cucumbers, cut in half lengthways
2 tbsp rice wine vinegar
2 tsp caster sugar
1 tbsp sesame oil
1 tbsp soy sauce
¼ tsp chilli flakes
6 radishes, finely sliced
½ bunch baby carrots, peeled, finely sliced
1 tsp coriander seeds, lightly crushed
To serve: Jasmine rice, black sesame seeds, green onions, thinly sliced, coriander sprigs
Method
Preheat oven to 200°C (180° fan-forced). Place lamb in the centre of a baking tray lined with baking paper. Brush lamb with plum sauce, season and cook for 30-35 minutes or until cooked to your liking. Remove from oven, place on a plate loosely covered with foil and rest for 5-10 minutes.
Meanwhile, place cucumbers in a colander, sprinkle with a large pinch of salt and set aside to drain for 10 minutes. On a chopping board cut cucumbers into 6cm lengths. Place cut side of cucumbers down on the board and gently smash cucumbers with the back of a knife. In a large bowl place half the vinegar, half the sugar, oil, soy sauce and chilli flakes. Stir well to combine, add cucumbers and toss well to coat.
In a medium bowl place remaining vinegar and sugar and stir well to combine. Add radishes, carrots and coriander seeds and toss well to coat.
Slice lamb racks into individual cutlets and serve with cucumbers, pickles and rice. Garnish with green onions, sesame seeds and coriander sprigs.
Tips
Lamb rump, leg steaks or cutlets would also work well in this recipe.
Swap the plum sauce for any other Asian sauce of your choice – try hoisin, char siu, black bean or sweet chilli.
Make sure you rest the lamb to maximise tenderness and lock in the juices – rest the lamb rack for 5-10 minutes.
For more recipes, tips and information head to Australian lamb.