This sweet potato crusted quiche is the quintessential welcome to spring treat! Made with Australian cheddar and complimented by red capsicum and ham, this delicious dish is easy to prepare and only takes 40 minutes to bake. If that wasn't tempting enough – this recipe is also gluten free.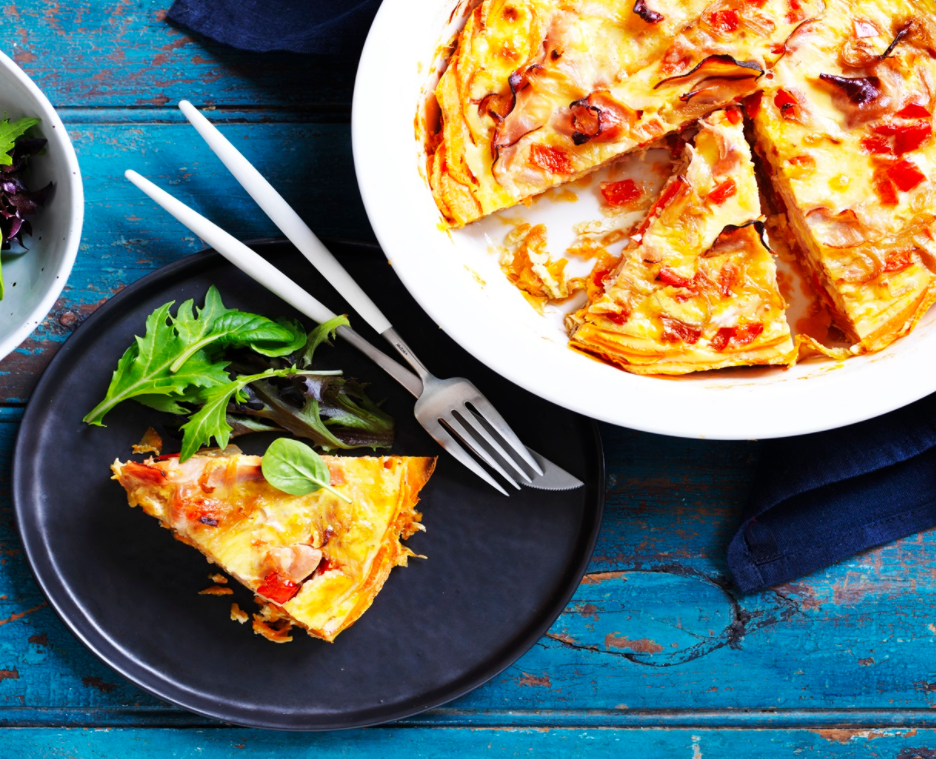 Ingredients
2 medium sweet potatoes, peeled, halved lengthwise and thinly sliced
1 onion, thinly sliced
1 clove garlic, crushed
1 red capsicum, diced
150g shaved ham
5 eggs, lightly beaten
½ cup milk
1 1/3 cups (160g) grated cheddar cheese

Method
Preheat oven to 180°C (160°C fan forced). Arrange the sweet potato over the base and sides of a 27cm microwave-safe shallow quiche or pie dish in an overlapping pattern ensuring you leave no empty spaces. (don't use a loose bottomed tin as the filling will seep out). Cover with cling wrap or a plate and microwave on high for 1-2 minutes or until slightly tender. Allow to cool slightly before carefully removing from the microwave.
Heat a non-stick frying pan over medium heat. Add onion and garlic and cook for 5 minutes or until softened. Add red capsicum and cook for a further 3-5 minutes or until softened.
Place ham evenly over sweet potato base and top evenly with the onion and capsicum mixture.
Whisk the eggs, milk and cheddar until combined, season to taste and pour over ham and vegetable mixture. Cover the dish with foil and bake at 180C for 20 minutes, remove foil and cook for a further 10 minutes or until potato is cooked through and filling has just set.
For more tips, information and recipes head to Dairy Australia.