How's this for a delicious spring dinner? Made with tender Aussie lamb and marinated in a sweet (yet savoury) honey rosemary glaze, these sticky ribs are a sure crowd pleaser! Serve alongside a fresh green bean salad for the ultimate pairing.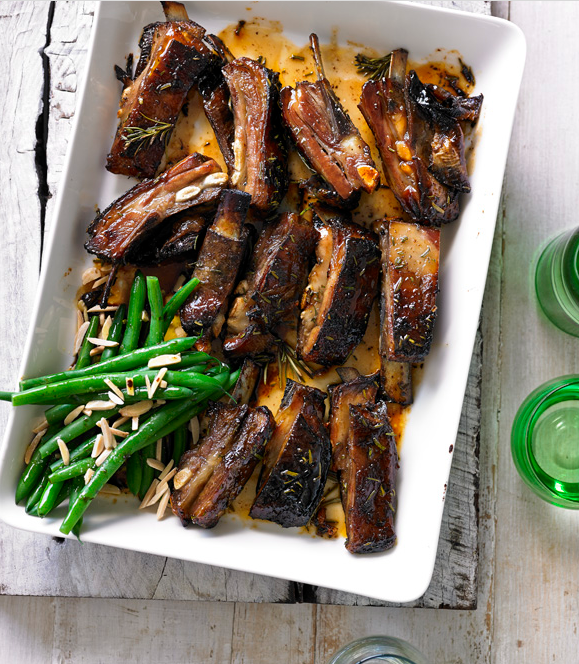 Ingredients
2 x 700g lamb short rib racks (also known as breasts)
1 heaped tbsp smoked paprika
1 heaped tbsp Dijon
½ tbsp balsamic vinegar
1 tablespoon chopped rosemary leaves
¼ cup honey
Method
Place the lamb racks into a non-reactive container. Mix the smoked paprika, mustard, vinegar and rosemary together to make a paste. Brush thickly over the racks, covering all sides. Cover and marinate in the fridge for 3 hours.

Preheat the oven to 170ºc. Place the racks into a large roasting dish, cover tightly with foil and bake for 2 hours or until very tender.

Increase the oven temperature to 225ºc. Using a large, heavy knife, cut the racks into individual ribs. Brush generously with the honey and season with salt and pepper. Place the ribs onto a large baking sheet covered with baking paper. Cook for 5 minutes or until dark and sticky.
Tip
This recipe is best paired with spring veg, like green beans. To make the green bean salad: dress the green beans with the olive oil and vinegar and season with salt and pepper.
For more recipes, cooking tips and information, head to Lamb Australia and Australian Good Meat.