This delicious take on a classic family favourite is a sure crowd pleaser. Made with tender Aussie lamb, these flavour-filled 'crumbed' cutlets have the Australian Farmers team eager to warm up the oven. Taking only half an hour to cook, this easy dish can be made into the perfect winter meal by adding some delicious roasted Aussie veg, or even some mashed potato.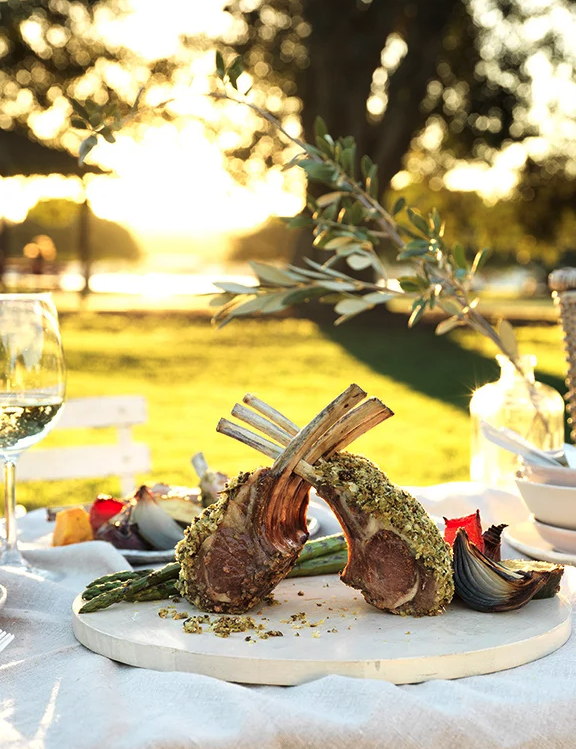 Ingredients
4 frenched lamb cutlet racks (3 cutlets in each)
1/4 cup fresh wholemeal breadcrumbs
1 tbsp fresh rosemary leaves, finely chopped
1tbsp flat-leafed parsley, finely chopped
2 tsp fresh time leaves, finely chopped
3 cloves garlic, crushed
3 tsp pesto
1 tbsp Dijon Mustard
Method
Preheat the oven to 200°C. Place lamb in a roasting dish in a pan and brown all side and then brush on half a tablespoon of mustard onto each rack.
Combine the breadcrumbs, herbs, garlic and pesto in a bowl, mix well. Press the breadcrumb mixture evenly over lamb racks.
Roast lamb uncovered for 10 minutes. Reduce oven temperature to 160°C and cook for a further 15-20 minutes (medium rare) or cook until lamb is cooked as desired.
Remove lamb, cover loosely, and rest for 5 minutes before cutting the racks into cutlets and serve lamb.
TIP
This meal is best served with your favourite roasted Aussie veg, like sweet potato, carrots and capsicum. Or mashed potato!
Be sure to keep up to date with all the latest recipes, handy hacks and cooking tips at Australian Lamb.