Summer is winding down, but there's still time to make the most of the last of the warm weather and what better way than firing up the barbecue with a crowd-pleasing lamb dish. 
Lamb is not only a popular choice on the barbecue – this year's Australian Lamb promotion was a hit with 1.3 million views on YouTube alone. Make the most of summer and "share the lamb" with this recipe, perfect on a summer's evening. You wool not be disappointed.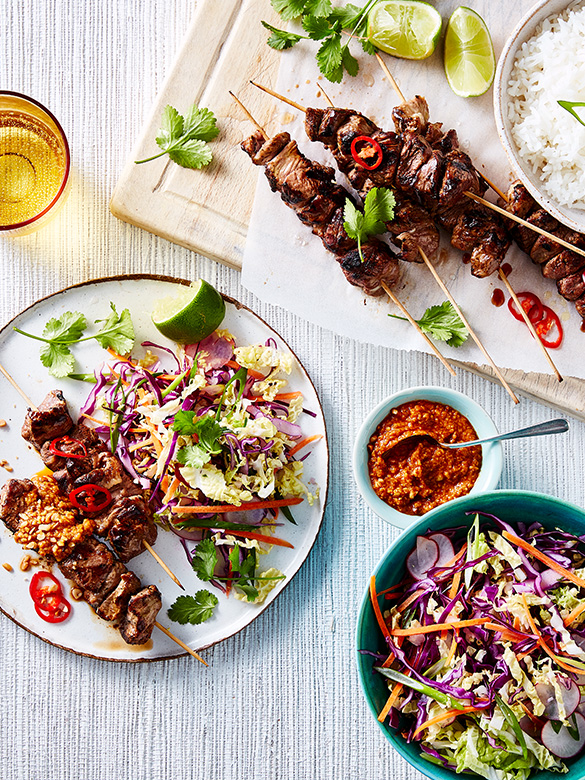 Ingredients
600g lamb rump steaks, fat trimmed, cut into 2.5cm cubes
1 ½ tbsp vegetable oil
½ small wombok (Chinese cabbage), thinly shredded
¼ small red cabbage, thinly shredded
6 radishes, thinly sliced
2 small carrots, shredded
4 green onions, thinly sliced +extra, to serve
¼ cup mayonnaise (Kewpie)
1 cup (250ml) satay sauce, warmed
Steamed jasmine rice, long red chilli, thinly sliced, crushed peanuts, coriander sprigs, lime wedges, to serve
Method
Place lamb and oil in large snap-lock bag. Season and rub to coat. Thread lamb onto prepared skewers and place on a plate.
Heat a large char-grill pan or barbecue over medium-high heat. Cook lamb, in batches, if necessary, for 2-3 minutes per side, until slightly charred and cooked to your liking. Set lamb aside on a plate loosely covered with foil for 5 minutes to rest.
Meanwhile, in a large bowl combine wombok, red cabbage, radish, carrot and onions. Add mayonnaise, season and toss gently to coat.
Serve lamb skewers with slaw, satay sauce, rice, extra green onions, chilli, peanuts, coriander and lime wedges.
Tips
You will need 12 small soaked bamboo or metal skewers for this recipe. Soak bamboo skewers in cold water for at least 10 minutes to prevent burning.
You can use lamb fillet, backstrap or leg instead of lamb rump steaks.
Remove any leftover lamb from skewers, add to brown rice or noodles, any remaining slaw and satay sauce for a tasty leftover lunch.
For more recipes, tips and information head to Australian Lamb