*Trigger warning* This episode contains references about suicide. If you need resources or support call Lifeline 13 11 14 for 24 hour free counselling in Australia or visit beyondblue.org.au.
A childhood on her family farm at Streaky Bay on South Australia's Eyre Peninsula combined with a career as a clinical psychologist has given Dr Kate Gunn unique insight into mental health challenges in remote areas and how to address them.
Farmers in her own community have reached out seeking accessible ways to help prevent and manage the stress that comes with life on the land. Dr Gunn answered by founding the online platform 'ifarmwell' and her work in the space has earned her the 2022 Award for Excellence in Agricultural Research as part of the Farmer of the Year Awards.
Kate always wanted to help people, but her childhood dream of achieving that was to become a shearers' cook because everyone loves a good meal! It wasn't until she was older that her ambitions changed and she enrolled in psychology.
It's interesting that it's led me back to where I began, helping the kinds of communities in which I grew up.
Merging mental health and agriculture is very much needed when looking at
the current evidence.
Making support accessible
Research shows the mental health of people in rural and urban areas is quite similar. The big difference is proven to be within farming communities.
"Sadly, the rate of suicides among farmers and farm workers is twice the rate of other areas. Farmers are also known to visit GPs and mental health professionals at half the rate of other rural people. That plays into the problem," Kate explains.
To help combat that, Kate has founded ifarmwell.com.au. It's a platform to help farmers deal with stress.
"What we've found is acceptance is key. The ability to accept the things that you can't control and then still focus on the things that you can fix is a really
important skill. We know that farmers are already really good practical problem solvers, they've got that down pat.
It's this ability to manage when you can't fix or control something.
The platform helps farmers learn that skill. Hundreds of farmers have signed up and report that is has made a difference. The five modules are freely available to anyone who signs up. Each module takes about half an hour to complete and based on the information participants provide, support is tailored to the individual.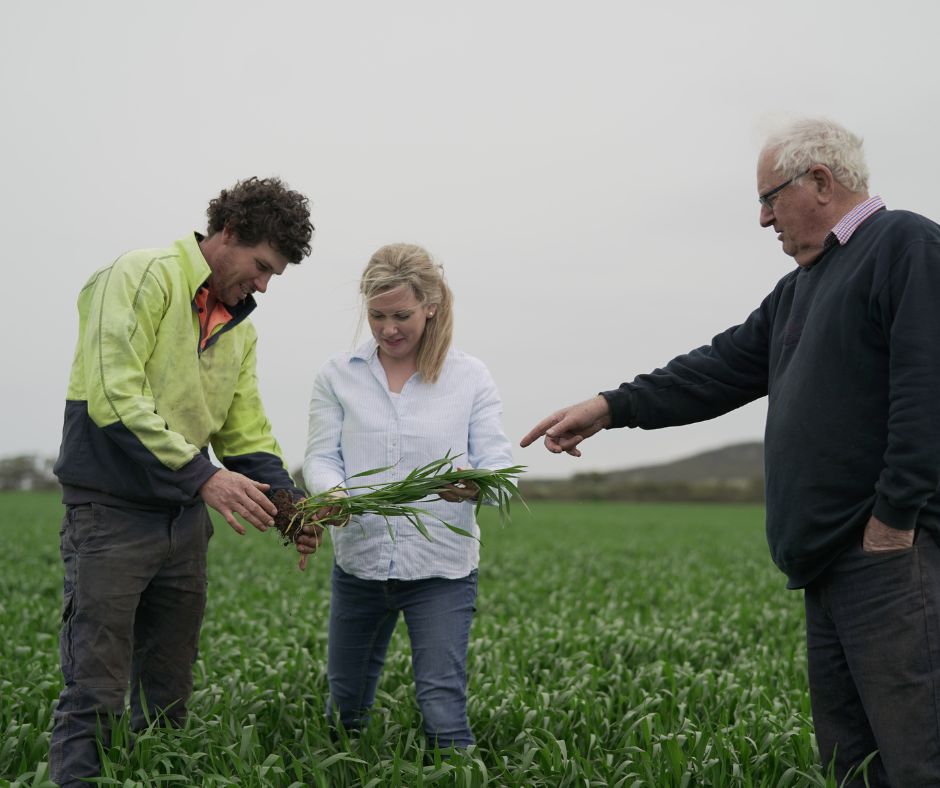 "You get text message reminders to help build these new strategies into your life. It's all practical. It's all farming focussed."
Because we've developed this with real farmers, we don't use any fluffy language.
An example would be, using the analogy of separating your thoughts into different pens, like when you draft sheep. Jargon is avoided at all costs.
"I use my dad as a bit of a barometer. If he'd say it was rubbish, then we shouldn't say or write anything like that."
Breaking ground in agriculture
Kate's work has earned her a gong in the coveted 2022 Farmer of the Year Awards. "It was very exciting, particularly that the agricultural industry recognised the importance of farmers' mental health and wellbeing in this way. Typically, the award has gone to plant breeders or scientists in the hard sciences. So, I think it does show a shift in the industry that this work is really being valued."
Kate believes, to have a robust agricultural industry, we need a mentally well workforce and sees the award as a step in the right direction. She also warns against thinking that only people with diagnosed or suspected mental health issues could benefit. Rather, the program offers life skills.
Simple things, like when you are stressed, working out if that's something you can control or is it out of your control.
"If it's beyond your control, are you wasting energy focusing on it? Should you shift your attention to something you can
actually fix right now?"
Kate has just been made an Associate Professor at the University of South Australia. "For me that was unexpected because I went to a school that had 15 kids. I really just wanted to be a shearers cook when I grew up!".
Kate's achievements are commendable, but it's something else that keeps her motivated. "What really keeps me going is hearing from those farmers who've really benefited from my work. To me, that's far more important than any papers or academic pursuits. I'm more interested in the on-the-ground results."
If you think you could be one of those farmers who could benefit, log on to
ifarmwell.com.au for some free support.
Hear more stories like this by subscribing to the Telling Our Story podcast on iTunes (or wherever you listen to podcasts) and follow podcast host Angie Asimus on Instagram for more updates.