Often we think of those in rural and regional communities as farmers alone but there are so many other crucial roles that make up the fabric of rural life – including those who document what's going on in their part of the country and the world more broadly.
NSW Hunter region artist, Janno McLaughlin, has an incredible rural story to share, even though she no longer lives on the land. She grew up on a farm and learnt the meaning of hard work from a young age. She's since transferred those skills into many artistic mediums and is currently immersed in creating a 'Sunflower Quilt for Ukraine'.
From romance to tragedy
It all started with Janno's parents' romance that she describes as straight out of Mills and Boon novel. Her father was a jackaroo on a property in the NSW Riverina, which was managed by the man who would become her grandfather. So, essentially her father fell in love with the boss's daughter. "That's where it started. I've always had roots in the country," says Janno.
Her father spent a lot of time away as part of his job and tragically died when Janno and her sister were very young, leaving his wife (who had a phobia of all things equine) and two daughters with the task of running the farm, including caring for 63 horses!
"It was hard but also the biggest gift they could have given me. It held me in good stead for everything."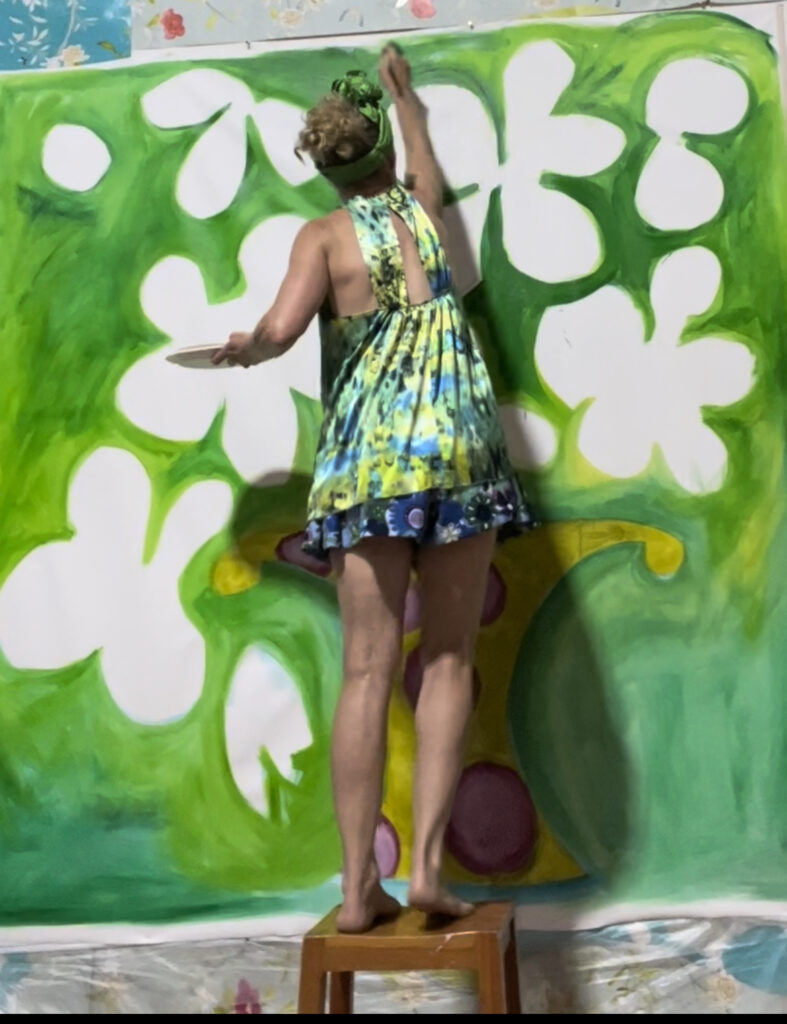 Janno's resilience has seen her become a nurse, spend time living in a First Nations' community in the Northern Territory and run a slum project in Buenos Aires.
I think it all comes back to those days of working on the property in the pouring rain, in the boiling heat, mustering, doing sheep work – whatever it is. If you know you can work hard, you know you can do anything.
All these experiences combined somehow lead to Janno choosing a career as an artist. "I think for me it was living in an isolated area, looking for colour. You have to be creative in the bush. You just can't go and buy something. You have to make it. So, there's something about being in the bush that tunes your creativity."
A hug from Australia to Ukraine
Her current project, the Sunflower Quilt for Ukraine has taken her all over the world. It's been described as a giant, metaphoric hug – picture a quilt bigger than a house.
"I took 200 metres of the quilt to London in July and August. The Ukrainian refugees helped me and basically we took it everywhere that would give the most exposure to the plight of Ukraine," says Janno.
There was a great deal of media attention as it was displayed on the River Thames and at Hyde Park. "It's also art therapy. The children of Ukraine are making us patches, sending them to us and we sew them together. We've been gathering patches from everywhere – Australian farmers, the CWA."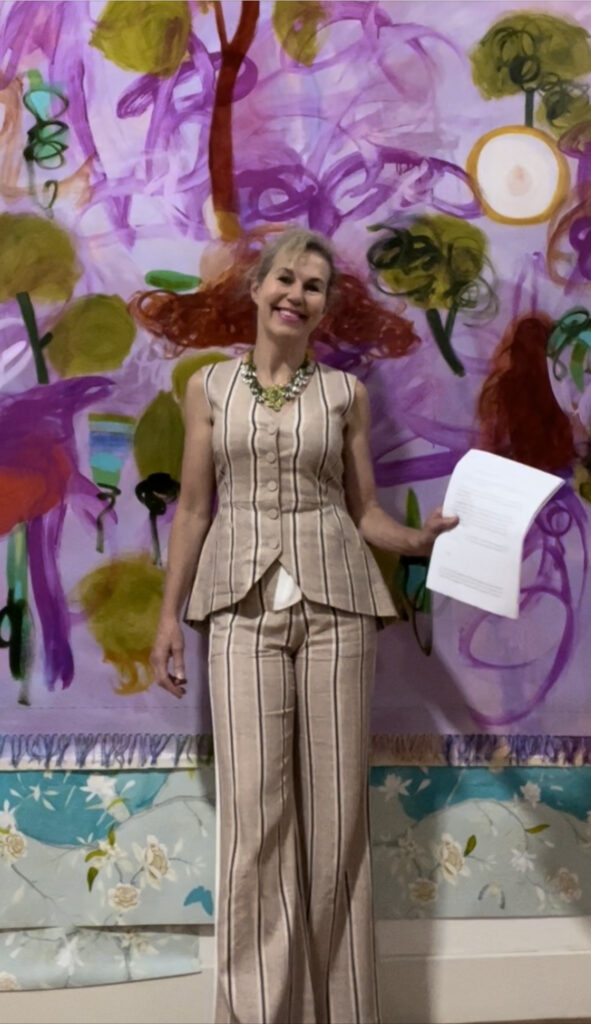 It's up there with one of the most rewarding projects the artist has been involved with. "It went all over Ukrainian television as well," Janno explains. The goal is to eventually take the finished quilt to Ukraine and put it over and around places where terrible things have happened, so people can use it in prayer and mourning.
That's what they did in London. At 10 Downing Street, all the Ukrainians just held it and did a prayer and singing. It's just so moving. It makes you cry.
Janno's next dream is to come full circle, returning to the land and using the space as inspiration for her art. "I would love a big farm with trees planted in a circle in the middle. On the outside of that have bees and animals doing regenerative farming. I have a lot of visual dreams about how it could look! I'm not finished adventuring yet."
Thankfully, the rest of us get to savour Janno's adventures through her powerful art. She's on Instagram under the handle @jannoart. With works as colourful as she is, be prepared to fall in love with her take on bush magic.
Hear more stories like this by subscribing to the Telling Our Story podcast on iTunes (or wherever you listen to podcasts) and follow podcast host Angie Asimus on Instagram for more updates.