It's hard to imagine a more desirable office – a pristine underwater garden where each day you brush shoulders with fish, whales and even sharks. The Brown family can claim a rich 75-year history as pearlers. In fact, they are pioneers, starting the first Australian owned and run South Sea Pearl farm.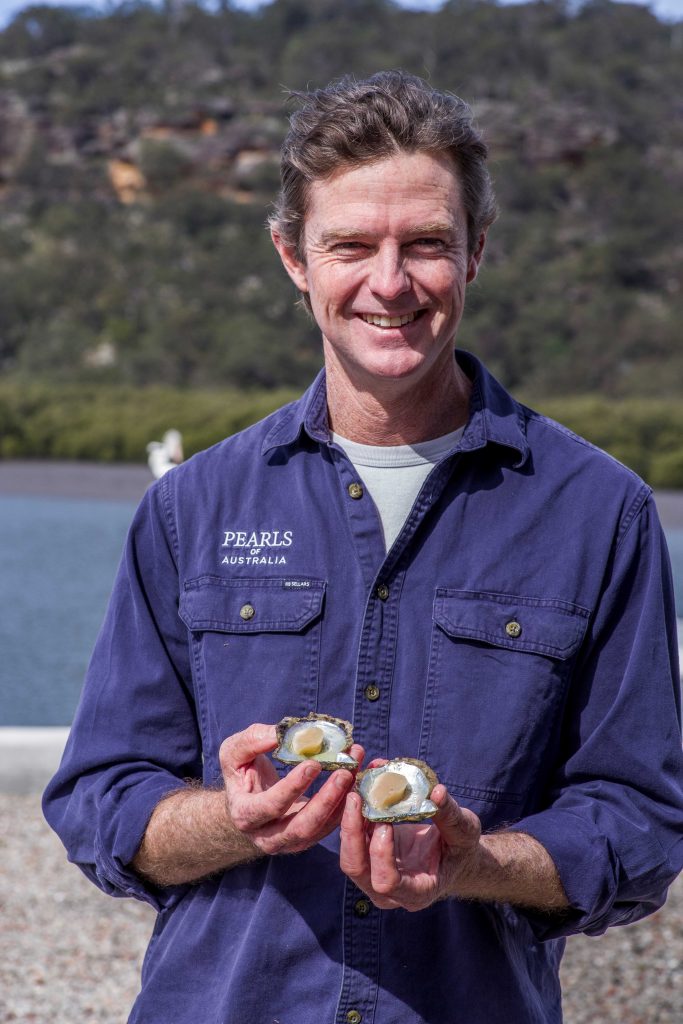 The story starts with a man by the name of Dean Brown who sailed north in a wooden lugger, navigated unchartered waters in northern Western Australia, pitched a tent and set out to make his fortune trading pearl shell. Eventually, he and his son began tinkering with growing their own pearls. Each experiment was painstakingly slow, taking years, but they did go on to build a farm. This was a landmark achievement, becoming the first Australians to do so without Japanese know-how.
A family legacy
Now, Dean's grandson, James Brown is carrying on the family legacy, running two farms under the banner of Pearls of Australia. His work in modernising the industry, earned him the title of Australian Farmer of the Year in 2021. He's the first pearl farmer to claim that honour.
Pearls of Australia still has strong west coast roots with a Cygnet Bay site about 220 kilometres north of Broome. However, east coast pearl lovers can also enjoy the spoils of the sea with a newer site at Broken Bay an hour north of Sydney.
"In reality, the cultured pearl industry is not that old in Australia. Really, it only started in the late '50s and '60s. A bit like a teenager growing up, it's coming out of its secretive phase. We're learning that we need to open ourselves up. We need to connect with people," says James.
This is in contrast to natural pearls which have been around for centuries. You don't have to search far in history to find reference to, not only pearls, but the pearl shell as well.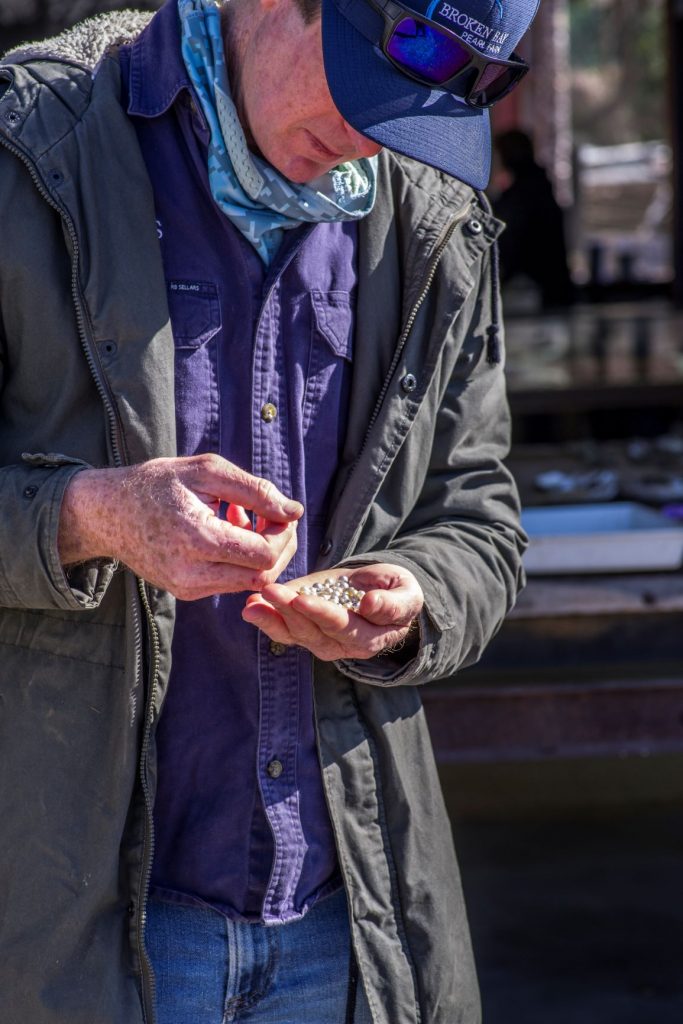 South Sea Pearls are much newer, highly prized, and a specialty of the Brown family's. They come from the enormous Pinctada Maxima pearl oyster.
"It's found in other parts of the world but it was always in greatest abundance in Western Australia off Broome. Nowhere else in the world ever had a population like our oyster beds do," explains James.
A product the world has never seen
It's a long term investment. These shells can grow for decades, becoming the size of a dinner plate and weighing between 3 and 5 kilograms. "These are absolutely enormous," says James.
"So you can imagine, they had the potential to grow a very different pearl. Once they figured the details of seeding that species, sure enough, the South Sea Cultured Pearl was revealed. It was huge."
"The colour, the vibrancy – suddenly you had this product the world has never seen before."
James explains, it did take a while to take off with Australia being so far away from global markets. There was no market in Australia at that time but it ended up becoming the most valuable pearl in the world.
The colour, the vibrancy – suddenly you had this product the world has never seen before."
It's a beautiful story of innovation and partnership. From the very beginning the Browns have worked side by side with the Indigenous people of Western Australia, specifically, the Bardi people. David Wiggan was among the first Aboriginal people to work with James' ancestors giving wonderful counsel to Dean Brown. James is incredibly proud that to this day, that teamwork is still taking place at his Cygnet Bay Pearl Farm.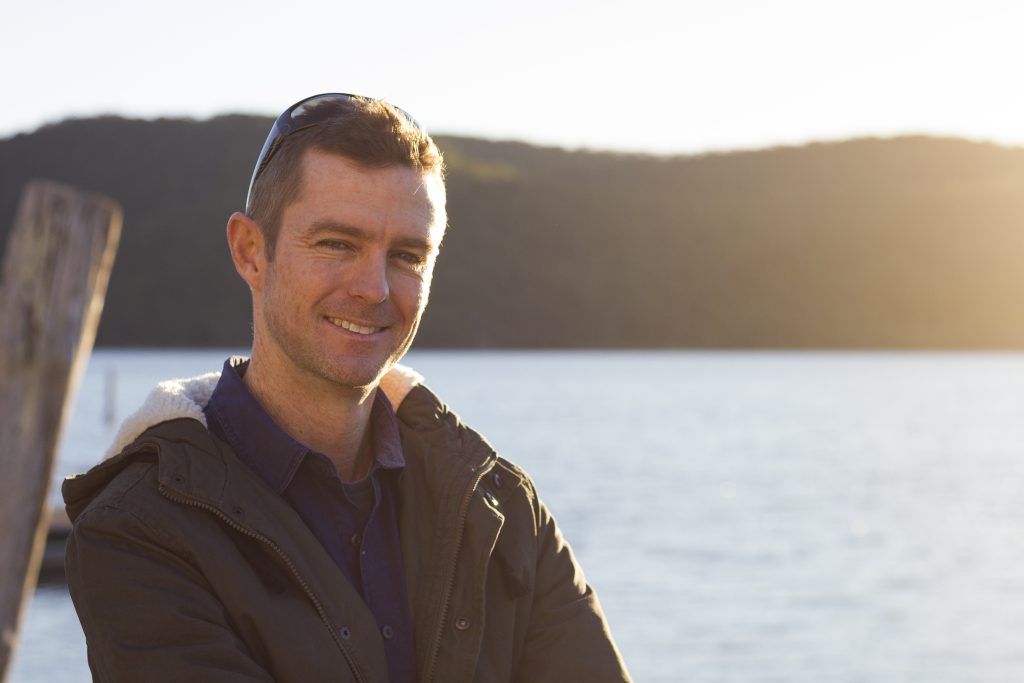 "There's been a connection there right from day one," James recalls. "You'll see Bruce Wiggan, one of the traditional owners and elders now who does a lot of the carving of pearl shell. He reminds me all the time about when he was a kid growing up on the luggers with my grandfather."
To most of us pearling sounds magical but it's been a long and bumpy road for James before being crowned Australian Farmer of the Year. "It was a complete surprise I've got to say. The pearling industry has sort of fallen from grace but I think that's one of the good things about the award. For me it was really uplifting," explains James.
"When you're in these industries, you grow through tough times." James refers to a decade long period of hurdles – whether it be aquatic diseases, natural disasters, the GFC or the pandemic. "You can feel really isolated. With a small industry like pearling, you're in the middle of nowhere," says James.
"It's been literally 10 years of heartache and pain where I don't know how many times we thought about shutting the farm down."
The ultimate dream
James has come through the other side, found new value in his product and won the award for showing such determined resilience. Pearls of Australia has even opened its doors to the public with tours running at both Cygnet Bay and Broken Bay. He'd love to see more people show interest in where pearls come from – much like the burgeoning interest shown in the provenance of food and fibre.
It's been literally 10 years of heartache and pain where I don't know how many times we thought about shutting the farm down."
Visitors may well be amazed by the years long process it takes to make a single pearl.
"A big misconception is that it's kind of easy. That maybe you just walk along cable beach and find these things sitting on the sand," he laughs.
"People just don't realise the time it takes. We're spawning them like coral, two or three years to even seed them. Another two years just to grow a pearl. So it's five years from the time we spawn to the time we produce the first pearl."
James says, at times, he thought there would be no future in his industry but to leave something prosperous to the next generation would be his ultimate dream. He certainly has many pearls of wisdom to share with whomever takes over next.
Hear more stories just like James' by subscribing to the Telling Our Story podcast on iTunes and follow podcast host Angie Asimus on Instagram for more updates.