On a remote farm about 320 kilometres outside Darwin, mangoes grow by the truckload. More recently, the owner of Foxalicious Fruit has decided to try something new – adding asparagus into the mix.
It turns out, the unique climate poses unexpected challenges like the need to pick the vegetable up to three times a day because it grows so quickly. Mangoes and asparagus are an unlikely combination but a source of great passion for Katherine farmer, Andrew Dalglish.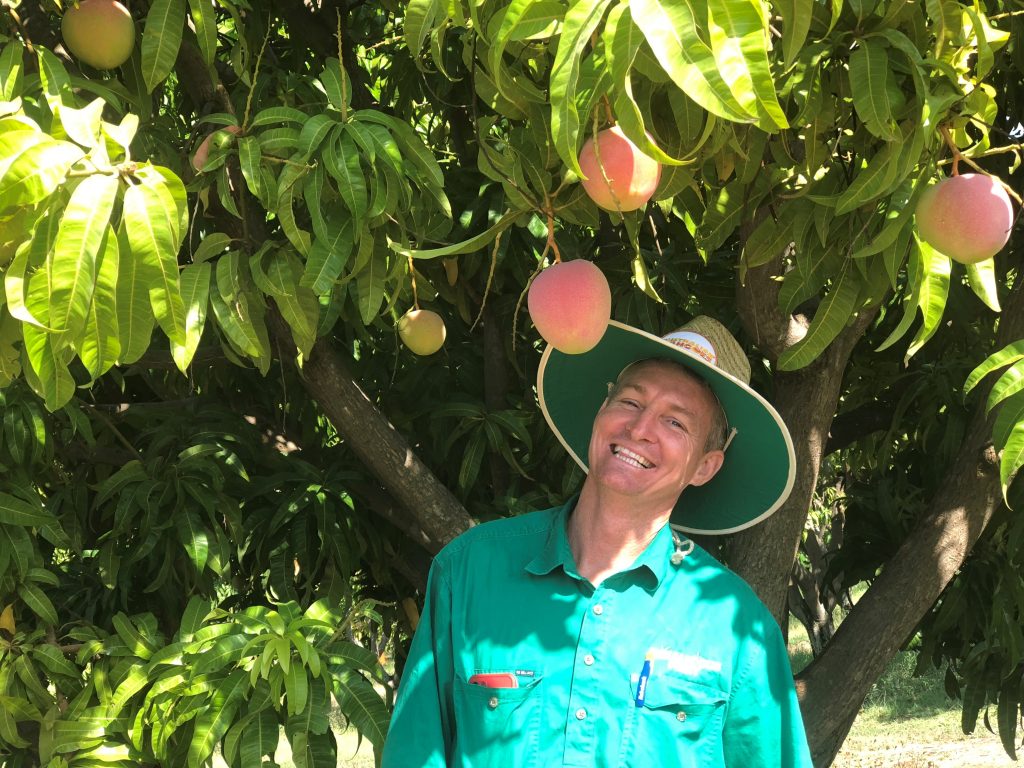 Andrew describes his farm as being on a sand ridge with a number of other horticulture properties. While he focusses on mangoes and asparagus, you'll also find tomatoes, capsicums and seedless watermelons thriving in the area due to the constant heat.
Andrew admits his crop of mangoes is extremely popular with his customers in the southern states and recalls many trips to Bondi to literally see the fruits of his labour being savoured by the bustling inner-city beach crowd.
"Yeah, there is a lot of clientele down that way that love mango! It's fantastic because we can see our consumers and it's always good to touch base with them and see they appreciate what farmers are doing for them," says Andrew.
A labour of love
Asparagus however has been a real labour of love. Andrew says it's the most labour intensive crop he's ever been involved with. "You could write a book. 24 hours is a long time in an asparagus cutter's life in Katherine," he declares.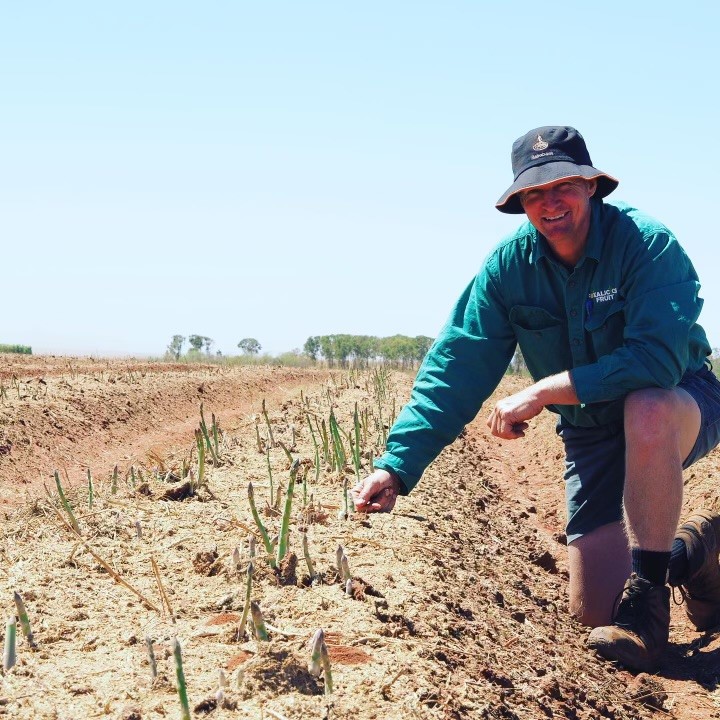 "Asparagus is a perennial crop. Most of the asparagus grown in Australia comes out of areas like Mildura – a cooler climate. There's a real opportunity to grow asparagus in the north. There's some in at Broome, there's some in at Townsville because we import about 4000 tonne of asparagus during the winter months.
"So, obviously supermarket chains would like an import replacement. So, there's a real opportunity from a marketing point of view but the difficulty is growing it in this climate," Andrew explains. 
"Asparagus doesn't like this heat. Just like most humans don't like this heat!"
Andrew has been trying to perfect the art for about 25 years.
"We've had more failures than successes," he concedes. "I think we are getting closer to a commercially viable product." Asparagus is planted as a seedling, it's left in the ground for two years and in the second year a light harvest is undertaken.
Asparagus doesn't like this heat. Just like most humans don't like this heat!"
"Asparagus up here, because of our climate and the temperatures, even in our dry season, which is the southern winter, we still need to cut it twice a day!" The first cut happens at about 5am and then they'll return by about 6pm for the second.
"An asparagus spear that you see on the supermarket shelves or green grocer is a minimum of 200mm long and a maximum of 250mm long. So, if we don't cut it twice a day it grows longer than that and then effectively what happens is the head of the asparagus blows out and goes into flower and then it's deemed useless. We can't sell it," explains Andrew.
"It's like milking cows. There's no excuses for missing a cut."
Andrew recalls even a few times on a really hot day, he's had to cut the crop three times a day.
"I say an asparagus harvest is like a mango harvest on steroids. We come out of an asparagus harvest and into a mango harvest, and it's quite relaxing now!"
Asparagus up here, because of our climate and the temperatures, even in our dry season, which is the southern winter, we still need to cut it twice a day!"
That is really saying something given the abundance of mangoes in the region. Some years, the Northern Territory has supplied half the nation's supply.
"25 or 30 years ago it was very backyard," says Andrew. "Now it's very commercialised. A lot of orchards have gone on to extend the harvest season. So, you'll see NT mangoes on the shelf sort of September and then you'll finish off with mangoes from Mildura late March or early April. It's quite a large time now that the mango industry is supplying for consumers."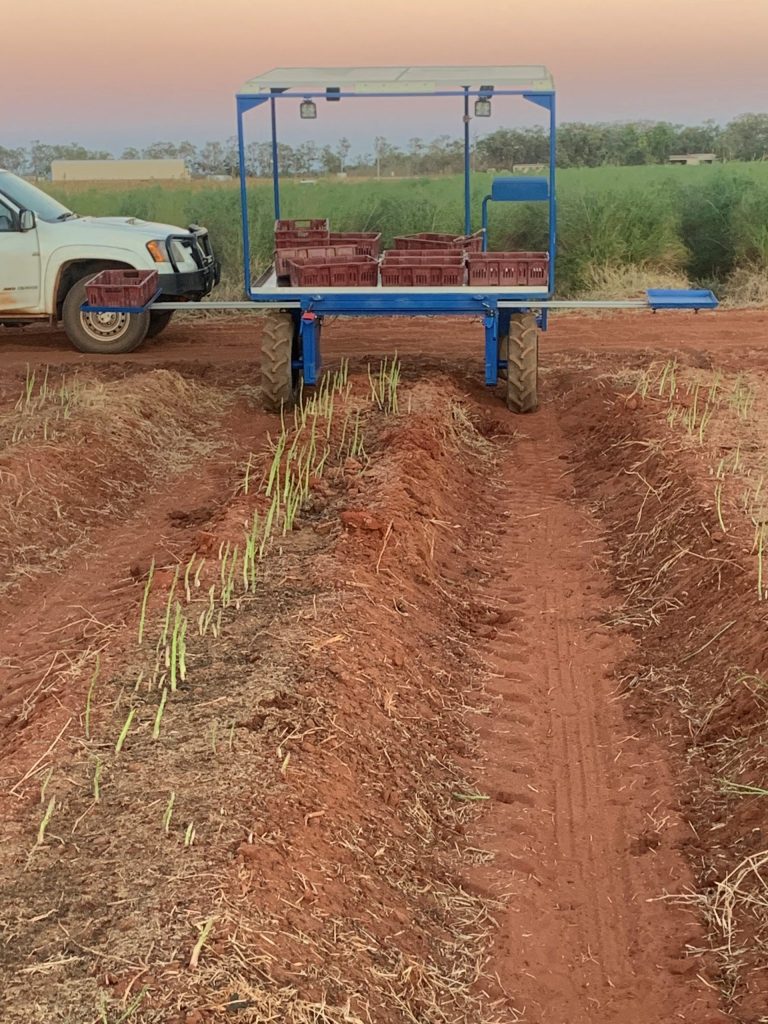 A rewarding job
For Andrew to succeed in such a unique climate, so much has to go right. They need a long enough dry season and a solid wet season to set up the year. When everything goes right, it's an incredibly rewarding job for Andrew. He even puts his personal contact details on his packing with Foxalicious Fruit branding and enjoys feedback from consumers.
It's like milking cows. There's no excuses for missing a cut."
"In the fruit and vege game, we're pretty fortunate enough that we own that piece of fruit or vege all the way to the S-bend. What I mean by that is, we use a data bar sticker so the consumer knows exactly where their produce comes from, they can get on social media, they can 'Google' us.
"On our boxes there are web addresses, phone numbers. So it's very pleasing when you get a phone call from a consumer somewhere down south on a Sunday afternoon saying thanks. That's always very refreshing and I suppose it urges you on to say, we're going all right. We'll keep chipping away at it."
Organic a fun way to farm
It's interesting to note that all Andrew's produce is also organic. It's a way of growing that incredibly, he describes as fun.
"Conventional farming might be a bit like making grandma's favourite cake recipe. Organics and biological farming, those systems, there's no silver bullet, there a lot of jigsaw pieces.
"You're really focusing on soil health. If you've got healthy soils, then you're going to have a healthy plant or a healthy animal, which ultimately we eat. So, it's healthy for us humans."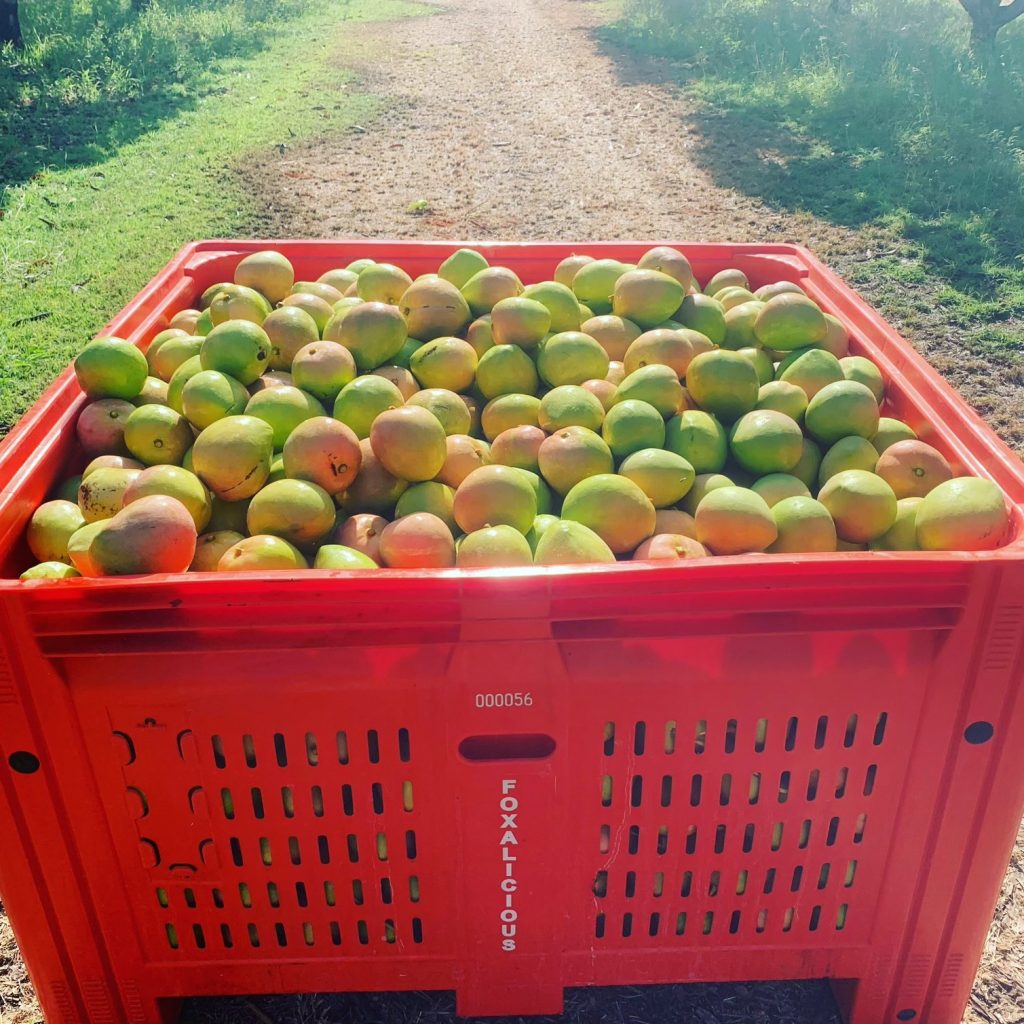 Andrew has won awards for soil health and plant nutrition and believes solving soil problems is the key to his success.
Andrew's future goals still involve mastering asparagus! He says, he's got the bug now and is committed to making it work.
"We're certainly doing our best to make it very commercially viable for the future," he explains. Ultimately though, Andrew sees a real need for education about what farmers do. He wants to see more agricultural subjects taught in schools.  
"Just learning about where food comes from, I think that's the biggest misconception. The public maybe think we're cutting corners here and there, which is a shame." Anyone who is up in Katherine any time soon will see there are no shortcuts when the farmers are out cutting asparagus twice a day.
"It's a bit like putting money in a bank. One day, you're going to need to make a withdrawal but if you haven't been putting the deposits in, you're putting yourself in a real corner," explains Andrew. An analogy most of us can relate to.