It was a chance meeting between a Tasmanian wool grower and the founder of luxury menswear label MJ Bale that would forever change the path of both businesses. That partnership has put a modern twist on a farming operation dating back to the 1820s.
Simon Cameron's family has been growing wool in the Tasmanian Midlands, about 60 kilometres southeast of Launceston, for five generations. The rocky, timbered country is suited to traditional Merinos, not as productive as more modern Merinos but the wool is highly sought after for the finest suiting fabrics. It may not come as a surprise, that Italian manufactures do this best and are Simon's main clients. In fact, it was at a function hosted by Italian wool processor Vitale Barberis Canonico (VBC) where Simon crossed paths with MJ Bale CEO Matt Jensen.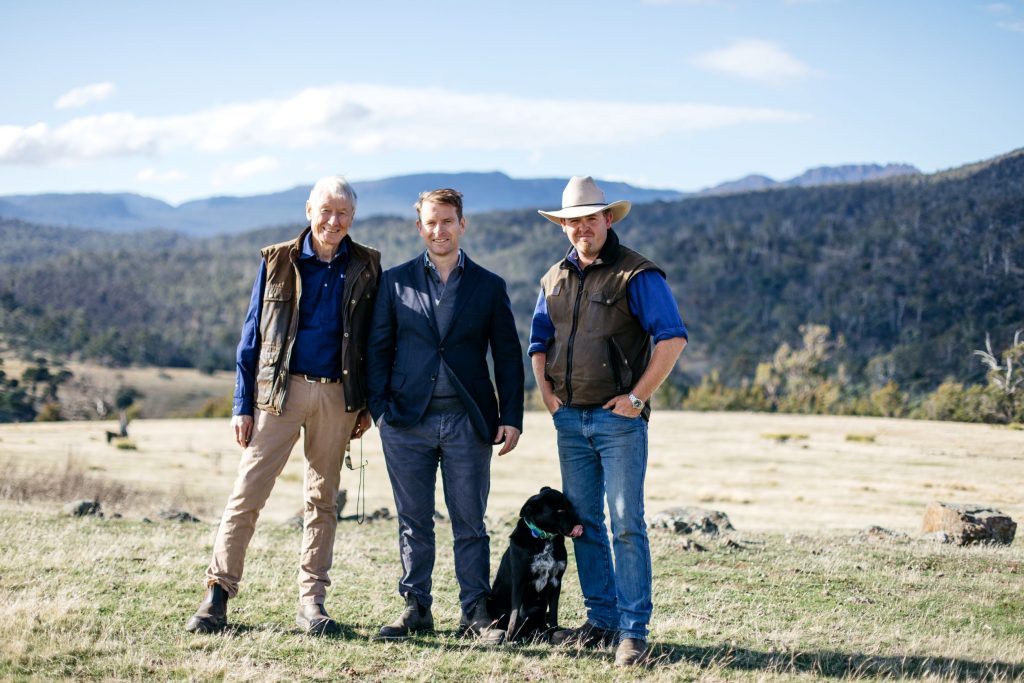 "It was one of those funny coincidences," Simon recalls. "Matt Jensen of MJ Bale is a very good customer of VBC's and VBC was having a function in Sydney and I was invited as one of a couple of wool growers." The pair started talking and developed a plan to produce and retail a range of clothing made solely from the wool from Simon Cameron's farm, Kingston. "Matt had always wanted to put forward a line of suiting sourced from a single farm and I'd always wanted to see something made out of the wool from my farm.
His dream was a bit bigger than mine and his pockets were a bit bigger than mine.
A partnership is born
Simon explains that typically when wool is bought it's mixed with wool from other farms to make up a bigger batch and believes this is the first time suiting has been made in commercial quantities from a single farm. "Me wearing a suit out of my own wool I grew 6 inches, it was just a fantastic feeling," says Simon. Simon has since visited MJ Bale stores to see the "Kingston Collection" in person and on the odd occasion has even welcomed customers onto the farm.
It's surprising how many people haven't been onto a farm or haven't been into the bush where sheep run and that sort of stuff and there's a real wow factor for them.
The Kingston Collection is a fascinating story in itself, but the MJ Bale partnership forged even deeper roots when Simon explained to Matt, the environmental work that was going on behind the scenes. Through exceptionally careful land management by Simon's father Ralph Cameron and now Simon himself, Kingston has been declared a place of national significance. A natural values study has concluded, only 3% of the lowland native grasslands present at the time of European settlement in Tasmania now remain. Of this tiny fraction, about 10% is found on Kingston. Simon had been preserving these native grasslands at a significant financial cost to himself. It wasn't until the MJ Bale deal that things turned around. Matt Jensen agreed to make a financial contribution to the environmental work.
It's allowed the two men to go a step further in their sustainability mission. Now, the focus has turned to proving the credentials of wool over manmade fibres. Simon says he's always known his operation was low impact and low emissions but he needed the science to prove it. He says assertions that manmade fibres were more sustainable have never made sense to him. "Earlier this year we actually finished a trial with a small number of sheep where we were feeding those sheep a supplement made from asparagopsis, which is a seaweed, that's being developed to reduce methane levels in livestock," Simon explains. The results were positive, revealing no negative impact on the sheep. "We harvested that wool back in June, so we do have probably the only wool in the world that has been produced by low or zero methane emitting sheep," says Simon. "We were actually sequestering several times our emissions. So, in fact, we're on the positive side of the ledger and helping to mitigate against climate change and doing our bit for biodiversity as well."
MJ Bale has recently been named Australia's first fully carbon-neutral fashion brand.
We do have probably the only wool in the world that has been produced by low or zero methane emitting sheep.
The partnership between Kington and MJ Bale is ongoing and we look forward to reporting the next chapter in this landmark collaboration.
To go behind the scenes of this wonderful partnership, and learn more about how Australian fibre is produced, listen to Telling Our Story Episode 1 – Bales for MJ Bales.