Breweries of all sizes are increasingly dealing direct with barley growers and the simplified trading method is paying off for farmers like Chris and Samantha Greenwood.
Brewing giant Asahi made headlines recently when it re-wrote its supply chain arrangements so it could source 90 per cent of its malting barley direct from growers in New South Wales and Victoria.
This means Asahi will now source 40,000 tonnes of barley direct from seven growers in southern New South Wales with northern New South Wales growers expected to sign on before this year's harvest.
A further 40,000 tonnes is also being sourced through 30 Victorian growers.
Asahi Beverages Group Chief Brewer, Jaideep Chandrasekharan, said the move gave the brewer clear oversight of the production process of the barley used in major beers Victoria Bitter, Carlton Draught, Great Northern and Pure Blonde, all now part of the Asahi – Carlton United stable.
It also means Asahi can track provenance – an increasingly in-demand attribute that consumers are more often wanting to know about.
Barley malt is the heart and soul of beer and has a defining influence on the taste, colour, aroma and foam. Australian malting barley is of the highest quality and sourcing it direct from farmers is an important change for our national operations and also the dozens of farmers we'll purchase from.

Asahi Beverages Group Chief Brewer, Jaideep Chandrasekharan
"Under the old model the grains we purchased generally weren't segregated but this program allows us to track the provenance of barley used to brew our major beers and gives us direct relationships with more farmers."
From little things big things grow
Similar supply chain models are also happening in the premium small batch craft beer end of town with Riverina barley producers, Chris and Samantha Greenwood of Coleambally, reaping the rewards.
The trend looks set to grow with Independent Brewers Association General Manager, Kylie Lethbridge, saying the sector has grown exponentially since 2016 with over 600 craft breweries tipping $1.93 billion annually into the national economy.
As this market develops, barley growers are increasingly working with brewers to grow certain varieties with specific flavour profiles which in turn means they can attract a premium price for their product.
This also puts the farmer front and centre in the brewer's story, a win for community awareness about food and fibre production and the brewer.
Once such brewer is Sydney's Batch Brewing Company, which sells its beers through two cellar doors in Marrickville as well as through a network of bars, pubs and bottle shops across New South Wales.
Each year Batch Brewing Company buys about 150 tonnes of premium malting barley direct from the Greenwoods and has it malted at Voyager Craft Malt in nearby Barellan. The barley is segregated and malted separately giving it 100 per cent traceability back to the Greenwood's farm.
Batch Brewing co-founder, Andrew Fineran, says his relationship with the Greenwoods is crucial to his beer. This even extended to him helping out with the recent harvest and it could also be said he watches the rainfall in Coleambally as closely as the Greenwoods do.
"Going down for harvest meant I was able to harvest some of the organic barley that we are now brewing with, which is very cool.

Batch Brewing co-founder, Andrew Fineran
For Andrew the model was a perfect match for Batch Brewing's ethos of buying locally grown products.
Most of the malt we use is from the Riverina and there is only a short distance from where it is grown to where it is malted and then it comes to us so there are no big warehouses. The barley is organic and the people who are malting it do a great job.
"We also buy barley from a farm on the South Island of New Zealand. We are not buying any barley or malt from the US or Europe. It is one source in New Zealand or the Riverina."
Chris and Samantha supply barley for Batch Brewing Co and Wildflower, another craft brewer in Sydney. Chris says there are significant benefits that flow from working direct with brewers.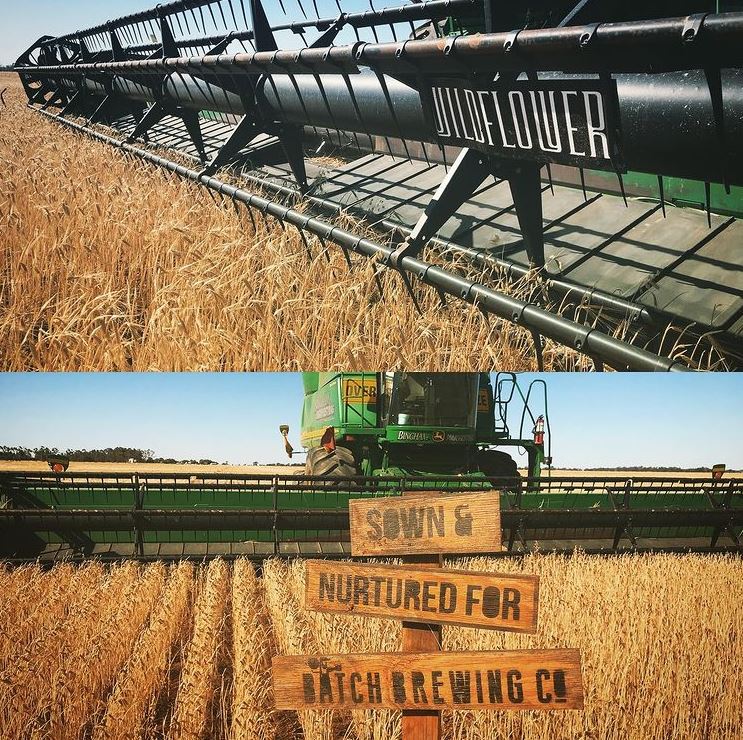 For example, this year – on advice from the brewers – Chris and Samantha are are experimenting with not using lime on their paddocks after they learned this may be increasing pH levels in the brewing process.
This year we have barley going into a paddock that we are not putting any lime on, to see if that makes a difference. Without the link we have we wouldn't know this was even an issue. Our soil is very acidic so we have to keep putting lime on it, and we would have just kept doing it.
Sitting in a Marrickville cellar door and seeing the public enjoy the beer made with their barley is also something else, Chris said.
It is surreal to go somewhere where we are held in such high regard. They say we do the magic and that we do the hard work. Stu (from Voyager) has this analogy where he says it takes seven minutes to drink a beer, seven minutes to brew it and seven months to grow it and seven years of planning to get that paddock in shape to grow that crop.
"We know that is actually our barley in that beer. It is really nice to have the connection because we know where it is going."
Chris and Samantha, bought their 4,000 acre farm in Coleambally about six years ago and since doing so have switched from conventional to organic farming. They grow a mix of organic winter cereals including wheat, barley and oats. They also grow soybeans, sunflower, millet and some legumes, as well as lucerne, in the summer.