Fashion designer Emma Bond is helping redefine sustainable fashion and her latest initiative to bring the first 100% Australian cotton wedding gown to the runway is a key to her goal to see Australian fibres at the forefront of sustainable luxury design.
"The modern consumer is values driven, and the Australian primary industries have a lot to offer those seeking sustainable and ethical fashion solutions," Emma said.
"It makes good sense for Australian agriculture and textile industries to collaborate and celebrate our local offering."
Emma's label Madi and Pip launched its bridal collection at the One Fine Day wedding fair in Sydney. While it gives brides new possibilities to consider in the sustainable fashion space, it also gave Emma a platform to champion Australian cotton for the work that goes on even before it becomes a fabric.
Farmer to fibre connection
Emma is also working to unravel misconceptions about cotton growing and build connections between fashion lovers and the farmers who grow their fibre.
Emma's connection to farming is not fabricated, she grew up on a cotton farm in Nevertire, NSW (anyone with links to the region may remember her as Emma Simmons). It is these sun-drenched landscapes from home that also inspire Emma's designs.
There is disconnect between fashion consumers and garment supply chains – we need to re-humanise the story of how our clothes are made.
"It's about sharing the time, skill and care at each stage of production so that people prioritise safe and renewable fibres, keep garments in use for longer, and when a garment's time has finally come to an end, it can feed back into regenerative systems," Emma explains.
Circular fashion economy
The fabrics Madi and Pip sources are responsibly-grown Australian cotton, recycled cotton and deadstock fabrics.
"Deadstock is unused fabric from fashion designers and fabric mills. This is largely from over ordering and cancelled orders," Emma explains.
"Extra fabric may be held for some time, but too often it reaches a tipping point, where its storage becomes too costly and the fabrics become waste destined for landfill or incineration."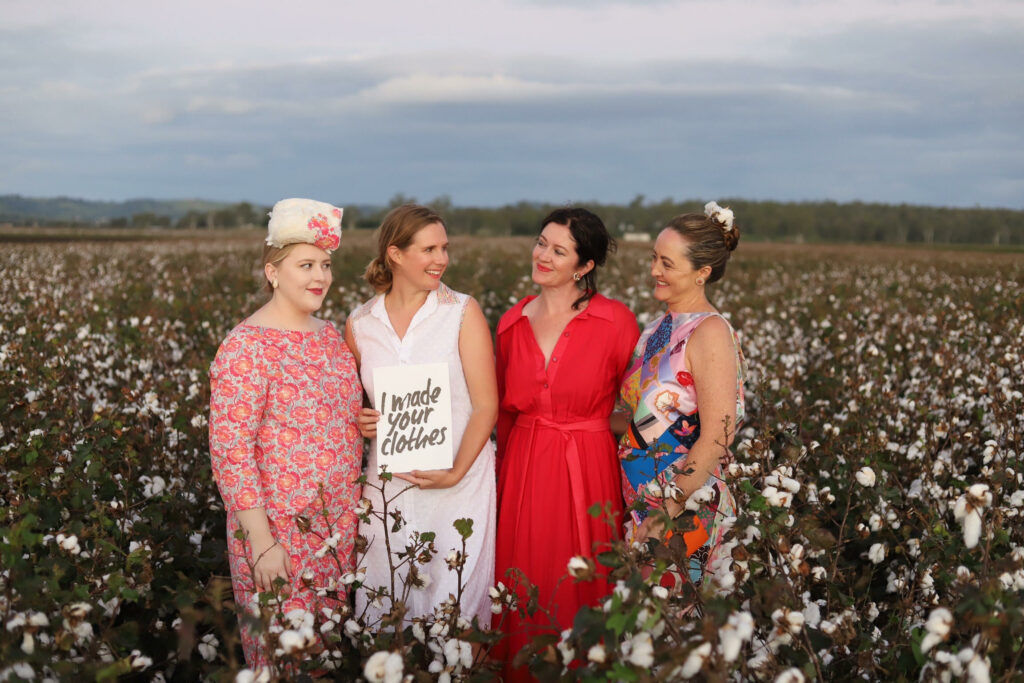 As a designer, Emma chooses to work within a circular economy for fashion, this involves keeping garments out of landfill at the end of its wearable life.
"A great local example of this is the Goondiwindi Circular Cotton Project where tonnes of cotton textile waste are being returned to the soil; directing their inherent value (carbon) back into the soil, potentially improving soil health and water retention.
The trial, which is continuing this season, has already seen 2.3 tonnes of cotton textile waste returned to the cotton fields!
While Emma intentionally does not design with any polyester fabrics, and avoids fabric blends which hinder garment recyclability and compostability, she has also used other natural fibres like silk and wool.
"I can't clothe everyone (nor do I want to!) but I can create impact. I use my brand as a case study to promote local manufacturing and agriculture. I want to support people to make informed and more conscious decisions about the clothing they purchase and wear.
The latest in the Madi and Pip range using Australian cotton will be revealed at a Fibre to Fashion event in March.
*Main image by Deppicto Photography and Cinematography.