From start to finish, this flavour packed dish takes less than half an hour to prepare, cook and serve up! Making it the ideal side dish to bring to BBQs, family get togethers – or even for an easy end-of-week dinner. Made with fresh Aussie beef and served alongside a bed of greens, this 'serve it yourself' style side is a sure crowd pleaser!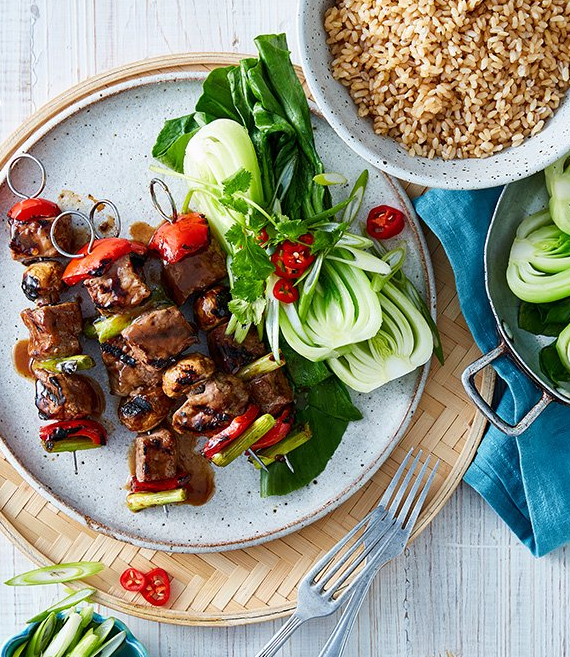 Ingredients
600g diced beef (cut into 3cm cubes)
150g button mushrooms
2 green onions, cut into 3cm lengths +extra, thinly sliced, to serve
1 red capsicum, cut into 3cm pieces
1 tbsp vegetable oil
1/3 cup (80ml) oyster sauce
Asian greens, brown rice, coriander sprigs, sliced chilli (optional), to serve.
8 bamboo (soaked in water for 10 minutes) or metal skewers.
Method
Thread the beef, mushrooms, onions and capsicum alternatively onto the skewers. Brush skewers with oil and oyster sauce and season.
Heat a char-grill pan or barbecue over medium-high heat. Cook kebabs for 8-10 minutes, turning often, or until lightly charred and cooked through. Rest on a plate loosely covered with foil for 5 minutes.
Serve beef kebabs with Asian greens, rice, coriander, extra green onions and chilli, if desired.
Tips
You can dice your own beef using rump, sirloin, scotch fillet or eye fillet.
Resting the kebabs ensures maximum tenderness and locks the juices into the beef.
You could also use beef mince in this recipe – roll mince into balls or kofta shapes.
Use microwave rice of your choice to save time.
Leftover kebabs can be removed from the skewer and added to a salad or wrap for a delicious lunch.
For top tricks, information and recipes head to Australian Beef!