Made from tender Aussie lamb, these mouth-watering schnitzel cutlets are best served in a bed of winter slaw and accompanied by home-made potato chips. The best bit? It only takes 15 minutes to prepare and 20 minutes to cook! Try this dish for an easy, taste-packed weeknight dinner.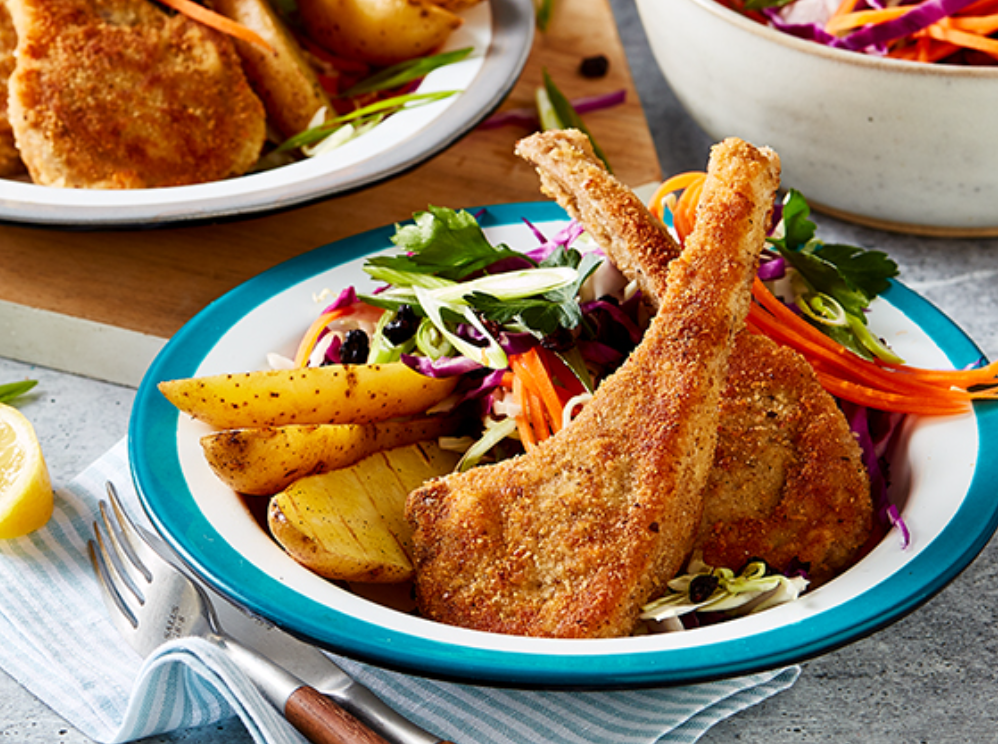 Ingredients
8 lamb cutlets, excess fat trimmed 1 cup dried breadcrumbs 2 free range-eggs, lightly beaten 1/2 cup plain flower 1/3 cup olive oil, for shallow frying + 1 tbsp extra, for slaw 8 small potatoes, halved lengthways 1/4 small green cabbage, finely shredded 1 large carrot, peeled, shredded 2 green onions, finely sliced 1 tbsp currants Zest and juice of 1 lemon + extra wedges, to serve 1/3 whole egg mayonnaise 1 garlic clove, crushed 1 tbsp parsley leaves, finely shredded + extra leaves to serve
Method
In a microwave safe container cook potatoes for 3-4 minutes on HIGH (100%) or until nearly tender. Lightly spray a large char-grill pan with oil and heat over medium-high heat. Cook potatoes for 5-6 minutes or until tender and lightly charred. Set aside to keep warm.

Meanwhile, place breadcrumbs in a large shallow bowl. Place flour on a large plate and season. Place eggs in a separate shallow bowl. Working with 1 lamb cutlet at a time, coat in flour, shaking off any excess. Dip in egg, then press in breadcrumb mixture to coat. Transfer to a plate lined with baking paper. Repeat with remaining cutlets.

Heat oil in a large non-stick frying pan over medium-high heat. Cook lamb cutlets, in batches, for 3-4 minutes each side or until golden and cooked to your liking, replacing oil as necessary. Set cutlets aside on a plate lined with kitchen paper.

In a large bowl combine cabbage, carrot, onions and currants. Season, drizzle with extra oil and half the lemon juice and toss well to coat.

In a small bowl combine mayonnaise, garlic, lemon zest and remaining juice and parsley. Season and stir well to combine.

Serve cutlets with potatoes, slaw, aioli, lemon wedges and parsley leaves.
Tips
Lamb leg or rump steaks, beaten to 1cm thickness with a meat mallet, would also work well in this recipe.

Swap dried breadcrumbs for panko crumbs; add your choice of herb, finely chopped, or some grated parmesan to the breadcrumbs for an extra flavour hit.

Use a pre-pack coleslaw salad mix from the supermarket to save time.
For more recipes, tips and information on meat cuts head to Australian Lamb.