Made with succulent Australian pork, this winter inspired slow cooked shoulder (served with sweet and savoury apple chutney) is the ultimate lockdown indulgence. The best bit? It only takes 15 minutes to prepare! Then it's into the oven for the next 3 hours to soak in all the nutmeg and honey glaze goodness. This dish works best served with a selection of fresh winter veg, or even some mashed potato.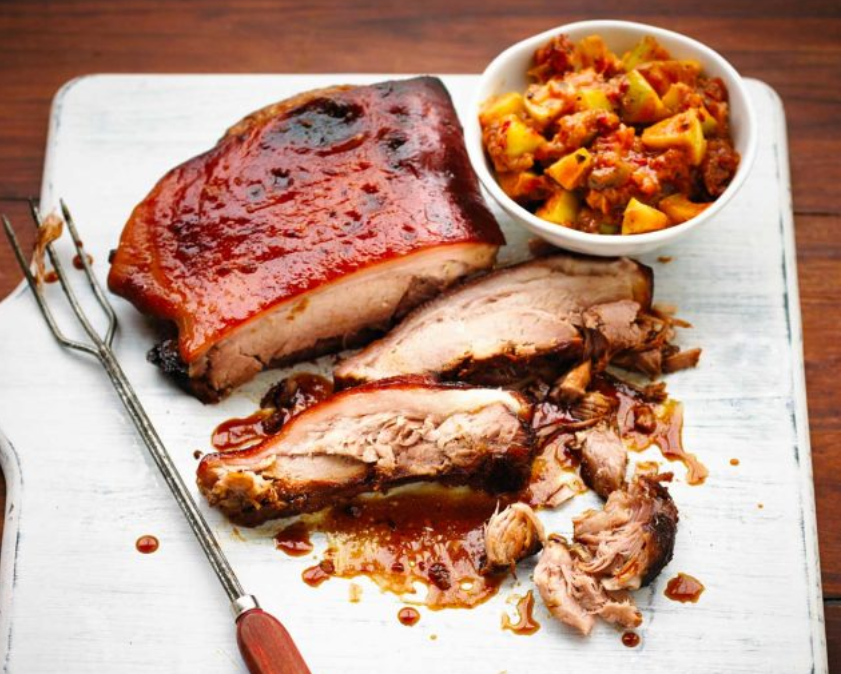 Ingredients
Slow cooked pork
1 x 1.5-2kg pork shoulder, boneless
400ml ginger beer
1 tsp ground ginger
1/2 tsp nutmeg
2 blood oranges, juices and zest
1/2 cup honey
Apple chutney
1 green apple, diced
30g butter
1/4 cup brown sugar
1 cup fruit chutney

Method
Preheat oven to 160°C.

Place pork shoulder in a deep baking dish, rind side up.

Combine the ginger beer, ground ginger, nutmeg, blood orange juice and zest in a large bowl and pour over the pork shoulder.

Drizzle the honey over the pork shoulder and cover with a piece of baking paper. Cover dish with a double layer of foil.

Fill an oven-proof dish with water and place on the top of the pork shoulder.

Place the weighted down pork in the oven and slow cook for 2 ½ – 3 hours, until pork is soft and liquid is syrupy. Rest for 10 minutes.

Whilst pork is cooking, melt butter in a small saucepan and sauté diced apples for 2 minutes. Stir in the brown sugar and cook stirring for a further 2 minutes.

Stir in the fruit chutney and simmer for 5 minutes. Cool prior to serving.

To serve, slice the pork into thick slices or squares and serve drizzled with the syrup from the baking dish. Serve with roasted vegetables and apple chutney.
For more recipes, cooking tips and information head to Australian Pork.