They say, 'the apple doesn't fall far from the tree', and the Montague family has proven that to be true.
It all started with the patriarch Bill in 1948. Fast forward to now, and his grandson Scott has been busy learning about the orchard, packing, distribution, sales and marketing. As much as we all love a Granny Smith or Red Delicious, the family is continuing to crunch into new ground, introducing consumers to new varieties such as Jazz, Envy and Eve.
Montague managing director, Scott Montague, is as passionate about apples as his father and grandfather before him. In fact, the primary land they farm on, 40 minutes from Melbourne, has become a sentimental place.
"We've built a memorial on one of our mature dams. It's got a lot of wildlife, surrounded by apples trees and the memorial is for members of our family who are no longer with us. It's a really peaceful spot," Scott shares.
Bringing the Red Delicious to Australia
The farm has been in the family for 75 years. "Same land. We have expanded out but it's where we started. It's where it all began."
Bill, the patriarch, actually started growing vegetables and supplied local hospitals with fresh produce. Apples came later, and he became one of the first people to introduce Red Delicious to Australia.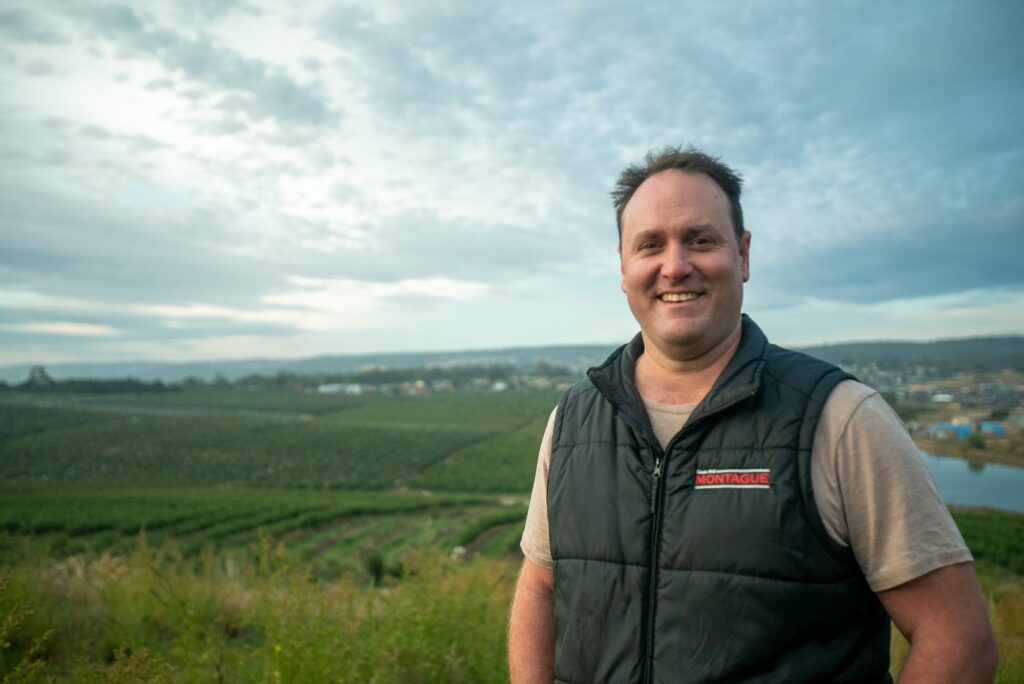 Of course, apples have come a long way since the Red Delicious and these days, the Montagues travel the world to find new and exciting ways to produce fruit.
Those travels have allowed the family to introduce some new varieties to shoppers, which is what drives Montague. "We get to eat fruit all the time that is so innovative and offers different flavour profiles," Scott explains.
It's so much more diverse than going in and getting a red or green apple.
He feels the apple industry hasn't been as sophisticated as other industries in celebrating diverse flavour profiles. He's made it his mission to provide that and is educating people about the options on offer.
Exotic apples and on-farm taste testing
Encouraging people to try those new varieties is the challenge, which is why, the family offers on-farm taste testing at the Narre Warren property. "There are two apples that are great for me. One is Ambrosia – it's very new to Australia. The sweetness and the light density of the flesh is amazing.
"We launched that during the pandemic, so it's been a very challenging time to get it out to consumers. It's also pretty hard to go past Jazz and what it delivers – it's a sweet apple with a tangy background."
A fairly ground-breaking new variety, which isn't available yet, is the Kissabel Apple, that features a red flesh.
It's part of a breeding program out of France. Again, it's all natural.
"It's from crosses with normal apples and crab apples. The original crab apples have a red flesh and that's where it comes from," Scott explains.
These red fleshed apples also feature a variety of skin colours including red and green. The feedback has been exceptional, especially from chefs who are excited at the prospect of how it would present on a plate.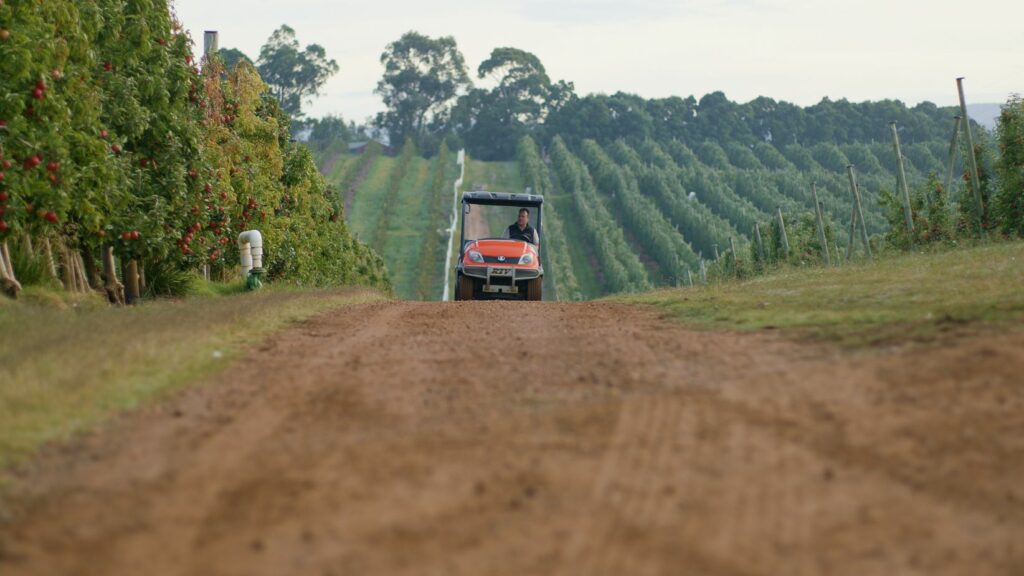 Montague has developed a profile on consumer tastes and all innovations are based around three keys factors – sweetness, balance and flesh density. They map those factors out and add different flavour profiles around that. "It's got to be a really special piece of fruit as to why a consumer would pick it up over what they're already getting."
Cutting through the cucumber competition
Apple farmers are now competing with a lucrative wholefood snacking market with baby carrots, mini tomatoes, and bite – sized cucumbers all proving immensely popular. Maintaining relevance is crucial. Success is also about meeting consumer expectations beyond taste.
Scott says sustainability is demanded by the market. At the Narre Warren farm, 100% of the water is reused for agriculture, they have solar, and energy used for refrigeration also goes back into heating. But it's some of the food waste initiatives that really standout.
Thankfully, in the world of apples, there's big demand for juice, so waste is not a huge issue. However, Montague also grows stone fruit and that has required a bit more imagination. If the fruit doesn't make a first – grade box, it goes straight to landfill.
With some creativity, Montague has developed a plum puree which Peters Ice Cream is utilising for a sorbet. They are also in discussions with other companies about using waste as a biofuel.
From fires, to floods, to the pandemic – it has been a roller coaster of a few years for Scott and his family. What's amazing to see is the true belief he has in his work, despite the hardship.
To give them this piece of fruit, blow them away in terms of the flavour, it's what drives us.
"When you see people eating good fruit and getting excited about it again, it's really great. It's just a long way to get it there! But we get to go to work and sell fruit. It's such a healthy product. It's good for us. It's good for the community."
Scott's goal is to bring back a surprise on someone's face when they crunch into a new type of apple. So, if that's you, please get in touch and let us know!
Hear more stories like this by subscribing to the Telling Our Story podcast on iTunes (or wherever you listen to podcasts) and follow podcast host Angie Asimus on Instagram for more updates.