This is part of a Cornersmith x Australian Farmers series showcasing Aussie grown foods. It's a bit like a fork with three prongs. This is the part where you get to meet a farmer who grows oranges. The next prong is learning how to eat seasonally and use ALL the orange and the third is recipe inspiration. We hope you enjoy the ride!
Michael Arnold has a citrus orchard near Loxton in South Australia's Riverland. His dad Barry, a former dairy farmer, bought a very run down orchard about 20 years ago. Luckily, he had three fit and energetic lads (Tim, Ryan and Michael) to help him rejuvenate it.
Since then, the sons have taken ownership, expanded and developed the orchard to where it is today. They now grow seven different varieties of oranges, five different mandarins and two lemon varieties!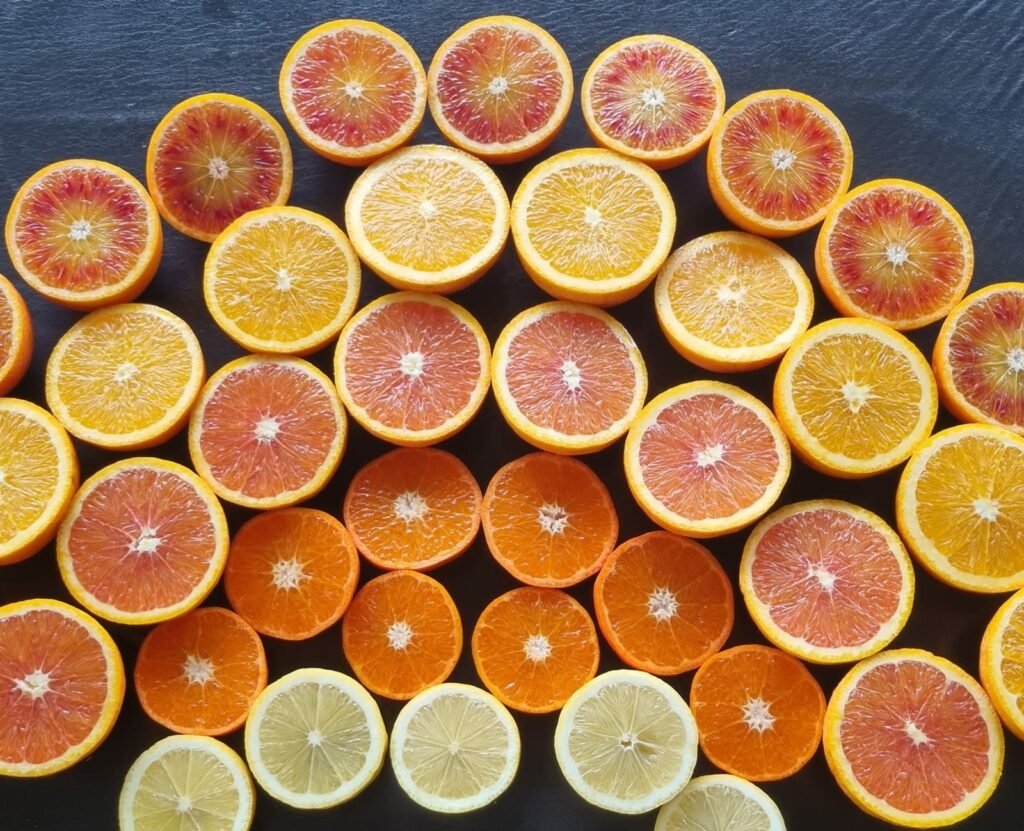 What's your role? My main role is people management. Organising and working with our valued staff, contract pickers and professional pruners to get what needs to be done on time.
I'm a bit of an ideas man (you might call me a dreamer! But that's ok, I've been called worse!) Luckily Tim and Ryan, Dad and some of the key staff are good at logically talking through what might work and might not.
On an average year, how much do you grow? At the moment around 3,000 tonnes, but that should double in the next five years as our new plantings start to come into production.
Has anything changed on your farm in your time? The biggest innovation has been the 6-metre high netting structure that covers 70ha of our 100ha orchards. Like a big shade house! The nets cut down wind and help us grow more fruit that is blemish free and more profitable with less water. It's also a big insurance policy against extreme weather events like hail. Hail can devastate a citrus orchard and can cause total crop loss.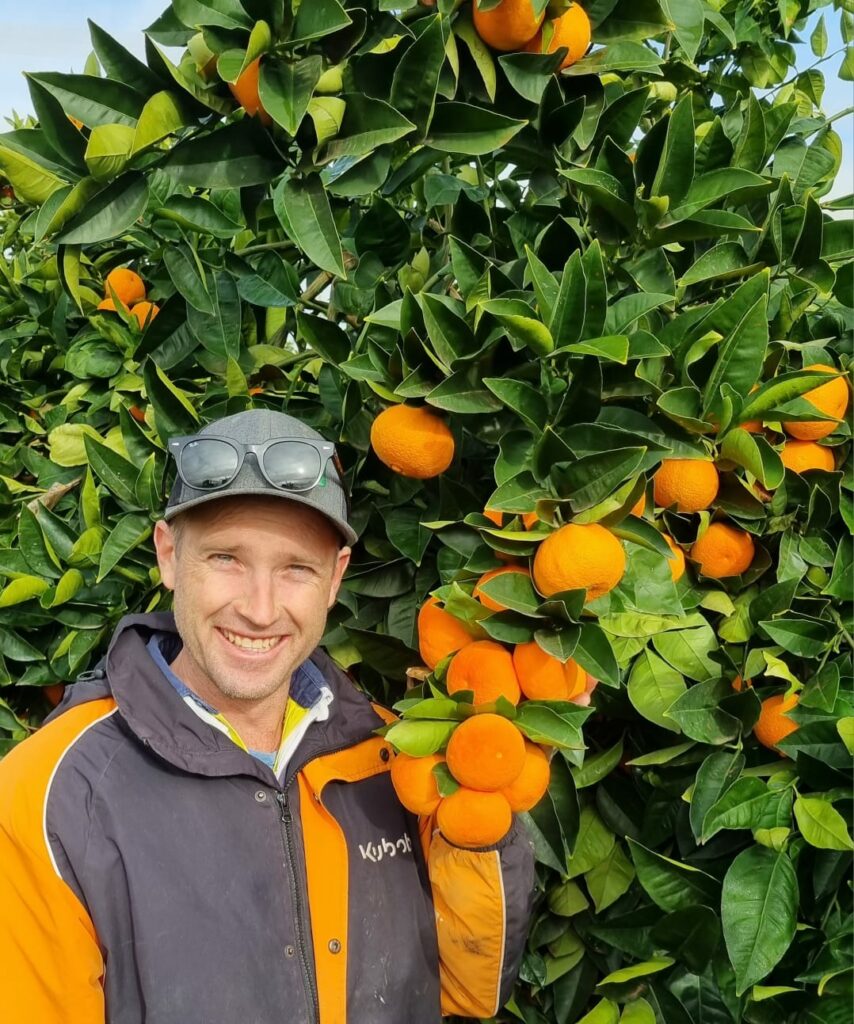 What's the best thing about what you do? It's the connection with nature and dealing with what the seasons throw at you. Reading and feeling how our trees are responding, then trying to make our own tweaks to our trees and their environment to produce possibly the best citrus in the world.
I have always loved growing things! I also love the fact that what we grow is a superfood! Citrus is amazingly healthy.
What's important to you when growing food? It's important that what we grow is healthy and grown in a sustainable manner. Sustainable so we can repeatedly grow good healthy fruit and improve our soils/environment year on year. Healthy because I think there is a trend, where more people are becoming aware of eating a healthy diet that benefits their health and negates the need for medications down the track. Even choosing foods with higher nutritional and even nutraceutical properties.
For instance, we growing more Tarocco Blood Oranges as they contain anthocyanin (the antioxidant that gives berries the red/purple colour) and Cara Cara pink fleshed navels as they contain lycopene (the colour that makes tomatoes red) as well as all the usual health benefits all citrus contain, like vitamin C, fibre, folate, potassium, zinc, and various antioxidants and polyphenols. The list goes on…Google it!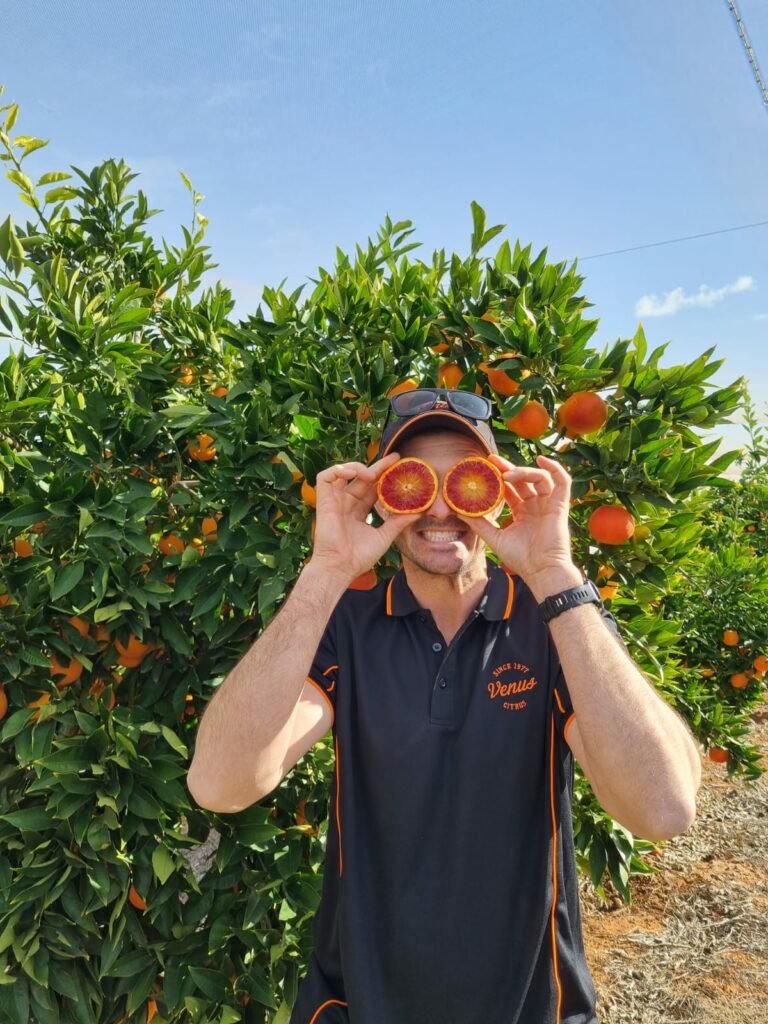 What does it take to start an orchard? From research to production it takes six to seven years and a massive investment. How did it happen here? Once upon a time there was a citrus grower with a dream. A very good looking, sharp and charismatic young fellow! He convinced his citrus growing brothers to plant a lot of special oranges. He thought that they could grow the BEST CITRUS IN THE WORLD! The brothers agreed with the crazy plan and they went ahead and planted some rootstock seeds in a hothouse.
They tended and grew those rootstock seeds with great care for a whole year. They rejected 50% of the rootstock seedlings and planted the best quality ones in an outdoor nursery in the soil. In spring the nursery crew put a tiny bud in all 10,000 rootstock trees. Two years on from the crazy idea, the trees were ready to plant.
The brothers prepared the soil and fitted a water efficient, drip irrigation system. In spring they dug out all of those little, well cared for trees and transplanted them to their forever place in the dream orchard. The trees were cared for a further four years. Pruning, weeding, fertilising, spraying and eventually erecting a 6m high protective netting system to protect the orchard of dreams from hail, wind and weather extremities. Today the dream is starting to be realised and the trees are giving back all the love they have been shown.
Can you outline the lifecycle of an orange on your farm? All our trees are hand pruned to make sure only the best fruiting wood is left to grow quality fruit. The prunings are all mulched into the ground with a big tractor mulcher, so we keep building our soil carbon. This is fertigated through the drip system and foliar sprayed onto the leaves. Tests of soil, leaves and saps are taken to ensure the tree has the optimum nutrition levels. Nutrition is adjusted to what the tree needs at specific times eg flowering, cell division, cell expansion or for crop load and seasonal temperatures.
Every single orange is picked by hand and a majority of mandarins are hand snipped! They are placed gently in bins and sent off for washing, grading, packing and marketing to a fruit shop near you.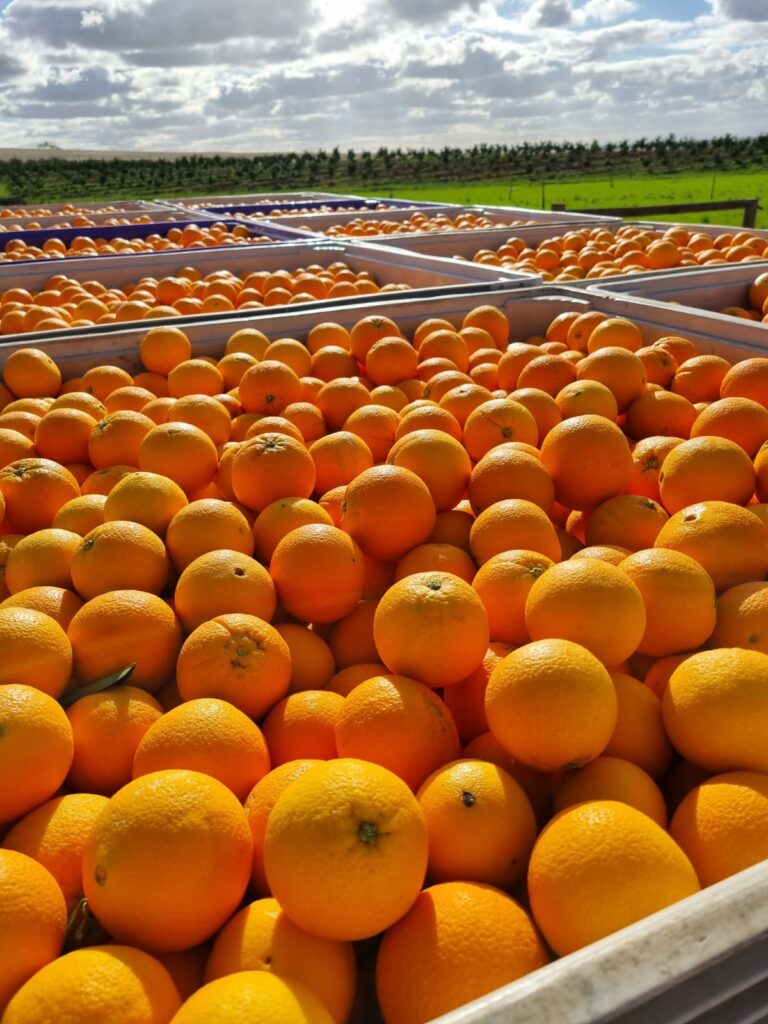 Tell us what your favourite way to eat an orange is? The old fashioned way, just peel or cut and eat fresh! Or…
Peel two small oranges and put in a blender with a scoop of protein powder. I like strawberry powder, but the chocolate works fine too. It's a great quick breakfast or post workout protein hit!
Segmented out with yoghurt or ice cream.
Blood orange icy poles for the kids are a winner in our house. Juice into molds, whack a stick in them and freeze.
Blood orange Negronis are the bomb! Most citrus is pretty great in gin.
Lemon curd tarts.
Grate a bit of zest on everything for a zing!
How do we buy oranges grown by Australian farmers like you? All our fruit is packed and sold by the team at Venus Citrus. They pack a lot of fruit from various growers in our Riverland area. There's also initiatives like the Kissed 💋 by Nature brand for good fruit with maybe a small superficial scratch to reduce food waste.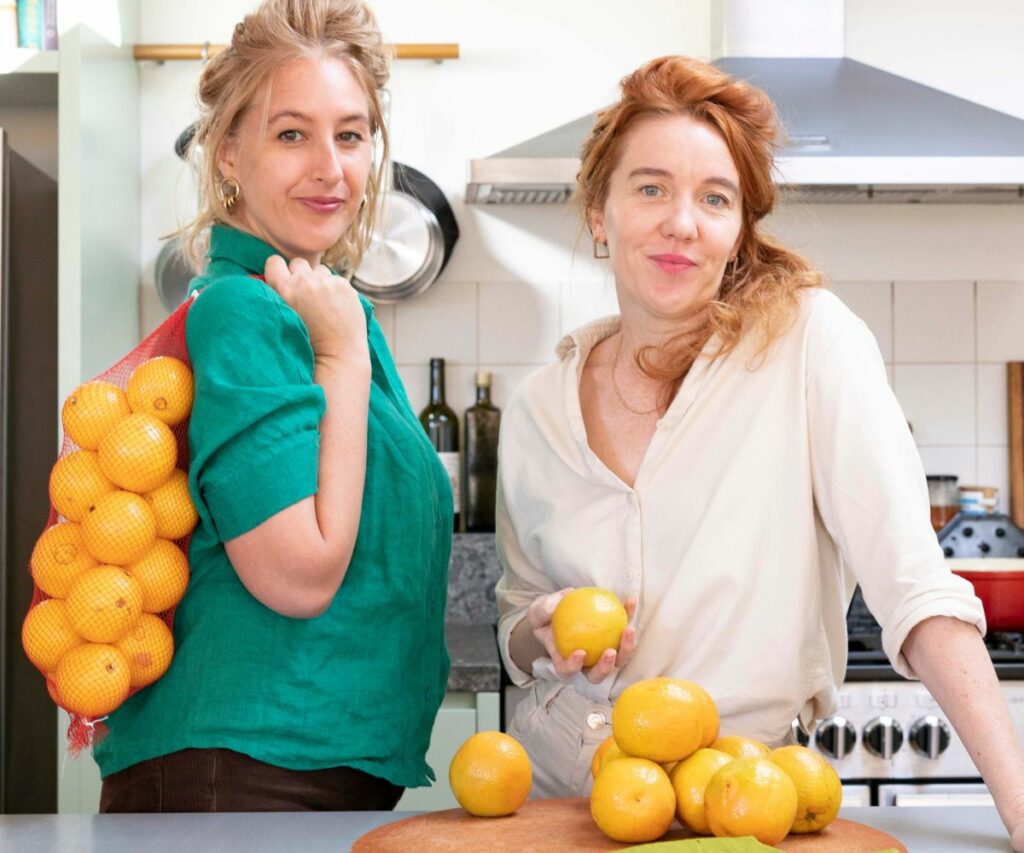 Feeling inspired and enlightened?! Find out how to eat seasonally to save money and try our orange recipes straight from the Cornersmith kitchen. You can also check out our tips and tricks for saving money and doing your bit to reduce food waste with the other foods in this series: Bread, carrots, lamb, greens and cheese.