This is part of a Cornersmith x Australian Farmers series showcasing Aussie grown foods. It's a bit like a fork with three prongs. This is the recipe inspiration. The next prong is where you learn about how to glam up carrots and other staples and the third is meeting the farmer who grew the carrots. We hope you enjoy the ride!
Carrot and orange soup
Winter is soup season, and this immune boosting recipe will warm your soul. It's delicious, cheap and a welcome change from pumpkin soup. Don't forget you can use up any bendy carrots hanging around in the fridge (just peel them first).
2 ½ tbs olive oil, plus extra for drizzling
30g butter
2 onions, thinly sliced
1cm ginger, thinly sliced
2 bay leaves
Zest and juice of 3 oranges
1kg carrots
1.5 litre stock, or water
½ tsp thyme, chopped
Heat oil and butter in a large saucepan over medium heat. Add onions and a couple of pinches of salt and pepper then sauté until soft.
Add garlic, ginger and thyme, bay leaves and orange zest and sauté for another 5 minutes.
Add the carrot and a bit more salt and cook for another 3-5 minutes or until the carrot is starting to soften. Add the orange juice and reduce until almost no liquid is left, then add the stock or water. Cover with a lid and bring to the boil, then reduce the heat and simmer for 35-40 minutes or until the carrots are completely soft.
Remove from the heat and let the soup sit for 5 minutes before removing the thyme sprigs and bay leaves. Transfer the soup to a blender or food processor and blend until smooth.
Serve with a drizzle of olive oil and a dollop of yogurt. Serves 4.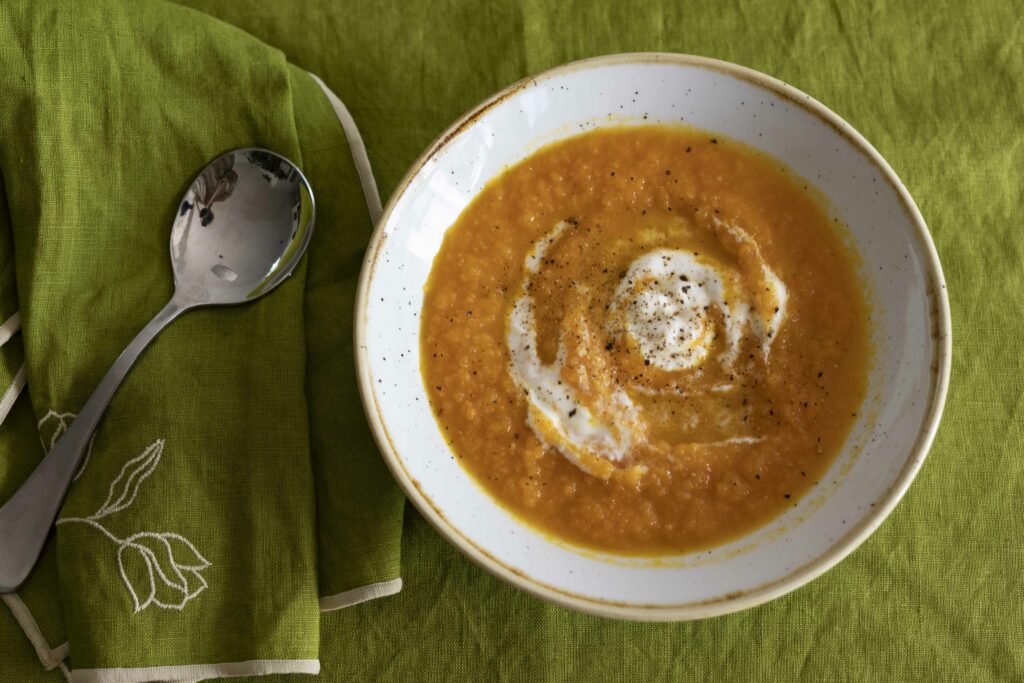 Carrot rosti
Rostis make a good meal when you're at the end of the weekly vegetable shop. These are easily adaptable with other vegetables of a similar texture, such as potato, kohlrabi or parsnip, or a combination of what you have. Serve with a leafy salad, some buttered crusty bread and chilli jam.
¼ cup oil for frying
2 carrots, coarsely grated
1 small onion, diced
2 egg, beaten
1 tbs cream or yoghurt
2 tbs plain flour
¼ tsp cumin or even curry powder
Salt and pepper to taste
In a bowl place grated carrots. Squeeze out any excess liquid and discard.
Add onion, beaten egg, cream or yoghurt, flour, spice, salt and pepper. Mix everything gently to combine.
Heat frying oil, such as rice bran oil, in a large frying pan over medium–low heat.
Working in batches, fry 1⁄4 cupful of the carrot mixture a few at a time. Fry for about 7 minutes on each side or until golden. Drain on a paper towel and enjoy. Makes about 8.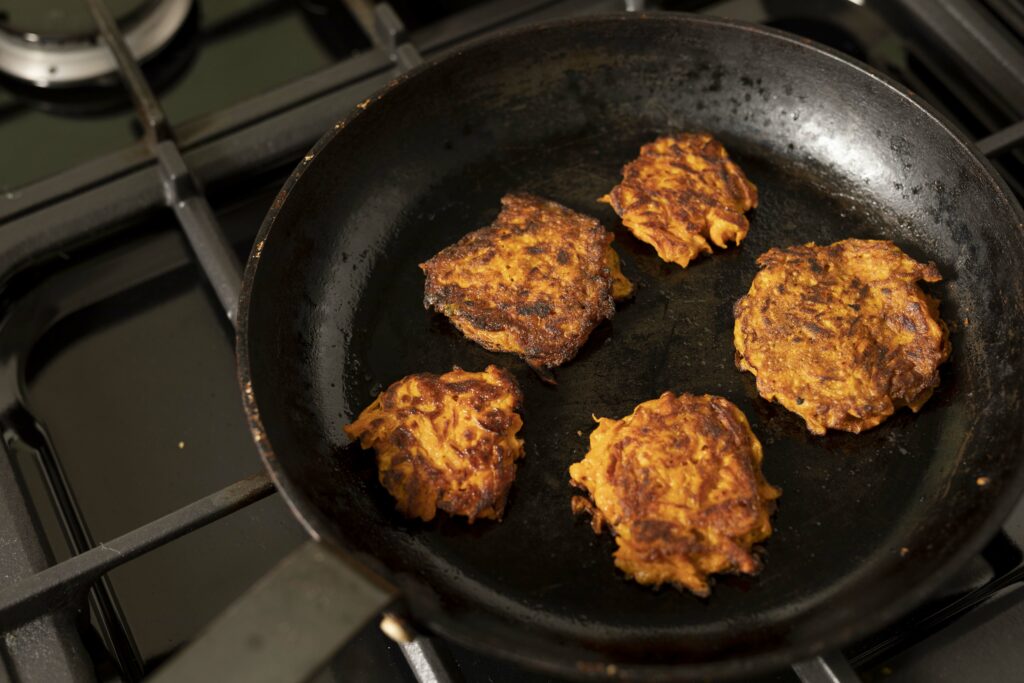 Whole carrot salad
Here is a root to leaf recipe for using a whole bunch of baby carrots. It's earthy and hearty and makes an impressive side dish or hero meal. The pesto dressing is made from carrot tops (YES! You can eat them, just wash them well) but you could also make pesto out of parsley and roast regular carrots instead of baby Dutch.
1 bunch baby Dutch carrots
Olive oil for drizzling
For carrot top pesto:
¼ cup toasted nuts or seeds
1 garlic clove
½ cup grated parmesan
Pinch of salt
100-150ml olive oil
A little lemon juice
Preheat the oven to 180 degrees. Remove the tops from 1 bunch of baby carrots. Wash carrot tops thoroughly and dry.
Toss whole baby carrots or batons of regular carrots with a little olive oil, salt, pepper and a spice of your choice. Spread out on a baking tray and roast for 20 minutes.
While the carrots are roasting make a pesto from the carrot tops. Roughly chop 1-2 cups of carrot tops, (be sure to remove the stems, they're very tough!) and place into a food processor with toasted seeds or nuts, garlic, parmesan and a pinch or two of salt. Blitz into a paste. With the motor running, add olive oil and a squeeze of lemon until well combined.
Transfer roasted carrots to a pretty flat platter, and spoon over the pesto while carrots are still warm, scatter with more toasted seeds or nuts and serve! Serves 2-3 as a side.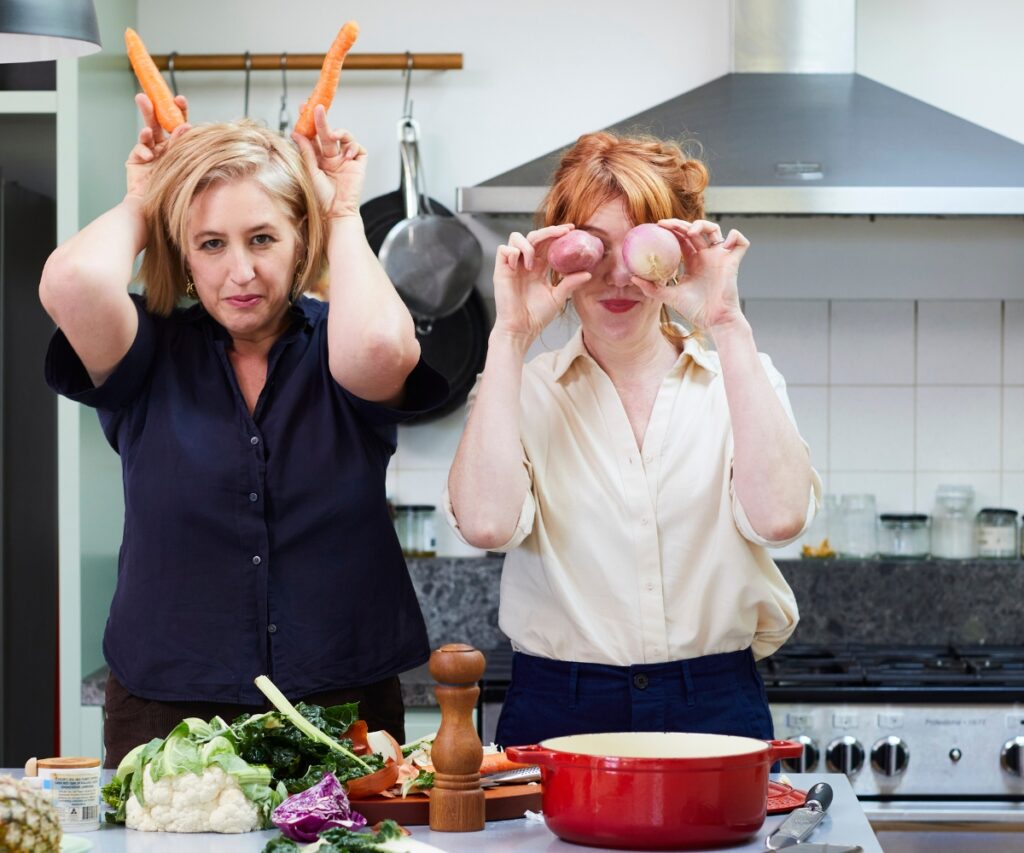 Carrot and lime jam
A potted history of carrot jam: during the Depression in England carrot jam was served up as a replacement for apricot jam. In Iran carrot jam like this one has a sweet salty bite and is served with fish. We also like to have it on a cheese board to get a party started. Use it to make a toastie with salty cheese and get ready for your life to change.
450 g peeled and grated carrot
½ cup apple cider vinegar
1½ cups caster sugar
Juice and zest of 1 lime
Generous pinch of salt and pepper
Put grated carrots in a saucepan and add 2½ cups of water and the apple cider vinegar. Simmer gently for 20–25 minutes until the carrot is beginning to look a little transparent and is tender.
Add lime juice and zest sugar, salt and pepper. We sometimes add a generous pinch of chilli flakes or some bay leaves in too.
Stir until the sugar dissolves. Bring to the boil and simmer again, stirring often, for 30 minutes or until the jam is thick, glossy.
Pour into a clean jar or container and store in the fridge for up to 6 months or pour into a hot sterilised jar and store in the pantry for up to 1 year. Makes a 375 ml jar.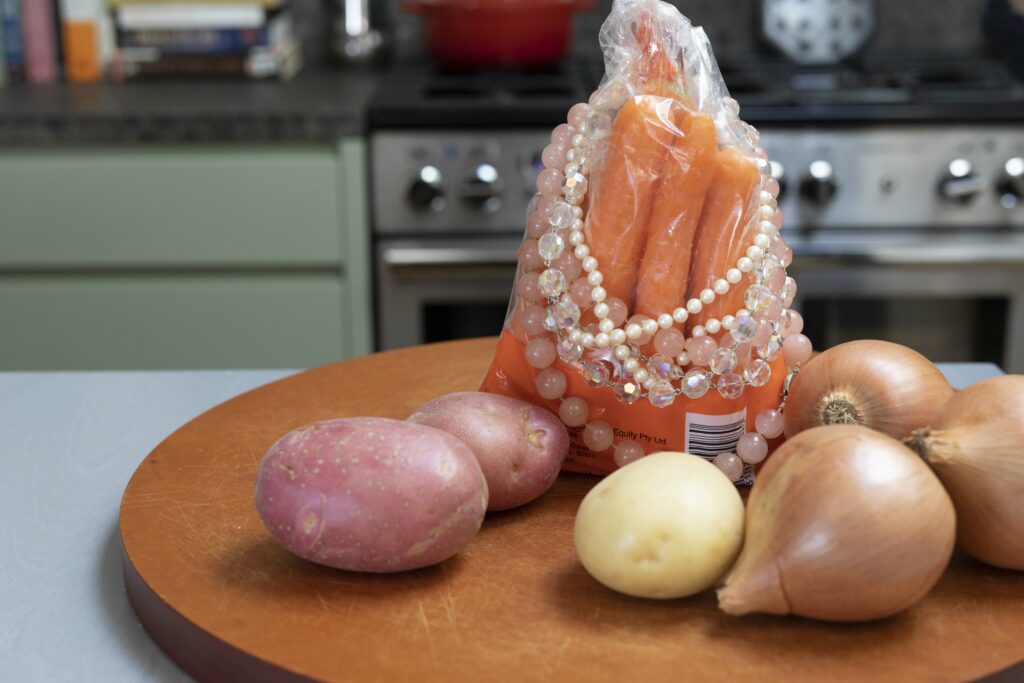 Feeling inspired and enlightened?! Check out our tips to glamourise carrots (and other staples) straight from the Cornersmith kitchen and meet Mick Rieck, an Australian farmer who grows carrots. You can also check out our tips and tricks for saving money and doing your bit to reduce food waste with the other foods in this series: Bread, greens, lamb, oranges and cheese.