This is part of a Cornersmith x Australian Farmers series showcasing Aussie grown foods. It's a bit like a fork with three prongs. This is the recipe inspiration. The next prong is where you learn how stale bread might just become your best friend and how to store it and the third is meeting a wheat farmer. We hope you enjoy the ride!
Crumb everything in the house!
Making breadcrumbs is easy. Preheat the oven to 120°C. Blitz stale bread into rough breadcrumbs in a food processor, then spread on a baking tray and dry in the oven for 30–60 minutes, depending on how large the breadcrumbs are. Keep checking to ensure they don't burn. Remove from the oven when they look and feel dry and crisp. Store in the freezer for up to 6 months.
To crumb things, set up three plates or shallow bowls. From left to right, put plain (all-purpose) flour in the first bowl, beaten egg in the second and the crumbs in the third.
Dip whatever you're crumbing into each bowl, from left to right, turning it over gently with a fork to coat completely, then set aside on a plate until ready to fry. Popping them in the fridge for 30 minutes first can help stop things falling apart.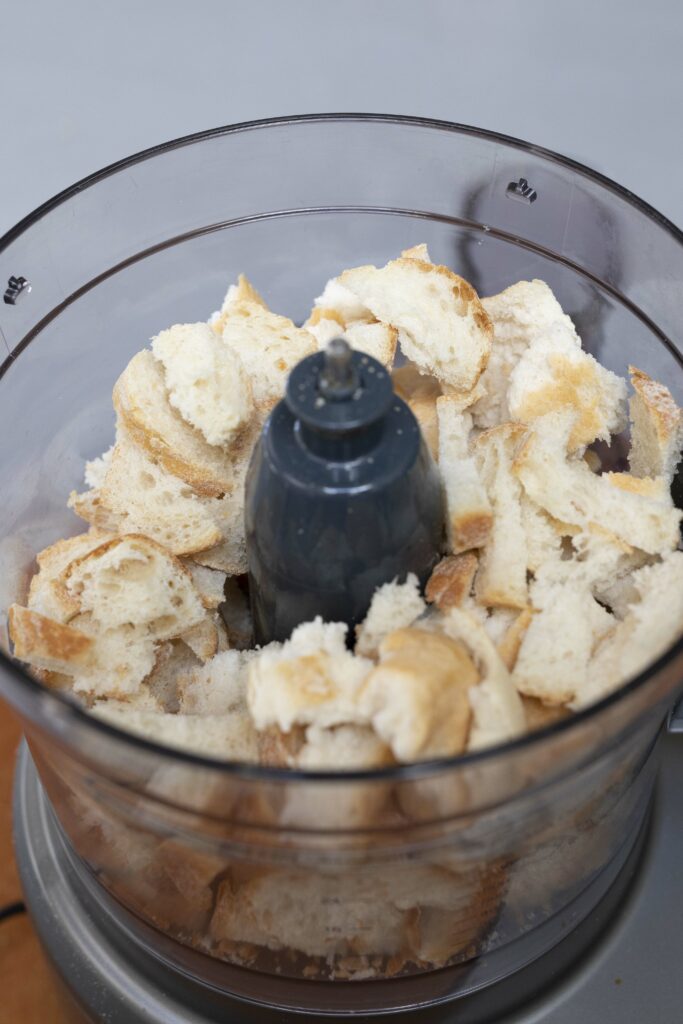 Breadcrumb mix
For extra-tasty crumbed meats and veg, mix 1 cup of your breadcrumbs with 2 tsp paprika, 1 tsp dried oregano and 1⁄2 tsp salt.
Crumbed fish cakes
Makes 8
This recipe comes from our book Use it All. They've been a family favourite in both our houses ever since our kids were little. We love them because everyone eats them and the recipe uses up leftover fish, leftover mash, whatever vegetables and herbs are hanging around in the fridge and homemade breadcrumbs from stale crusts.
400g (14 oz) cooked potatoes or sweet potatoes
Splash of full cream (whole) milk
Salt
¾ cup (75 g) thinly sliced crunchy vegetables
Spring onions (scallions)
Sweetcorn kernels
Celery
Fennel
Small handful of finely chopped herbs eg dill, parsley, fennel fronds, celery leaves
2 garlic cloves, minced
Zest of 1 lemon or lime
Freshly cracked black pepper
300g (10½ oz) left-over flaked baked fish
1 egg
1 cup (100g) stale breadcrumbs
100 ml (3½ fl oz) good-quality vegetable oil such as sunflower or rice-bran oil
In a large bowl, mash the potatoes with the milk and a pinch of salt. If you're using leftover mash just put it directly into the bowl. Add the thinly sliced vegetables, along with the herbs, garlic and lemon or lime zest. Season with salt and pepper and combine well with a fork, then stir through the flaked fish, being careful not to break it up too much, which can make the mixture gluey.
Divide the mixture into eight fish cakes. Whisk the egg in a shallow bowl and tip the breadcrumbs into another shallow bowl. Dip each fish cake in the egg and then coat in the breadcrumbs.
Heat the oil in a frying pan over medium–low heat. Fry the fish cakes in batches for 3–4 minutes each side until crisp and golden. Drain on a paper towel and serve with a crunchy slaw, mayo and hot sauce.