This is part of a Cornersmith x Australian Farmers series showcasing Aussie grown foods. It's a bit like a fork with three prongs. This is the part where you get to meet a farmer who grows carrots. The next prong is learning how carrots are the gift that keep on giving and the third is recipe inspiration. We hope you enjoy the ride!
Michael and Tracey Rieck are vegetable farmers in Kalbar in Queensland's Scenic Rim. The farm has been in Michael's family for more than half a century! Tracey and Michael began running it in 2006.
They grow vegetables in partnership with Kalfresh, a vertically-integrated vegetable farming, packing and marketing business which supplies domestic and export retail markets. Carrots are a key crop for Kalfresh and for the Riecks, with about 14 million kilograms of carrots produced each year by the group.
Tracey was part of a group of Kalfresh farmers' wives who developed Just Veg for Woolworths. This range of carrot products taps into consumer demand for healthy convenience products, while reducing food waste. Since launch in 2015, more than 5 million kilos of out-of-spec carrots have been diverted from low-value waste streams.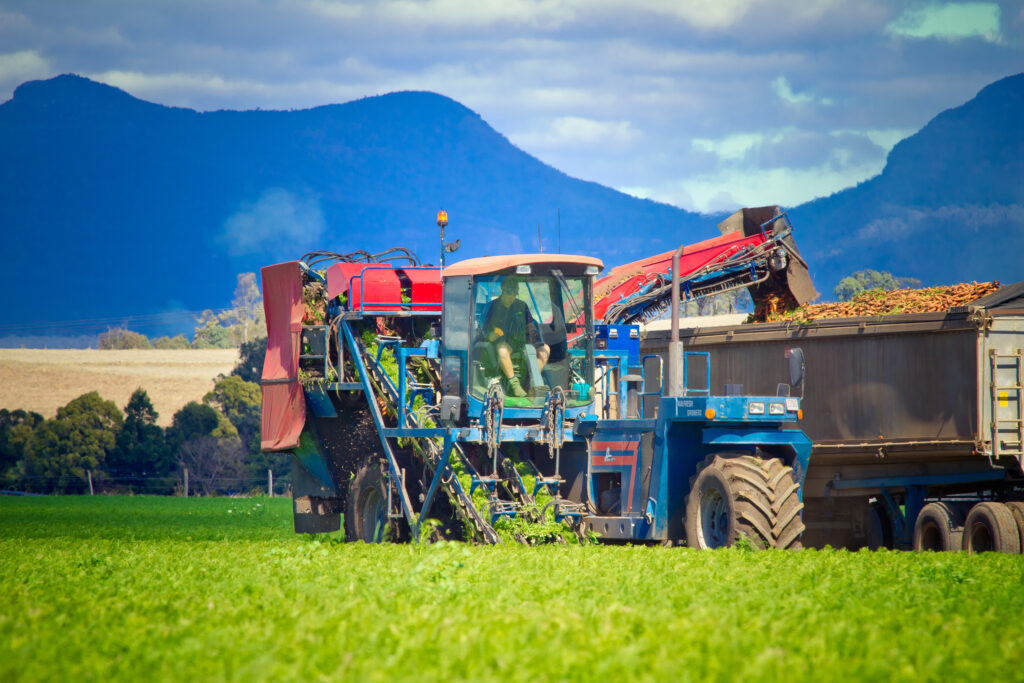 What are your roles? Michael runs the farm and manages a team of three staff. He works closely with the agricultural team at Kalfresh to plan crop plantings, ensuring the harvest and supply schedule is timed to deliver consistent supply to customers. Tracey is the Business Administration Manager for Kalfresh Harvesting, which manages the harvest services for growers and Kalfresh-owned farms.
What do you grow? We grow vegetables, in particular carrots, green beans, sweet corn, onions and pumpkin.
Has anything changed on your farm in your time? We really have gone from running an 'old fashioned' family farm to being very focused on running a profitable business. We have had to keep up with the times, and implement new farming and business practices to ensure we can continue farming. Over the past 20 years Michael has implemented a number of new farming technologies – including GPS guidance, soil moisture and weather monitoring systems, and we have also upgraded our irrigation infrastructure to more economical, automated systems.
What's the best thing about what you do? The best thing about what we do is the process! It is a simply satisfying, yet extensive process, where every point along the way is just as important as the one before. From ground prep and planting, to growing and harvesting, to seeing the product on the shelf, ready for someone to buy and take home to eat. There is something really special about walking into a shop and seeing your grower code on the back of a bag of carrots – thinking 'we grew this!'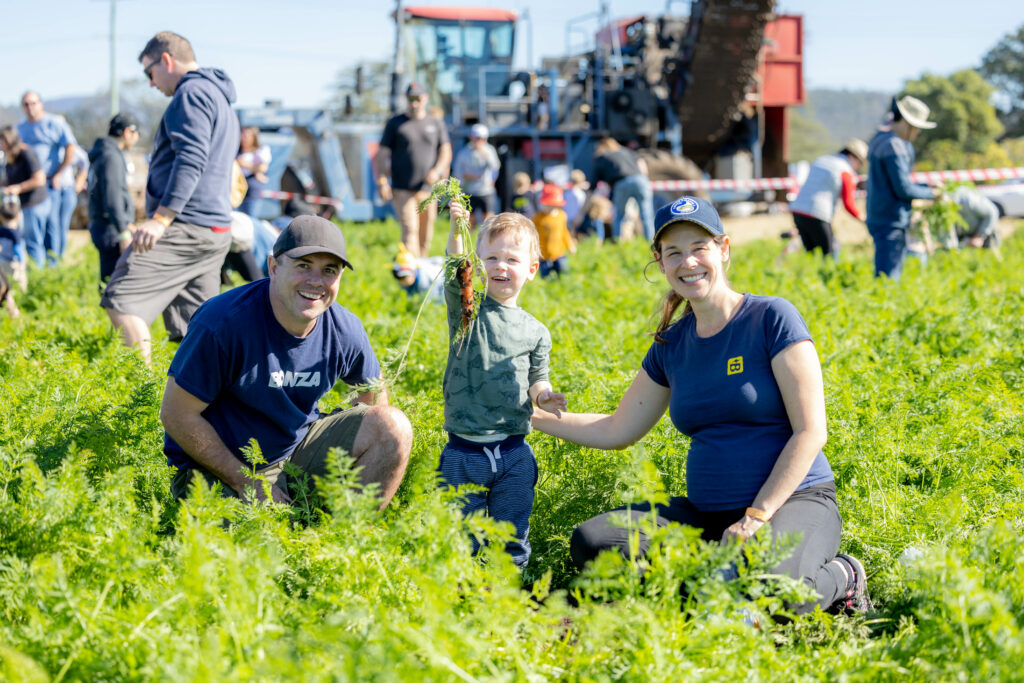 What's important to you when growing food? Sustainable and economic farming practices are very important to us – we do this by monitoring soil health to ensure we are continuing to improve the soil structure. Along with continually improving irrigation practices to reduce unnecessary water and power use.
Farming can be a very challenging practice, an integral part of our business is our team and the relationship and team morale we foster within that team. Having a versatile team, with skills and experience across all facets of the business from admin to farm and crop management is the cornerstone of our farming practice.
Can you outline the lifecycle of a carrot while it's on farm? Carrots take between 100 and 140 days to grow from seed to being ready for harvest. We start planting carrots in March and will continue planting until August. Our first harvest is scheduled for mid to late May and then we harvest most days until late December.
Our planting schedule is timed to ensure there is a block of carrots ready for harvest every day to ensure consistent supply to customers. The first three weeks after planting are super important for carrots. The root sets during this time and determines the length, shape and size of the carrots.
Tell us what your favourite way to eat carrots is? Carrot sticks with hummus – fresh and healthy! But I also cannot go past the good old country staple – the carrot cake that Mick's mum Ann makes – it's delicious!
How do we buy carrots grown by Australian farmers like you? Our carrots are available at major supermarkets, fruit and vegetable shops and independent grocers. There's also a chance you're eating our carrots if you dine at pubs, clubs, cafes, fast food outlets and shop delivered meal kits.
There's also a high chance your family dog is eating our vegetables via store-bought pet food!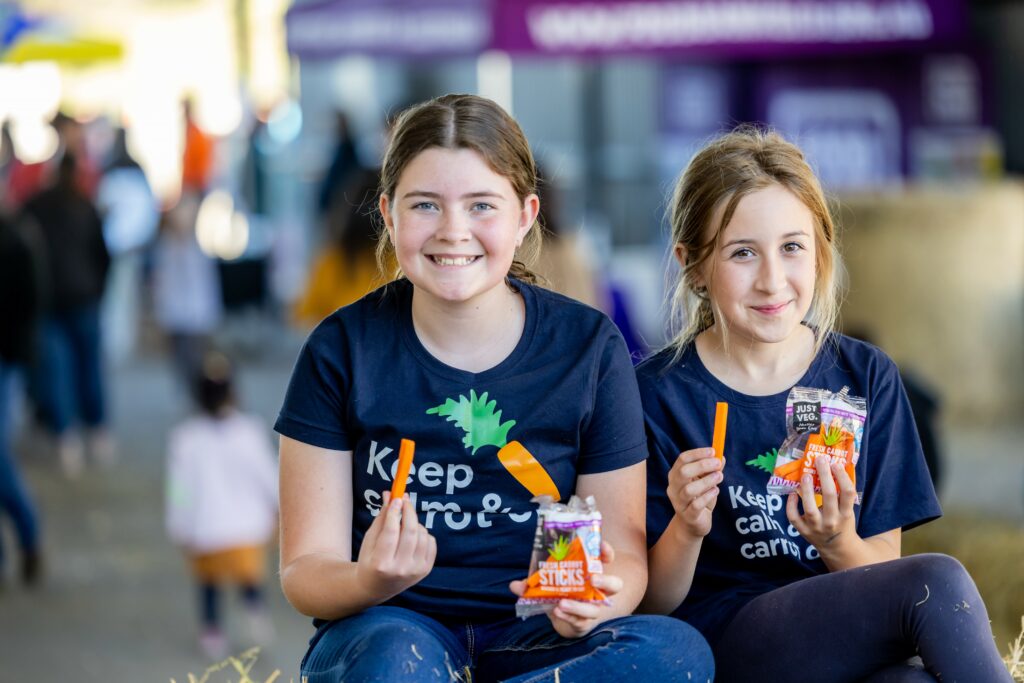 Food waste is a big issue, how important is it to find a home for the entire crop? Obviously the financial metrics of running a farming business, like any business, is to find a home for your entire crop, even the vegetables that don't fit a first-grade specification.
That was the motivation for developing Just Veg as it allowed us to value-add the carrots that were too big, marked, or a little bit wonky and sell them for a good return as a ready-to-eat convenience product. Sometimes this can represent between 15% and 30% of the crop.
This project was driven by a group of women in the business who were all busy juggling family and work so knew that sometimes it's the little shortcuts than can help during the 6pm dinner frenzy.
Kalfresh also works closely with Foodbank Australia to ensure that if a crop is unable to be sold for whatever reason, it does not go to waste and finds a home via Foodbank's extensive network.
For someone who has invested time and energy and emotion growing a crop it's good to know that your hard work will benefit someone in need in such a fundamental way.
Many of us have tried growing carrots at home and they end up looking very wonky! What's the secret to growing a straight carrot?! Straight carrots have a lot to do with ground preparation and the work you put in before a seed is planted. Because carrots are a root vegetable they need really deep, well-worked fine soil that reaches down to a good depth. If you don't have that depth the carrot root hits a dry patch, and stops growing. When the carrot firsts sets it's very fragile and during the first three weeks the little hair-like root travels down and the depth it reaches in those first few weeks determines its ultimate length.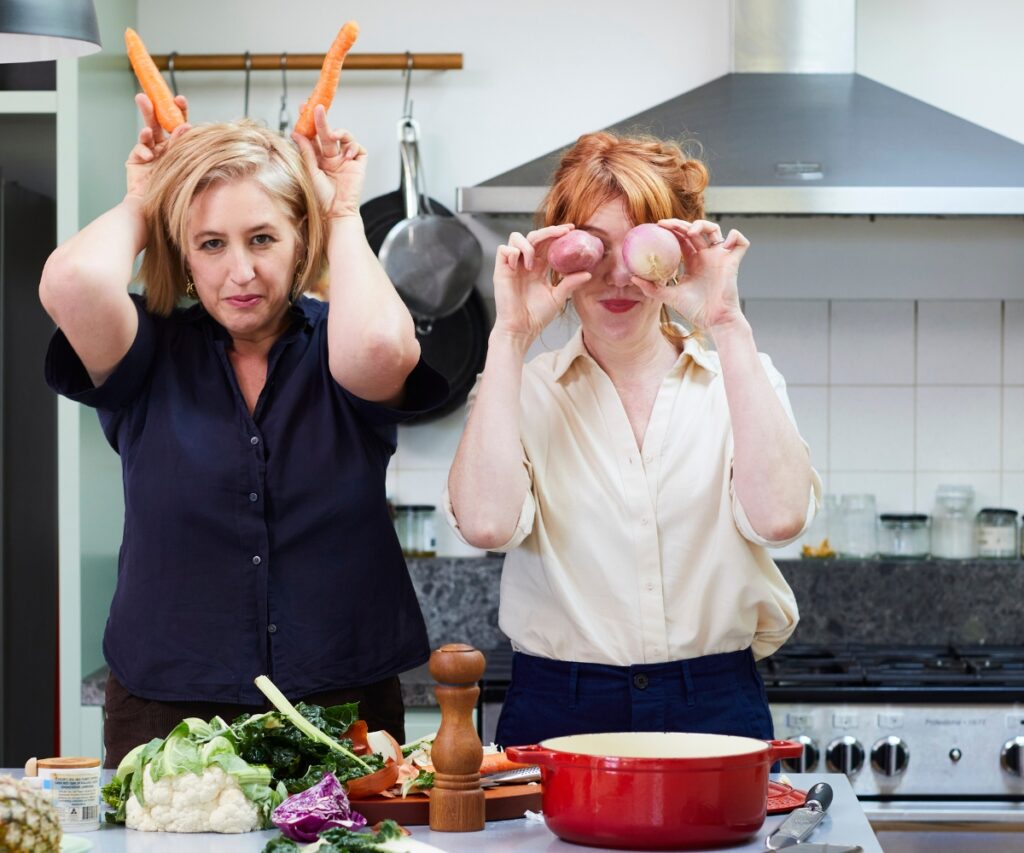 Feeling inspired and enlightened?! Find out how to glam up carrots and try our creative carrot recipes straight from the Cornersmith kitchen. You can also check out our tips and tricks for saving money and doing your bit to reduce food waste with the other foods in this series: Bread, greens, lamb, oranges and cheese.