Three-dimensional (3D) printing is the latest big innovation in textile design and manufacturing, with the world of high-end fashion showing significant interest in 3D printing directly onto base fabrics.
3D printing is being used across a range of industries, from aerospace and automotive to medical and dental applications. However, the latest 3D printing technology is also very suitable for use on fabrics made from Merino wool and could open up new opportunities for the fibre.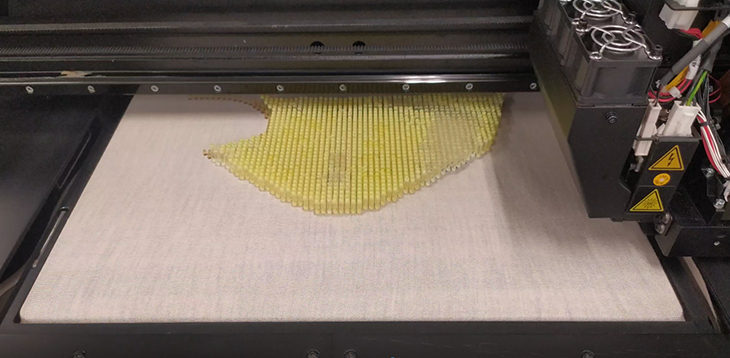 AWI's Research & Development Manager for Europe, Birgit Gahlen, says designers can combine the aesthetic freedom of 3D printing while maintaining the comfort, beautiful drape, and natural performance of Merino wool and wool blend fabrics.
"3D printing directly onto a base material of Merino wool enables endless new visual possibilities, dynamism and movement, while still retaining the supreme comfort, wearability and performance of the fibre," Birgit said.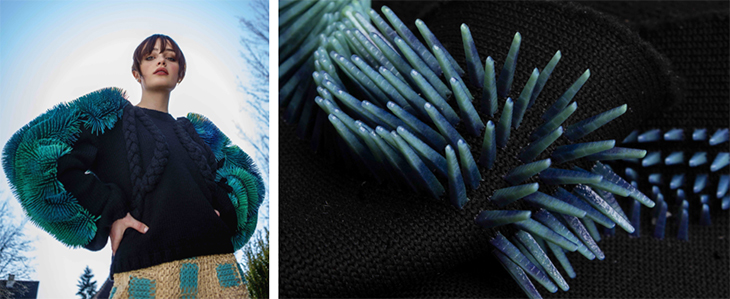 Characteristics of 3D printing
Today's 3D printing technology produces microscopic accuracy. Designers have complete freedom to create as complex shapes and textures as they desire. Intricate details and delicate decorative features are possible.
As well as using complex shapes, designers can incorporate the widest variety of colours, including multi-colours, unique gradient colours and transparency.
3D printing on the base fabric can create new visual appearances such as enigmatic shimmer effects when the garment moves on the body.
Production times and environmental costs (less waste) can be minimised thanks to the integration of technology into the design process.
There are also endless possibilities for customisation and personalised design.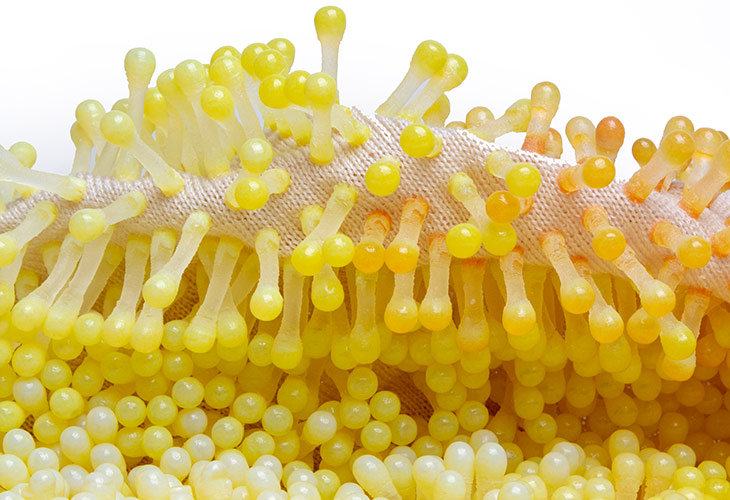 'Knitting the future' project
D-house, urban laboratory by Dyloan, has been researching and applying 3D printing technology on Merino wool and wool blend knits.
To show the versatility of the possible applications, the company undertook a 'Knitting the future – 3D printing meets Merino wool' project in collaboration with The Woolmark Company and manufacturer of 3D printers, Stratasys.
Using 3D printing and knitting together will be a revolution in the fashion industry.

– Matteo Cibic, designer
The project involved three international designers and four students from the Royal College of Art in London creating 3D printed designs on Merino wool knitwear that were produced at Dyloan's production facility Bond Factory.
The three international designers were: Italian creative and experimental knitwear designer Vittorio Branchizio, Italian trans-media artist and designer Matteo Cibic, and London-based knitwear designer Laura Theiss. The four students from the Royal College of Art were Katharina & Cissel Dubbick, Amaranthe Frost, Oliver Hurdman and María Fernanda Nava.
Technology will constantly evolve as time goes on. It is important to remain up to date as well as nurture the more traditional artisanal way of making things. It is this marriage between the old and new that I find most fascinating.

– Amaranthe Frost, fashion student
The project was supported by yarn suppliers Manifattura Sesia, Tollegno 1900, Zegna Baruffa Lane Borgosesia, Südwolle Group, CoatYarn, Expotex and Fulgar; and knitters Alessandro Simoni, Artemaglia, Effebi, Mas, Miles and Ribknit.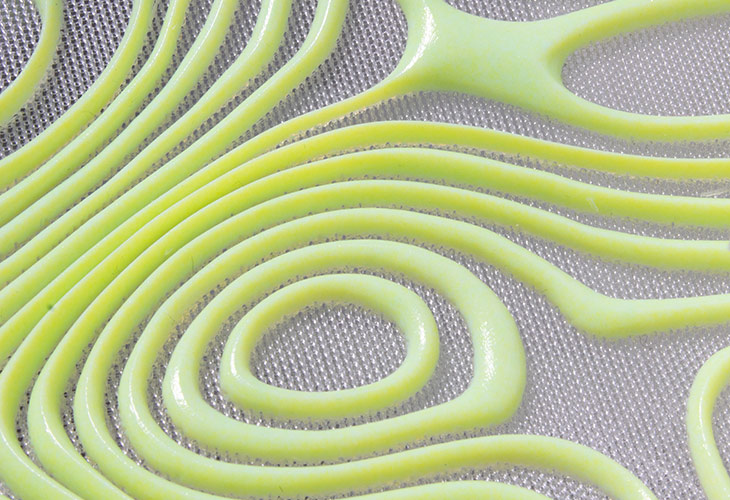 This article first appeared in the June 2021 edition of Australian Wool Innovation's Beyond the Bale magazine.